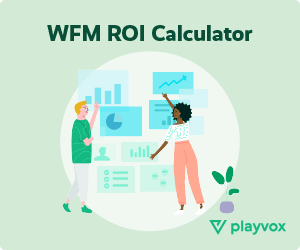 Jennifer Waite at Playvox explains how retirees returning to the workforce benefits your contact centre.
If the labor shortage has left your contact centre scrambling for staff, you might have overlooked a potential goldmine of knowledgeable, eager future team members: retirees.
According to research by Goldman Sachs, five million people have left the workforce since the beginning of the pandemic, and most were over age 55 (3.4 million). Researchers say 1.5 million of those older-worker exits were early retirements.
Industry experts worry that this mass exodus might mean the loss of decades of knowledge from the labor force.
"That's going to have a really potentially detrimental effect on economic recovery if that high-production, high-capacity, highly experienced group of people is out," Hannah Grieser, marketing manager at labor market analytics firm Emsi Burning Glass, told Bloomberg Businessweek.
Though Goldman Sachs notes that retirement tends to be "stickier" than other labor force exits, some retirees could be ready to return to work with the increased availability of vaccines and the uptick in work-from-home opportunities.
Indeed Hiring Lab's Nick Bunker shared on Twitter that the number of retirees returning to the workforce was on the rise going into 2022, a phenomenon he's named "unretirement."
"Now that the labor market is stronger, more people who said they were retired are being enticed by stronger wages and more job opportunities," Bunker told MarketWatch.
How to Welcome Retirees Back to Work in Your Contact Centre
The bulk of these retirees returning to the workforce fall into the Baby Boomer generation (ages 58-76 in 2022). Members of this generation often possess qualities that are tailor-made for the contact centre. They value hard work and are naturals at building relationships, making them eager to nurture your customer experience.
Knowing how to manage Baby Boomers will help you make the best use of their skill sets. According to Gallup, they deliver their best performance when they feel engaged at work, but only one-third of them do.
Baby Boomers have had a lot of work experience — an average of 12.4 jobs over their careers. They want to feel that this experience is valued in the workplace. Show retirees returning to the workforce you appreciate what they bring to the table by:
Identifying projects or initiatives where their experience can be put to the best use
Giving them opportunities to mentor other agents in areas they're experts in
Recognizing them publicly for their achievements
Baby Boomers and Technology in the Workplace
Today's contact centre is filled to the brim with technologies to make agents' jobs more efficient and your customer experience smoother. You might be worried that Baby Boomers and technology don't mix well, but you can put that fear aside.
Thanks in part to the pandemic, Baby Boomers have become more at ease with using digital ways to get things done — 80% in a 2020 report said they were confident using new technologies.
Training Baby Boomers through technology will also be well within their comfort zones.
In fact, 78% of Baby Boomers say they commonly turn to YouTube to learn something new. This makes an online learning platform with engaging multimedia courses a fantastic option for training.
Be aware that Baby Boomers' favorite communication method is face-to-face, so offering opportunities for mentoring, reverse mentoring, and role-playing as part of your contact centre training will ensure this generation feels seen and heard.
Mentoring in particular will help Baby Boomers feel like they are an important part of your team. In a survey by AARP, 79% of older employees said that working with younger workers gave them a chance to pass along experience and knowledge.
And here's a bonus: They also saw it as an opportunity to learn new things themselves. It's a win-win.
Managing Retirees Returning to the Workforce
Knowing how to manage Baby Boomers in the workplace — especially retirees who have taken some time off and returned — requires thoughtful leadership, just like any other aspect of guiding a multigenerational team.
A tailored onboarding process that recognizes their unique needs is a good start, Inc. advises. Set the right tone with one that acknowledges retirees' potential challenges in rejoining the workforce, like unfamiliar policies and communication tools.
A 2020 Salesforce survey showed that Baby Boomers were nearly as likely to prefer working in the office (35%) as they were to prefer working from home (39%), making it imperative that you have a solid plan for managing your remote or hybrid contact centre workforce.
Managing workers of any age remotely can be a challenge, but it gets easier if you're working with the right contact centre technology. When seeking out a solution, look for one that:
Lets you objectively measure everything from performance to training, no matter where an agent is working
Allows you to create a community for your agents where everyone feels engaged and included
Detects when agents need coaching so you can focus on building relationships with your agents — not monitoring their every interaction
Retirees returning to the workforce can be a gold mine of experience and knowledge for your contact centre. Making these agents feel welcome and valued — and training them well — will ensure they become a cohesive part of your multigenerational team.
This blog post has been re-published by kind permission of Playvox – View the
Original Article
For more information about Playvox - visit the
Playvox Website