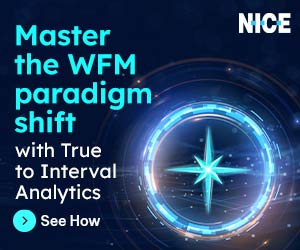 Oded Karev of NICE discusses how contact centres are gearing up for the post-COVID world with robotic process automation (RPA).
There is no doubt that COVID-19 is accelerating disruption and speeding up the transition to a digital-first reality.
During this volatile era, it is more important than ever for enterprises to drive higher efficiency and productivity.
One of the best ways to do this is by adopting robotic process automation (RPA). RPA enables you to optimize routine business processes, so your people can focus on activities that add more value.
Yet your organization faces difficult choices about which investments to prioritize when budgets are under pressure.
Getting Started With RPA: Minimal Risk and Low Cost
To make your decision easier, NICE is offering new customers anywhere in the world licenses to make unlimited use of its unattended RPA robots for free for two years.
This simple and disruptive proposition means your organization can explore today how it can use RPA to improve process quality, speed, resilience and productivity.
What's more, you can get started with minimal risk and cost.
As a financially stable portfolio company with a long track record of profitable growth, NICE is taking a long-term view on the RPA market and is making this investment to grow the overall RPA landscape.
Our goal is to make RPA accessible to enterprises who want to ramp up their process automation initiatives but are finding it challenging to source and secure resources at this time.
Why Automation Is an Essential Investment for the Future
Enterprises that are not adopting automation technologies risk falling behind the curve as their customers acclimatize to a new digital environment.
In fact, Gartner predicts that 90% of large organizations worldwide will have adopted RPA in some form by 2022.
But while RPA on its own will help an enterprise survive, tomorrow's leading businesses know that they need more to thrive.
Forward-looking organizations are looking beyond unattended bots to the next big wave in automation: attended automation.
By contrast with back-office robots—which run on servers and automate rules-based processes—attended automation is when desktop robots help employees via real-time automation of tasks and process guidance, to perform better and deliver efficient and highly personalized customer service.
In today's work from home reality, attended or virtual assistant bots are designed to give work-from-home employees real-time process guidance as and when they need it.
This support is valuable since remote employees can no longer obtain physical support or assistance from their peers or managers, as they would have in a more traditional office environment.
During unpredictable global market conditions, businesses across the board need to be ready to swiftly respond to rapidly changing policies issued by different governments across the world.
The real-time guidance that the attended bots give to work-from-home employees also ensures that employees execute their tasks in full compliance with new company policies and processes that align with the current market conditions.
During this uncertain time, many customer requests may deviate from the norm and become more complex – again – this is where the attended bot can give the employee real-time and highly personalized guidance to cater to irregular and more complex customer requests.
The support given to employees by attended bots takes away a lot of the operational pressure, giving these employees more capacity to engage with customers better and focus more on the interpersonal side of the customer interaction.
Scaling Automation for Massive Efficiencies
Bringing attended and unattended bots together in a single, integrated platform is how you can scale automation, achieve massive efficiencies, and ultimately deliver better experiences for employees and customers alike.
Far from being a threat to the human workforce, this technology will be a boon. Indeed, market leaders have already shown how automation can empower people.
Throughout the pandemic, we have seen glimpses of a future that is truly 'automation for the people'.
RPA and attended automation supported thousands of agents around the world to efficiently serve customers throughout lockdowns and quarantines—helping anxious patients with healthcare claims, assisting small business owners to apply for credit relief, and much more besides.
Automation for the People
COVID-19 has transformed many of our perceptions about technology implementations. Responses to the pandemic demonstrated many plans that were thought to take years to achieve could be successfully executed within days.
We also learnt how customer service is the real continuity challenge in any crisis.
This is the new normal—automation and humans working together to renew, adapt, and change quickly, no matter what the world throws at them. Is your business prepared for it?
For more information about NICE - visit the
NICE Website