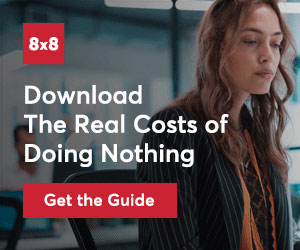 Choon Khee Koh at 8×8 explores cybersecurity and how to secure your communication on rainy days.
Amid increasing threats, new regulations, and evolving working conditions, cybersecurity is mission critical for small-to-medium businesses (SMBs).
Making matters worse, the odds of recovering from a data breach are rapidly diminishing with time. According to IBM, the average total cost of a data breach sits at $4.24 million—the highest in 17 years.
For some industries, such as healthcare, the costs of a data breach are rising even faster than inflation at 29.3% each year. And those figures are just averages.
In a world where time is money, sophisticated attacks that disable a company's operations can result in losses of approximately $300,000 per hour.
Considering that it can take 237 days to recover from compromised operations, it's easy to see how data breaches can drown most companies in an unexpected financial crisis.
In fact, estimates show that only two in five companies are capable of recovering from data breaches. For small and medium businesses running on razor-thin margins, a multi-million dollar recovery cost may just be the thing that drives them under. And hackers know this, which is why 70% of cyberattacks are targeted at the SMB sector.
Even for the lucky few that miraculously survive, data breaches still leave an indelible mark on a company's track record, one that marketing and PR teams will be scrambling to scrub from search engines for years to come.
Digital literacy rates have never been higher, and customers are increasingly on the lookout for businesses that prove to have their best interests at heart through robust data protection measures. Companies associated with data breaches are estimated to lose 33% of their potential customer base.
In short, tighten up your security measures. The risk isn't worth it.
Smooth Out Your Customer's Journey, Not Your Hackers' Path to Infiltration
We're all operating in the same digital space, yet it is possible for small businesses to provide convenient communication and transaction channels for their customers, while still filtering unscrupulous characters out.
Communication APIs can help you address cybersecurity across the various digital channels where you do business.
Secure Transaction and Account Creation Flows
User verification and transaction reminders are two foolproof ways to ensure that credit card details do not land into the wrong hands.
SMS APIs, for example, enable two-factor authentication (2FA) such that logins and transactions are only possible when your customer has direct access to their smartphone.
Voice messaging can be added to double as both an accessibility tool for the visually impaired and an additional layer of security.
Voice memos are delivered directly to your customers via an automated call that leaves no digital footprint, effectively shutting out hackers that are trying to spy on confidential details remotely.
Alert Customers of Suspicious Activity Immediately
When fraudulent transactions do occur, omnichannel communications enable you to reach out to your customers and have them rectify the problem before more damage is done.
Apart from automated SMS alerts that keep users updated on every single transaction immediately after it occurs, communications management software, such as 8×8 Connect, can also help you send those same alerts via your customers' most frequented chat apps, including WhatsApp, Viber, and Kakao Talk.
Analytics and insights on 8×8 Connect can help you easily identify platforms on which individual customers are the most responsive, allowing you to contact them quickly during urgent situations where their account may have been compromised.
Keep a Tight Lid on Customer Details
Businesses may contact customers via their personal mobile devices and private social media accounts, but this doesn't mean that a customer's personal details need to be exposed in the process.
Protect your platform from a slew of legal liabilities and complaints with call masking. Call masking enables real-time voice communication between two unknown parties without requiring either individual to disclose their actual numbers.
This means any third party, such as drivers, delivery staff, or service providers that are accessing your platform will be able to get in touch directly with your customers without having to disclose their personal contact details.
The call masking server generates temporary randomised numbers for both parties, so that redials are possible in the event of a disconnect.
The upside to this is that it keeps all users on your platform, reducing the chances of service providers liaising directly with customers and poaching them off your business.
The Best Insurance is a Reliable Security Expert
When considering the security of your technology systems, it's important to consider who you're partnering with on top of what you are purchasing.
This blog post has been re-published by kind permission of 8x8 – View the
Original Article
For more information about 8x8 - visit the
8x8 Website