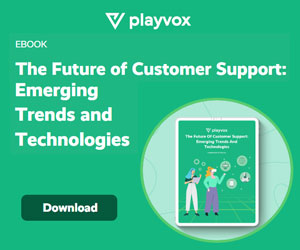 Jennifer Waite at Playvox outlines five shopping trends and explains what they mean to your contact centre.
News outlets are reporting that this year's holiday buying season is expected to start earlier than ever.
But given the level of uncertainty experienced in the last 18 months – ever-changing pandemic guidance, more workers voluntarily resigning from jobs, many of us still working remotely – what impact will this have on customer behaviour and buying habits as we close out 2021?
Let's explore five current shopping trends, and what this behaviour means for those of us in the contact centre industry.
1. Hybrid Holiday
Just like some of us are eager to go to the office and others prefer to continue working from home, the same applies to the shopping experience. Many customers are hungry for interaction, eager to roam the aisles and explore end caps, while others remain hesitant and prefer to spend online.
Brands are responding by blurring the lines between retail and online stores, giving customers the best of both worlds and allowing them to be served in the manner that they prefer.
Many retail locations are emulating the speed and ease of online shopping by offering contactless payment, curbside delivery, and other options like buy online pick up in-store – or BOPIS.
Brands are also recreating the experience of in-person shopping with features like live chats with sales associates, product demos, and how-to videos.
Some online retailers have an augmented reality function that lets shoppers "try on" makeup or clothes, or even see what their living room looks like with the furniture that they're considering.
The more consumers embrace the hybrid shopping experience — during the holiday season and beyond — the more they'll expect options like these as they interact with every part of a brand. Having an omnichannel strategy that serves consumers across a variety of channels will only continue to grow in importance when it comes to customer service.
2. Safety and Security
Before I leave my house each day, I go through a mental checklist: keys, phone, purse, mask. Along with facial coverings, regular temperature checks, more frequent hand washing, and regular use of hand sanitizers, these safety measures now feel normal.
Safety is a basic need – just like food, clothing, and shelter. If we don't feel secure, most of us are unlikely to act. That's likely a big reason that e-commerce in the U.S. grew more than three times as quickly from 2019 to 2020 as it did during the previous five years.
If people couldn't leave their homes – or didn't feel safe doing so – they increasingly went online to shop.
With nearly 50% of the world's population being partially vaccinated, and most brick-and-mortar stores offering facial coverings and hand sanitizer, contactless payment options, along with glass partitions at checkout, the final few months of the year will be telling.
Do people feel safer going to stores than they did last year or will fear continue to act as a growth driver for online shopping?
For contact centre professionals, it's critical that we put ourselves in the shoes of our customers. Make sure they feel valued and confident that their safety concerns are being addressed.
3. Social Sales
Consumers are buying more online but sales aren't limited to virtual storefronts. More people are making purchases on social media channels. In 2020, Facebook found that nearly eight in 10 consumers surveyed said they used at least one Facebook app or service for holiday gift ideas.
In 2020, social commerce made up 11% of global retail e-commerce revenue, generating $474 billion.
Millennials and Gen Z are gaining spending power. It will be increasingly important for contact centres to have a social media strategy for engaging with these younger consumers and resolving their customer service concerns in public forums.
4. Supply Chain Stock-Ups
I admit it: The supply chain was not something I regularly thought about before the pandemic. But I suspect that changed for most of us in 2020. Suddenly, the grocery and discount stores our families counted on couldn't keep pace with our need for basics like paper towels, coffee, or disinfectants.
This prompted many of us to start buying in bulk – fearing that the products we needed would be scarce. This shopping trend likely exacerbated shortages.
While most of us were likely less familiar with supply chain challenges before COVID, the business community has been navigating these issues for some time. A report from McKinsey found that companies experienced a production-line shutdown — lasting one month or more — every 3.7 years. If something happens to even just one supplier to a large retail store, there can be a costly ripple effect across the whole system.
So, what does this mean for those of us in the customer service industry? When the supply chain is out of balance, our teams are more likely to receive questions or complaints from customers. It's during these times that we can put our people-first skills to work.
We may not be able to guarantee a date when their favourite item will return to store shelves but we can be a calm voice that reassures customers that the company is working quickly to replenish inventory, speed distribution, and to meet their needs.
5. Lagging Loyalty
Today's consumers expect more from the brands they support. It's no longer enough for companies to just focus on their business models and serving customers. Consumer behaviour shows that they expect companies to wade into political, social, and other hot-button issues.
When you add that our digital world gives consumers more choices than ever, it's easy for a customer to research a brand's stance, and to compare the company's prices, core services, and customer service rankings to its competitors.
In a 2021 report from Raydiant, about a quarter of consumers said they're switching brands more often. While this figure isn't a majority, and the pandemic likely impacted responses, long-term we'll see if customers make a permanent switch in place of their old allegiances.
As contact centre leaders and agents, our direct interaction with customers gives us the unique opportunity to shape a person's perception of our organization. It can cost up to five times more to attract a new customer than to retain an existing one. As the first, and sometimes the only, company voice that consumers hear, contact centre service agents can have a direct impact on customer loyalty and ultimately, the bottom line.
How does your organization build customer loyalty? Or, is there anything your company does – or doesn't do – that's hurting your brand loyalty?
Consumers have more opinions, options, and access than ever. Be sure your organization doesn't take for granted that customers will always spend their pounds or dollars with you.
As we near the end of 2021 and continue to make our way through a dynamic business environment, contact centre teams are in a unique position to positively impact consumer behaviour and the overall shopping experience.
By nimbly responding to trends – whether through an omnichannel strategy, by ensuring safety and security, serving younger generations on social channels, or being a voice of calm in uncertainty – customer service professionals can help boost loyalty, client retention, and ultimately, the bottom-line.
This blog post has been re-published by kind permission of Playvox – View the
Original Article
For more information about Playvox - visit the
Playvox Website