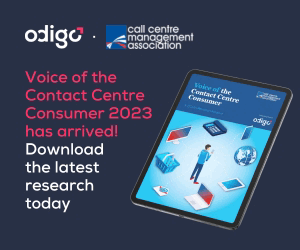 Guillaume Schwoerer at Odigo explains that video conveys more information than any other medium. It isn't ideal for every request, but for contact centres that want to provide detailed instruction or strengthen relationships with customers, video chat provides unparalleled capabilities.
Although video chat has been available for years, until recently it found little traction in contact centres, in large part due to the prohibitive connectivity problems which early video services faced. Now video chat is back, thanks to increased bandwidth and targeted applications.
When incorporated into an omnichannel solution, video chat empowers contact centre managers with an information-rich form of communication that transforms difficult situations into opportunities to connect with customers.
Video Chat Lets Contact Centre Agents Collaborate With Customers
Arthur and Monika are having trouble assembling a new bed for their child. They call the home improvement store's contact centre through their video chat channel and show an expert exactly where they got stuck. The expert gives precise instructions, and the couple finishes the bed with ease, and with a conviction that the manufacturer is committed to their satisfaction.
When a product breaks (or isn't working as a customer expects), describing the problem may be difficult, especially for non-experts. Arthur and Monika are unlikely to know the names of the components of the bed they're assembling, but video chat enables the contact centre agent to see what Arthur is pointing to.
Agents can also notice details which a caller hasn't thought to share. (If Monika attached a piece backwards by mistake, it wouldn't occur to her to report that.) Agents can also demonstrate on a model what actions a caller should take, and observe whether customers are having trouble with directions.
Through effective use of video chat, companies can save customers time and solve problems which in the past may have caused frustration, and in some cases would have necessitated a costly visit by a technician.
Video chat not only helps contact centres fix problems – it enables new types of customer experience. After finishing the bed, Monika calls back to the home improvement store and speaks with the company's interior designer.
The two of them look at her child's room together and place an order for more furniture. They look at her bedroom and order paint, wallpaper, and select a date for a home improvement team to come to their house.
Monika and Arthur are benefiting from in-person levels of care without leaving their home, and the home improvement company has achieved additional sales and earned long-term customer loyalty.
How Contact Centres With Video Chat Build Trust
The same video-enabled proximity which bolsters collaboration also increases trust – something of particular importance for sectors such as banking, healthcare and insurance. Alice's friend was the victim of an online banking hack, and is furious at her bank's poor response. Concerned, Alice contacts her own bank to inquire about their security features.
The agent she reaches schedules a video chat, giving Alice the chance to speak face-to-face with one of the bank's security experts. Alice leaves the chat with the conviction that her bank takes her security – and her peace of mind – seriously. She conveys her experience to her friend, and Alice's bank gains a new customer.
Worldwide, 49% of customers are interacting with brands online more often than before COVID-19, increasing convenience for customers and streamlining sales models for businesses. But the lack of face-to-face interactions could be eroding the connections between customers and brands, with negative long-term results.
McKinsey looked at the effect of trust on customer experience in banking, and found that "for bank customers, 'a brand I feel close to' and 'a brand that I can trust' were the top drivers for bank differentiation on customer experience." With video chat, contact centres provide customers with the best of both worlds: a relationship of convenience and trust.
How Contact Centres With Video Chat Gain Reach
Yves is the contact centre manager for a niche insurance company which specializes in insuring hard-to-appraise items such as art, heirlooms and collectors' items. A personal relationship is crucial for their clients.
Yves reads up on his target clients, and finds that 61% of ultra-high-net-worth investors are open to using video chat with advisors. Adding video chat to his contact centre enables him to reach new, high-value customers from across the globe.
Conducting business over video chat comes with advantages, too. Even if a local business is closer geographically, it's still further away than a smartphone.
Video chat can also be linked to co-browsing capabilities, enabling agents and customers to view and interact with an organization's website together. Video chat helps organizations maintain the personal relationships fostered by local branches while growing at the speed of digital.
Looking Around the Corner
Video chat is especially appealing to younger generations, who are coming of age in an environment of TikTok, YouTube and other video-based social media. It's no surprise that during the pandemic, 24% of Zoomers and 28% of Millennials called a contact centre through video chat, compared with just 12% of older customers.
For brands with a large base of younger customers, video chat reaches customers where they are and sets a brand apart from conventional competitors with more limited capabilities.
Video chat is a growth area for contact centres. An increasing number of organizations offer video calls, and new possibilities are around the corner.
The ability to switch seamlessly between audio and video calls will reduce friction and lead to increased adoption, and for any organization that provides complex instructions, or benefits from building trust with customers, video chat already provides a decisive edge.
This blog post has been re-published by kind permission of Odigo – View the
Original Article
For more information about Odigo - visit the
Odigo Website