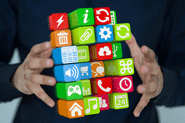 International Greetings are using an mplsystems solution to support their Tesco Cards business.
The mplsystems intelligentContact technology has provided customers with a multi-channel contact centre experience across voice and email, with agents able to start interactions on one channel and shift to another where applicable.
Cloud delivery has allowed International Greetings to access contact technology features on a pay per seat/per month basis, keeping IT and support costs to a minimum as mplsystems operated the technology.
"Adopting a cloud-based customer contact centre approach made sense for our Tesco Cards project, and it was clear that with mplsystems we could quickly take advantage of the latest customer contact technologies without upfront costs and with minimal disruption," said Mike Harris, Group IT Manager at International Greetings'. "The mplsystems solution also gave us the flexibility we needed to get our contact solution up and running quickly, while still allowing us to fine-tune elements of our deployment as our client's specific requirements evolved."
Visit the mplsystems website to find out more.
Published On: 30th Apr 2014 - Last modified: 12th Dec 2018
Read more about - Archived Content, IFS
---