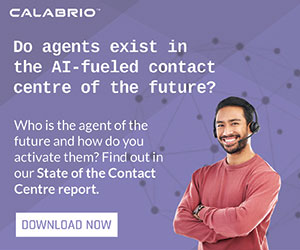 Technology adoption is imperative to maintaining a competitive edge, but many companies rely too heavily on technology without understanding how it's impacting the customer experience.
A new study, "Are You Listening? The Truth About What Customers Want in a Digital World", found that human nature and the meaningful experiences that organisations create with customers drive digital behaviour and loyalty.
Commissioned by Calabrio, a leading provider of customer engagement and analytics software, the study surveyed more than 3,000 consumers in the US and UK to explore what motivates customer behaviour in an increasingly digital world.
Not surprisingly, the majority (61%) of respondents make purchasing decisions based on the quality of the product or service. The emotional connection and trust that businesses build with customers comes in second—ahead of price—because customers say they want to be heard.
In fact, 74% admit they are more loyal to a company if they can talk to a person, as opposed to a machine, when they need assistance.
Although email, chatbots and other new communications technology offers increased convenience, 58% of customers still believe that picking up the phone and talking to a representative is the way to get the best and most efficient service.
When those agents are well-trained, knowledgeable and empathetic, they have the power to turn every interaction into a positive, relevant experience that creates an emotional connection to the company.
"Technical innovation will always play a part in business evolution. However, to successfully evolve the customer experience in the digital world, companies must understand customers are driven by human nature. " said Kris McKenzie, Senior Vice President and General Manager for EMEA at Calabrio.
"To drive loyalty they should listen and meet customers where they are. To achieve this and fully understand customer preferences, companies must tap into technology to capture and analyse the growing number of customer interactions across all service channels."
"For companies to earn customer loyalty, they must listen and act to deliver experiences that customers want by finding the right balance of technology and the human touch. Customers want to be heard, and they want to create an emotional connection with brands."
Other finding from the report include:
48% of customers are more loyal if they get a hold of a company quickly and easily
4% of customers are more loyal if they can speak to someone
60% of customers feel like their voices are heard when they speak to a live person