We uncover what customer loyalty looks like in the digital world and investigate how you can build a base of loyal customers.
Creating Customer Loyalty Is Difficult
Wanting to build good relationships with people is innate to the human psyche – but it's complicated, because people are complicated.
Customers change their minds and don't always know what they want. They might say one thing but do something else, making creating strategies for improving customer loyalty a difficult task.
But this is a task that comes down to behavioural psychology, not just technology – according to Peter Massey, the Managing Director at Budd.
"A lot of our methods in management are about evidence, analysis and thinking critically, but the way that people's brains work is not always that linear," says Peter.
"Saying to yourself: 'I don't know,' and then observing what people actually do has become more important than being an expert in what customers might do."
We must recognize this when rethinking customer loyalty.
For more on the connection between customer relationships and psychology, read our article: Customer Loyalty Isn't What You Think It Is!
Rethinking Customer Loyalty for the Digital World
When thinking about customer loyalty in the digital world, we're not just thinking about people interacting with people, but also people interacting with machines. And now machines are interacting with each other on our behalf.
While this is mostly seen as self-service, as the contact centre industry moves forward with AI, people will also be having interactions with machines that can converse in the way that humans do.
Retaining customers and staying on top of  customer loyalty over time becomes a big commitment, which requires a serious investment in customer experience.
Retaining customers and staying on top of customer loyalty over time becomes a big commitment, which requires a serious investment in customer experience.
So, you could consider this question first: "Do customers want a relationship with you?"
For some brands, the answer to that question is "no", and expending the resources to really invest in customer relationships is uneconomic.
But if you are willing to invest, there are customer loyalty models and strategies that can help you be successful…
Find out if investing in customer relationships is right for your organization by reading our article: What Is Stopping You From Creating Great Customer Relationships?
A Model for Customer Loyalty
Understanding customer experiences and their emotions is key to generating customer loyalty.
One model that will help you to achieve this goal was put forward in the book: "Your Customer Rules!" This was written by Peter Massey's colleagues Bill Price and David Jaffe and is referred to as: "Me2B – the inverse of B2B or B2C".
From their research, the authors highlighted seven elements for developing great customer relationships and achieving customer loyalty – which are highlighted in the model below.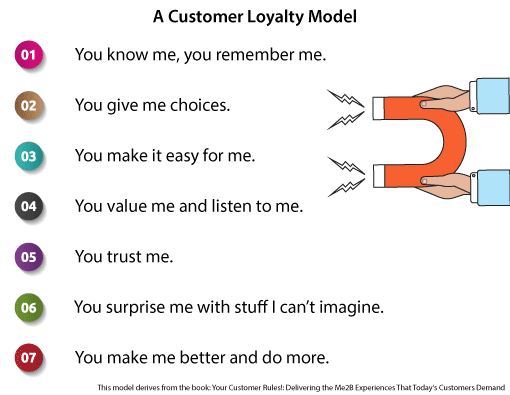 Through mystery shopping or self-evaluation, this model provides a measure for assessing how well a company is doing in terms of generating customer loyalty through the depth of the customer's emotions and relationships.
"If you get your contact centre team to score your organization against this model, you can also then look at the difference between the perceptions of your advisors and those of management," says Peter.
While this can be an interesting exercise, below the seven criteria there is a range of sub-drivers which you can use to assess your customer experience in more detail.
Let's take: "You help me to do more," as an example. Sub-drivers for this may include:
You support me beyond the product
You coach me to use things better
You help me use less stuff
You help me look forward
You help me get things that I didn't think I could
When we analyse our performance against the seven drivers in this detail, we can not only see where we are falling behind on our brand promises, but where we can do more to improve customer loyalty.
4 Ways to Achieve Customer Loyalty
Following a model for improving customer loyalty is one option, but there are many other ideas out there.
The customer loyalty strategies that are highlighted below may also prove to be highly beneficial to your organization.
1. Basics Before Delight
Consider this question: can you delight a customer if you are not meeting their basic expectations?
If you put a bouquet of flowers into a customer's new car but there is a scratch on the back, you are really not going to get anywhere…
"If you put a bouquet of flowers into a customer's new car but there is a scratch on the back, you are really not going to get anywhere," says Peter.
So another question that we now must consider is: have we fixed all of those basic things before we start investing in the things that will delight customers?
This is a very key discussion to have between customer service people and marketing people. The boardroom needs to start looking at where the expenditure could be going for maximum impact.
If you start looking at where all the money is going, it will often be going into marketing budget – but if you haven't got the customer service right, then that marketing budget can be wasted.
By moving some of that budget into getting rid of basic problems, then the money that is spent on things that "excite us and delight us" will be much more effective in securing customer loyalty.
2. Get Rid of the Dumb Stuff
We're going to waste a lot of time building customer relationships if we are breaking them with the basics – so we need to get rid of some of the dumb stuff.
We can identify dumb stuff by analysing repeat complaint reasons, undertaking customer research and mystery shopping.
What we will find is examples like the one below from a logistics company, where they sent a customer a 16-digit tracking code in an SMS message and a link to where they could type it in.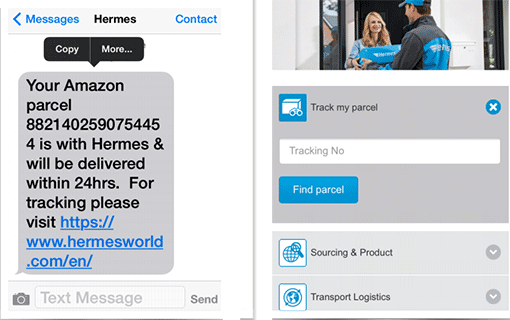 The customer receiving the message will then likely have to swap repeatedly between the applications to fill in the tracking number, as they will not remember a 16-digit code all at once.
Irritating! And the customer is highly likely to get it wrong.
Almost every organization will do dumb stuff like this. But, according to Peter: "Businesses like Amazon have made an industry out of getting rid of the dumb stuff and following the principle of 'The best service is no [need for] service'."
People don't want to have to get in touch with organizations, and some companies have managed to create the feeling of a relationship – just by consciously removing all of those niggling issues.
This again highlights the complexity of psychology, but this idea has been used by successful brands like Amazon and Nest to secure customer loyalty.
Listen to Peter talk about how Amazon and Nest drive customer engagement in the following episode of The Contact Centre Podcast.
The Contact Centre Podcast – Episode 7:
How Can We Increase Customer Engagement By Doing Less?
For more information on this podcast visit Podcast: How can We Increase Customer Engagement by Doing Less
3. Choose the Right Customers
There are a lot of businesses that are in the position of trying to handle customers who are not matched to their proposition.
This is really important in the modern digital world because the customer is in control today and, in many ways, customer–brand relationships are now managed by customers.
Just look at third-party review sites like TripAdvisor, where customers are actively rating things.
Matching your proposition to your customers is particularly important for developing positive customer relationships and securing customer loyalty.
So, matching your proposition to your customers is particularly important for developing positive customer relationships and securing customer loyalty.
This can be done in many ways. One way is in understanding the passions of your customers and another would be understanding the spending powers of your customers.
Doing this, i.e. choosing the right customers, to give them the right service, for the right proposition, is essential for securing customer loyalty.
4. Be the Customer
Departments like sales and marketing typically think from the "seller's side", and terms like B2B and B2C are still prominent business terms.
This, however, needs to change if we really want to prioritize customer loyalty.
Now customers have a lot more control over what's going on and have more choice, we want to think much more in terms of "buyer's side thinking".
So how can you, as a business, think through any problem from the point of view of the customer?
One way is to consider the relationship needs of a customer, which can be done through independent research of an organization's customer base or following a customer loyalty model.
The model for customer loyalty that was presented earlier may prove valuable here.
If you are looking for more ideas for improving customer loyalty, read our article: 11 Tips to Create and Maintain Loyal Customers
Investing in Customer Loyalty
How much of the psychology that you use in your thinking is about customer loyalty as well as the technology?
Peter encourages you to think about: "How much of the psychology that you use in your thinking is about customer loyalty as well as the technology?"
While it's easy to look at the technology investment, sometimes actually considering how much time you are putting into the psychology that goes behind it is an interesting exercise.
While customer psychology can be difficult, the basic emotions that humans have in relationships are not changing that fast.
If earning and achieving customer loyalty is a key goal of your organization, investing in understanding customer psychology in regard to your customer experience is important.
Final Thoughts From Our Readers
To close this article, let's share the following pieces of advice for generating customer loyalty, which have been sent in by our readers.
1. Create a Sense of Community – Naked Wines are a brilliant example of this.
As a customer you feel part of something – doing good by supporting smaller winemakers, having the opportunity to meet the winemakers at the tasting events and engaging with them and other "Angels" in the online discussion groups.
On top of that the customer service is amazing – if you don't like a wine they'll refund, no questions asked. They certainly won my loyalty!
With thanks to Sarah
2. Exceed Expectations – The trick to building customer loyalty and relationships is meeting the client needs and exceeding them slightly.
Sometimes a client can be in a hurry or just doesn't want to become your friend.
It is a matter of respecting and meeting expectations. This implies being able to identify those who want to go beyond the transaction.
With thanks to Denis
3. Demonstrate Empathy – Relationships are based on trust. Trust emerges from respect. Respect is driven by empathy.
Empathy requires understanding and appreciation of both a customer's physical and emotional context.
I cannot emphasize enough how important it is to become obsessed about the customer.
If you don't, your competitors will!
With thanks to Zaheer
4. Engage With Your Customers – When you speak with customers in person, ask about their interests and concerns, as well as what is working and not working for them, in respect to your business.
Remembering a customer's name, family members and other personal details – or saving them in your CRM system – can go a long way.
5. Learn Your Customers' Needs – Use surveys, polls, and questionnaires to learn about customer preferences and needs.
These tools will provide important information about what customers like about your business and what can be improved.
A customer is more likely to frequent your business if they feel they are heard; surveys, polls and questionnaires will provide a voice to your customer and increase their engagement with you and your business.
With thanks to Ashley
For more on the topic of understanding the needs of customers, read our article: Really Understand Why Your Customers Are Contacting You
For more on improving customer loyalty and customer experience, read our articles: