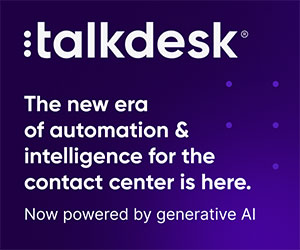 Talkdesk has launched Talkdesk Flexible Shopping – an end-to-end customer experience solution designed to help retailers and brands ready their contact centres to support post-pandemic shopper expectations.
Talkdesk Flexible Shopping equips retailers with integrated, cloud-based contact centre tools to help streamline curbside pickup, buy online-pickup in store (BOPIS) and appointment shopping communications.
Retailers can manage services through multiple communication channels, including voice, messaging, email, chat and social channels from one solution.
Talkdesk Flexible Shopping uses automation and artificial intelligence (AI) to help retailers and brands improve cross-channel and omnichannel customer experiences, which enhances overall brand experiences and increases customer lifetime value.
"Creating great customer experiences has always been critical for brands and retailers, but the events of the past year have considerably upped the stakes. Consumers have adopted new ways of interacting with brands they love, and they now expect retailers to meet them where they are in order to provide a frictionless experience," said Charanya Kannan, chief product officer, Talkdesk. "Talkdesk Flexible Shopping offers a better way for retailers to deliver on these expectations, so they can drive loyalty and long-term customer value."
As global retail emerges from the pandemic, consumer preference for cross-channel and omnichannel services such as curbside pickup, BOPIS/click-and-collect and appointment shopping are expected to continue.
While these offerings predate the pandemic, shoppers have since become more attached to using them, raising expectations for brands and retailers. The recent Talkdesk Research report CX Revolution in Retail findings reflect this and other new patterns in retail spending behaviour.
Many companies have struggled to deliver seamlessly on these new consumer demands, often saddled with outdated, disparate, on-premises technology not suited for frictionless cross-channel experiences.
In fact, Talkdesk Research further shows 62% of CX professionals report that legacy contact centre technology limits them from improving customer experience. Exacerbating the situation, 58% of customers say their expectations of customer service are higher than a year ago.
With Talkdesk Flexible Shopping, customers can engage with their favourite retailers through the channels of their choice, and brands and retailers can scale necessary services that shoppers will continue to demand.
For more information about Talkdesk - visit the
Talkdesk Website