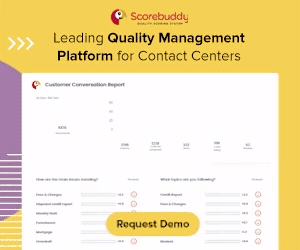 Establishing a strong and loyal customer base is the ultimate goal of any call centre operation. However, it's the road you choose to get there that separates good call centres from the great ones.
There are mountains of data you can sort through when it comes to analyzing your customers and your agents' interactions with them but having accurate data that helps you understand their sentiments and emotions gives you truly actionable insights about your customers.
This is how text analytics works.
If your goal is to improve the customer experience, there are few better ways to do this than by applying AI text analytics as part of your QA framework.
Text analytics software allows your operations to complete real-time analysis of everything your customers are saying via text, including email, chat, and SMS. And your customers now prefer contacting your company via text-based messages as almost three-quarters of consumers use texting as a means of communicating with businesses.
Text Analytics for a Connected World
In today's hyper-connected digital world, every organization accumulates volumes of data from their customer interactions, chatbots, social media, server logs, etc. A huge part of this data is in the form of unstructured text.
The analysis of this unstructured content from these interactions provides very valuable information about the needs and satisfaction levels of your customers, as well as the quality and efficiency of the interactions they are having with your agents.
Text analytics enables you to turn the content from all these interactions into actionable information. Using text analytics, this textual data undergoes treatments such as information extraction, theme classification, and the aforementioned sentiment, emotion and intention analysis, with two main goals:
To gain deep customer understanding: identification of needs, problems, attitudes, opinions, drivers of satisfaction or dissatisfaction or perception of our brand.
Contact centre management and optimization: from real-time supervision and support of interactions to better serve them, to control of adherence to procedures and regulatory compliance or discovery of good practices.
How Text Analytics Works
Text analytics software analyzes text to extract deeper customer insights beyond general information such as phone, email, zip code, etc.
Through natural language processing and machine learning, the software automatically reviews every text-based channel—live chat, email, transcript, and customer support tickets—to provide a very holistic view of the customer experience.
Using AI for real-time analysis of every text interaction, the software also monitors conversations to detect and analyze important information.
It can segment and detect trends in customer behavior and opinions to offer real-time conversational guidance. In addition, it aggregates and creates a repository of your text interactions to build predictive models for successful call centre operation.
Text analytics works by:
Identifying keywords and phrases within text conversations.
Extracting and filtering this critical text for analysis.
Transforming the extracted text into a readable format that can be interpreted by AI.
Mining the text through special algorithms to identify essential insights:

Sentiment: This categorizes text conversations as positive, neutral, or negative.
Intention: This mines text conversations for specific desires among users and consumers.
Trends: This takes large textual data sets and identifies major shifts in consumer behavior.
Concept: This classifies and ranks text conversations by predetermined criteria for service and operational improvement ideas.
Text Analytics Effect on QA
The bottom line with customer data is the fact knowledge is power, especially when it comes to insights regarding your customers and their experiences with your call centre. The more you know about who your customers are, what they want, what they need, and how you can help them, the better every interaction will be.
The information you glean from text analytics helps strengthen your call center quality assurance program as your agents are better equipped to provide customers with consistently positive experiences. The deep dive data obtained from text analytics equips your agents with information that allows them to interact with their customers more effectively on a more personal level as they:
Better understand how, why, and when your customers contact you.
Garner insight from live conversations, including details about sentiment, behavior, product mentions, intent, emotional evolution, and more.
Optimize workflows by organizing customer interactions by keyword, topic, emotion, and volume.
Gain authentic customer feedback to adjust future interactions and increase customer satisfaction.
Save time by directing customers to appropriate self-service channels for automatic troubleshooting.
And when it comes to quality assurance, one of the biggest struggles is the generally inadequate coverage of the volume of interactions with customers and prospects. As a QA manager, there is only so much time available to manually analyze text conversations, emails, SMS and help tickets.
More often than not, you're forced to randomly select a few interactions and cross your fingers you're able to gain some quality insight via that method.
With text analytics, you can automatically analyze all text-based interactions through natural language processing. This means that you can extract insight on topics and trends, in the customer's own words, without additional manual effort. And you won't miss key insight due to lack of resources or time.
The Text Analytics Impact on SMS
Recent customer behavior research backs up the value of integrating text analytics as well, as an Avochato report claims your customers now prefer companies that offer messaging as a communication channel. In fact, almost two-thirds (63%) of respondents to the study claimed they would switch to a company that offered text messaging as a communication channel.
Interactive messaging and immediate communication are now clearly desired, as the vast majority of consumers (92%) say they actually expect to wait 5-minutes or more on hold before they speak to a real person on a customer service call.
There are major drawbacks to lacking an SMS strategy, as one in three consumers claim they have sent messages to a business but received no reply (mainly because the business didn't have two-way texting). This reflects poorly on the customer experience offered by the company.
Additionally, 65 percent of consumers feel more positive about businesses with messaging than they do about businesses without it. Messaging through mobile phones has become a fast, easy way to gain points with customers and, of course, plays nicely with your text analysis strategy.
And amazingly, a recent McKinsey study revealed that only 37% of organizations feel that they are using advanced analytic methods to create value for their customers. Talk about missed opportunities, wow. The type of data obtained from text analytics can be a huge strategic differentiator that can make dramatic improvements in customer satisfaction, not to mention your organization's bottom line.
This blog post has been re-published by kind permission of Scorebuddy – View the
Original Article
For more information about Scorebuddy - visit the
Scorebuddy Website