Our panel of experts explain everything you need to know about contact centre analytics, from its benefits and key features to its costs.
What is it?
Contact centre analytics helps organisations realise one of their key objectives – reduce the costs of operations while maintaining customer satisfaction.
Businesses can use analytics to automate many of the manual quality management (QM) processes in the contact centre, such as call monitoring and scoring.
Also, interaction analytics allows companies to develop a 'big picture' understanding of customer interactions across the entire customer life cycle.
How does it work?
Interaction analytics (a.k.a. speech analytics) automatically captures unstructured data from recorded calls, emails, chat transcriptions and social or other customer interactions and turns it into structured data.
It then uses the structured data to identify trends, root causes of issues and to drive improved agent performance. It can be employed as a cloud-based or on-premise contact centre monitoring solution.
So, interaction analytics works by:
Capturing 100% of customer interactions and associated metadata from any source communication system (call recorders, chat systems) and across multiple contact centre sites and locations.
Converting customer interactions (calls, chats, emails, social) into a consistent text format for analysis and quality scoring.
Automatically evaluating and classifying every interaction into configurable categories so they can be appropriately tagged (e.g. dissatisfaction, up-sell).
Configurable scoring, which is done to meet pre-defined, individual quality scoring criteria which measure a range of topics, including: sentiment/acoustics, performance quality, compliance adherence, etc.
Using these insights to continuously improve contact centre performance by ensuring compliance, targeted coaching etc.
Key features
Interaction analytics offer the following features to contact centres:
Provides visibility of the customer journey
Multichannel analytics offers full visibility of the customer journey. This ensures that the quality scoring is performed on 100% of customer interactions and associated metadata from any source (phone calls, chats, emails and social media).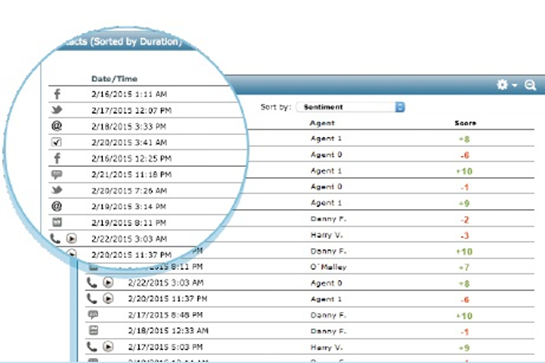 Identifies key trends and issues
Interaction analytics automatically identifies trending words and phrases in customer conversations. These can be used to identify the right parameters for quality scoring and also identify possible trends or issues before they become a major problem.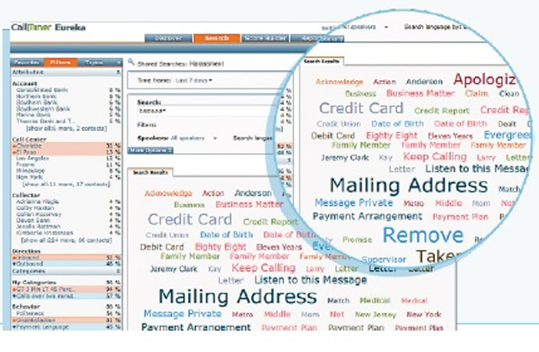 Categorisation and scoring
By automatically tagging contacts that contain certain language or characteristics, supervisors or managers can quickly search for and locate specific sets of interactions. Scores applied to specific tags enable quality to be monitored. They also measure performance trends over time and across different agent groups or categories.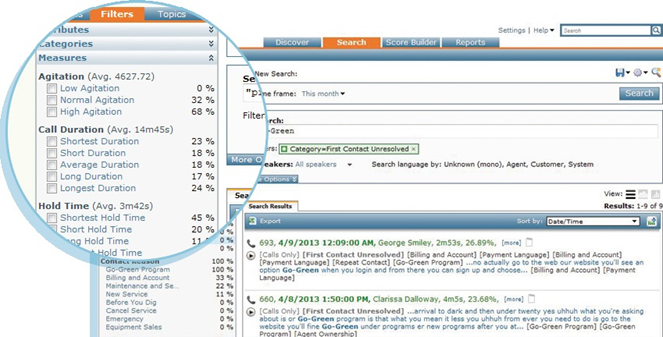 Automated performance feedback
This works by automating agent performance feedback to contact centre managers, supervisors, and agents. Feedback can be delivered as continuous plain language alerts and notifications.
Each agent is provided with a personal scorecard which measures their performance against agreed quality parameters on a daily basis.  By aggregating all the data into a single view, it allows supervisors and managers to evaluate and compare performance against key quality metrics.
It also makes it possible to get a picture of quality across the entire omnichannel customer journey and therefore highlight trends or coaching needs.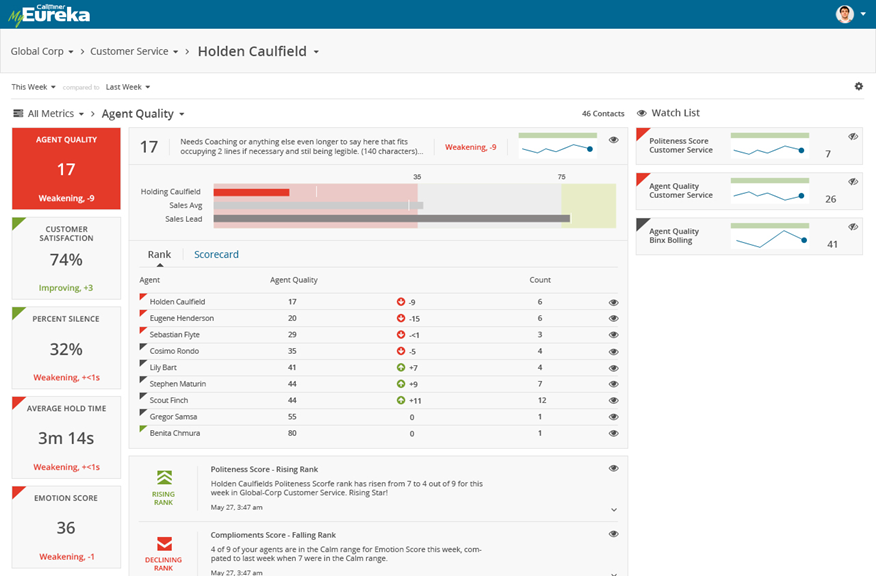 Automated real-time quality monitoring
Some interaction analytics software enables call centres to monitor calls in real time. This provides script compliance detection, emotion detection, next-best-action guidance, event alerting and automated context-driven workflow initiation directly to agents' desktops.
Which areas of the contact centre can it help to improve?
Improve service quality
Interaction analytics can highlight the frequency of bottlenecks, unnecessary transfers and repeat calls.
This is done by understanding which customer types, employee workgroups, IVR exit nodes, websites, company policies, work procedures, etc. are creating unnecessary call-flows. With this information, the call centre manager can focus on appropriate improvement opportunities.
Identify training needs
Measuring the right behaviours in the quality process makes it possible to identify the soft skills required to deliver excellent customer outcomes.
For example, you may find that agents with good active listening skills, or the ability to show empathy, have a positive correlation to customer satisfaction.
Offer sales assistance
Interaction analytics can identify the optimum path to making a sale. While multiple routes may achieve a successful close, interaction analytics can help identify the best-practice method that delivers the best customer satisfaction or loyalty score.
Identify compliance
Interaction analytics can help deliver compliance improvements because it analyses and scores every single agent contact, either during or after the call. This provides a certainty of compliance that is simply not possible with traditional random compliance checks. These results make it much easier and quicker to satisfy audit requirements.
Ultimately, being able to prove compliance by accessing complete audit trails reduces fines or lawsuits associated with non-compliance.
Coach a culture of self-improvement
The personal scorecard that interaction analytics provides makes it possible for agents to evaluate their own performance. This means that they can decide what they need to do to improve the quality of the experience they deliver.
Driving this 'quality culture' can be supported by gamifying agent efforts by showing how an agent scores against key criteria relative to their peers (anonymously).
Cut the intelligence gap
Although surveys are currently the number-one method businesses use for measuring feedback, speech analytics provides much more insight around the customer experience.
In fact, interaction analytics is much better at plugging its customer service intelligence gap by ensuring vital information is never lost, allowing you to effectively gauge customer satisfaction, telling you what your customers want and reducing churn.
What to watch out for
Don't get lost between channels – have a single point of access to all data
To be able to deliver an optimum experience to your customers you need to make sure you can see a 'picture' of all their interactions.
To do this you need to analyse all their interactions across multiple channels in one system that allows you to have a single point of access to data. This is important because in today's multichannel world, it is not uncommon for customers to use multiple channels to resolve a single issue.
Most vendors have developed solutions for a single channel.
Don't guess what the customer journey looks like
Most organisations only analyse a small proportion of customer interactions – typically less than 3%. Without analysing every interaction, it is impossible to identify the complete customer journey. It is also not possible to notice trends and identify possible problems or opportunities.
So, make sure that your interaction analytics solutions can capture the complete view of your customer interactions.
Don't fully replace human interpretation
While interaction analytics can benefit your business, it is not designed to completely replace human intelligence and interpretation. For instance, emotion can sometimes be difficult to detect through interaction analytics software alone, and human instinct cannot be undermined.
Don't pick and choose certain benefits
There are some excellent examples of speech analytics being used effectively by contact centres, but, more often than not, those who have an analytics capability don't use it to its full potential.
It is often included as part of a wider technology acquisition typically added to a call recorder or dialler purchase and, on many occasions, remains under-utilised.
For this reason, the adoption of speech analytics within the UK market is as low as 6%, nowhere near the expected take-up rate that many thought would occur in the sector.
How much should I budget?
As mentioned previously, there is a surprisingly low take-up rate for interaction analytics, which is very likely to be because contact centres are not using the technology to its full capacity.
Therefore, it often does not represent true value for money, as the cost attributed to this technology can typically run into the £100ks for even a small contact centre.
However, there is another option for contact centres to use text analytics, as it has been described as "speech analytics on a budget".
This is represented by the difference in costs, with text analytics for 100 agents doing 20 customer satisfaction each per month equalling around £120 per month.
If you partner this technology with automated transcripts, which are relatively cheap and have a +95% accuracy for all words transcribed, you can achieve much of the same benefits.
These benefits include a word cloud showing what the keywords are for your NPS detractors and promoters and the formulation of a "Top 10 gripes" lists, which senior management can share with the other departments to drive down avoidable costs. Examples of these benefits and insights can be seen below.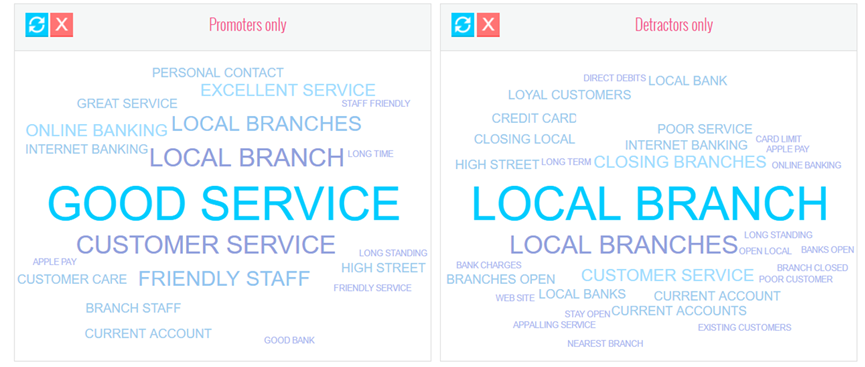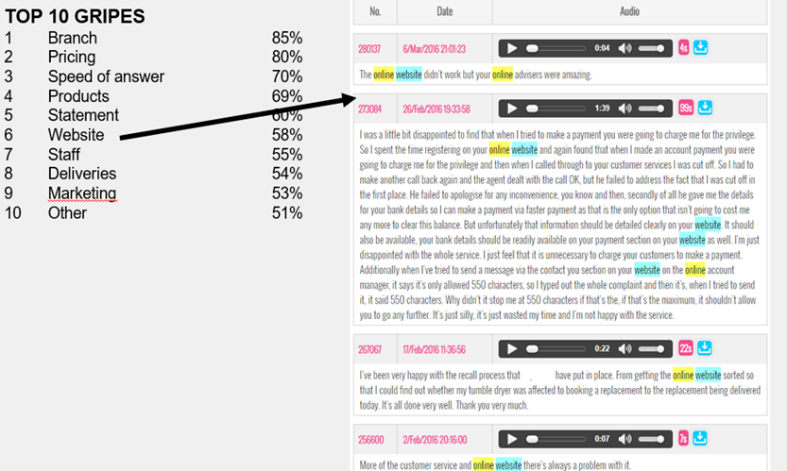 Thanks to the contributors who helped supply the information for this article (photographs left to right):
Frank Sherlock at CallMiner
Mats Rennstam at Bright
Ashley Unitt at NewVoiceMedia
Susannah Richardson at mplsystems

For more on the topic of contact centre analytics, read our articles: