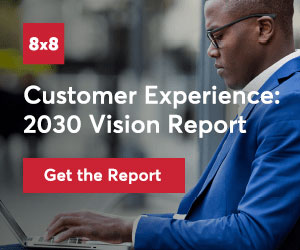 Lisa Orford at 8×8 looks at the collaboration of human and AI and asks the best approach for an elevated customer experience.
It's no secret that technology is a key enabler of elevated customer experience (CX). Today, there are endless opportunities for organisations, such as contact centres, to use the latest AI technologies to achieve better results and assist both customers and employees.
Notably, a recent report revealed that nearly three quarters (74%) of CIOs believe AI can positively impact customer experience.
With conversational AI chatbots and virtual assistants able to take on routine requests and customer interactions, there's a huge opportunity for contact centre agents to step up and focus on more 'value-add' tasks.
When leveraging the potential of AI, it's important for contact centre managers and agents alike to understand how they can work alongside AI to enhance their daily roles. To help with this, let's explore the key areas that AI will impact across the contact centre sector.
Augmenting Customer Experiences
Today, there is more pressure on customer service than ever, as they deal with rising numbers of complaints and channels for communication.
AI has the potential to work with contact centre agents to deal with this demand, and in turn augment consumer experiences by streamlining contact centre processes.
For example, many standard customer queries have common answers and responding to these can be repetitive and menial tasks for contact centre agents.
For many straightforward inquiries, interaction with a chatbot will have the same impact on customers as speaking to an agent.
AI can play a key role here by helping discern the calls that require a human touch from those that can be dealt with easily through chatbots, based on data and learnings from previous customer conversations.
AI can access and process vast amounts of data, identify relevant patterns and predict the best solution to any problem.
As a result, customers requiring speedy answers won't have to wait on hold – instead chatbots can leverage AI to provide concise, rapid responses while agents can use their judgement based on the urgency of the situation and the customer's background.
One thing that needs to be kept in mind though is that to deliver a truly excellent customer experience, the AI tools being used need to be able to handle elevations seamlessly.
Customers don't want to talk to the AI chatbot and then repeat themselves to a human operator. The information needs to be there for the human operator as the conversation or engagement switches over.
What's more, AI can provide advanced translation capabilities to further elevate contact centre capabilities.
Through AI-supported chatbots, contact centres will be able to support queries from customers in numerous languages.
As a result, contact centres will be able to connect with customers regardless of location and language, opening up a new world of personalised customer service opportunities.
Agents Become Specialists
As AI answers more and more of the routine questions, the roles within contact centres will be redefined. We'll see chatbots take centre stage for mundane, day-to-day requests, such as those that are transactional or process driven, while human agents become the specialists, on hand to answer in-depth queries on a specific sector and 'value-add' aspects of their job,
In contact centres, there will always be the need for a subject matter expert and a human voice at the end of the phone line, so it's not about roles becoming redundant to AI.
AI technology, such as intelligent assistants, will improve overall working experiences for agents by helping them to provide faster response times and increased analytics visibility.
With the right tools and AI support, contact centre agents will be more empowered to deal with individual customer needs, leading to more consistent, accurate customer responses and an elevated contact centre experience.
AI Will Only Continue to Evolve
Gone are the days of call centres as we used to know them. The future of customer experiences lies in contact centres offering multi-channel communications, enhanced by AI capabilities.
As AI technology evolves and improves, we'll continue to see chatbots increase in sophistication. By learning from an ever-growing pool of data, AI will develop new conversational and analytical capabilities to further enhance the working lives of contact centre agents.
In turn, we'll see improved efficiency, more personalised services and higher customer satisfaction – key benefits that will only continue to grow in line with the AI evolution.
One area where there will most definitely be evolution is in the security aspects of chatbots, particularly around data storage.
Companies and individuals care about their data and have every right to make sure it is being used and stored in the right way.
What companies will need to ensure is that it is understood what data is being collected, where it is being stored and similar potential concerns that users – and regulators – may have.
For more information about 8x8 - visit the
8x8 Website