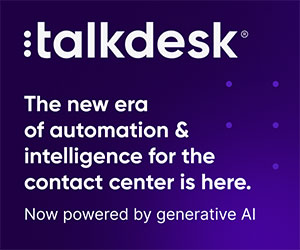 Summer Ramsey shares three quick tips to deliver simple and effective customer support on any channel.
Great customer experience (CX) often begins with highly prepared customer support agents.
When a customer calls, your support agents should know who they are, what they are calling about, which product they purchased and more.
To achieve this level of agent knowledge and preparedness, ultimately improving your organization's CX, you need to bring together two historically disjointed systems: the call centre and your Salesforce CRM.
When integrated, these systems will provide support agents with an instant view of all the customer information they need.
To empower your support agents so they can delight customers rather than spend time searching through various tools, here are three useful tips for a seamlessly integrated contact centre.
1. Personalize Every Interaction With Seamless Salesforce Integration
Great CX is all about personalization and every engagement is a unique opportunity to delight a customer.
It should be easy for your agents to focus on the customer conversation and provide personalized, meaningful information at any stage of the customer journey.
Data-dips pull information from Salesforce to route inbound customer calls to the right agent or department based on case status, customer loyalty, specific issues or other customizable variables.
Screen pops bring customer case information up on an agent's screen as a customer calls in, making it easy to quickly understand and help the customer.
From an operational perspective, personalization of customer interactions drives down important call centre metrics like average handle time (AHT).
More importantly, personalization leads to more satisfied and loyal customers that are more likely to purchase related products and services, which increases the customer's lifetime value to your organization.
2. Improve Efficiency by Eliminating Manual and Repetitive Work
To work smarter and more efficiently, your contact centre needs powerful pre-built and customizable automations that keep customer information current, compliant and accurate while reducing manual effort and human error.
Bidirectional data syncs with Salesforce to automatically sync customer information and eliminate manual data entry, keeping your agents informed and cases up to date.
Lightning Flow triggers (within Salesforce) based on call centre events, such as call status and logged dispositions, expedite the support process and fully embed your contact centre platform within your CRM.
3. Provide a Complete Customer Experience
Equip your agents with all the tools they need to meet customers on any channel and quickly view, track and manage the entire support journey.
Switching support channels easily allows agents to redirect customers as needed, potentially to a subject-matter expert or to accelerate escalations to another channel.
Real-time reporting allows agents, supervisors and CX leaders to quickly diagnose call trends and take action. Embedded Salesforce dashboards offer pre-built and customizable reports to get you started.
This blog post has been re-published by kind permission of Talkdesk – View the
Original Article
For more information about Talkdesk - visit the
Talkdesk Website