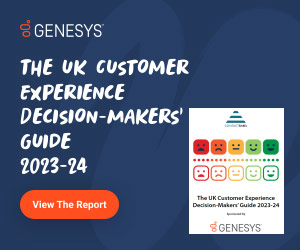 Are you looking to improve your digital customer service? Here are our suggestions for doing so.
1. Map out Your Customer Journey Across all Channels
It is unusual for a brand to offer an inconsistent experience across phone, email, webchat, social and video.
According to Simon Foot from Ember Services, "companies are saying let's wrestle with this and map out the customer journey. I would advocate that this is a very good starting point, as it helps you to challenge what the future state might be."
Creating a customer journey map will offer a company greater insight into the customer experience and help align each channel with the desired outcome.
Follow the link for our: 5 Steps to Creating a Customer Journey Map
2. Challenge Your IT Department to Think About Customer Service Innovation
It is becoming a common phenomenon for brands to market themselves through greater customer service as opposed to the product they are selling.
Just recently, Spotify created personalised playlists for its customers, banks have started to employ voice recognition technology and Domino's created the "Steady Pizza" (check that one out online!)
But what has caused this trend?
Simon asserts that brands are realising that "customer service and operations is an area where we get first insight into what our customer requirements are."
"We then need to challenge our IT community to produce the same innovation that we have to."
3. Put a Customer Back Through to the Last Agent That They Were in Contact With
Whilst many contact centres provide an option to route a call back to the advisor who spoke to the customer originally, many have taken this one step further.
According to Simon, these contact centres are "offering a call-back to the same advisor that you spoke to, within two days of the original contact that you had with them."
"As a principle, your organisation is creating a situation where you could provide an easy access back to the advisor who took your original call, within that 48-hour time frame."
4. Split Webchat Usage by Device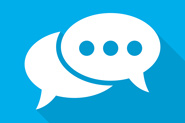 Natasha, one of our readers, advises that splitting your webchat channel by device can boost the digital customer service that you offer.
Pinpointing how it can do so, Natasha says that "being able to split your webchat usage by device over age will give you much more insight into customer demand and how best to use your webchat invites."
"This also helps you route the customer to the right channel for their needs instead of offering every channel that's available."
Find out how else you can improve your webchat channel by reading: 23 Wonderful Webchat Tips
5. Determine the Customer's Preferred Channel
Simon believes that it is of fundamental importance in the contact centre to "understand the transaction that the customer is trying to make and figure out the quickest and easiest way for that to get completed."
So, Simon advises "taking a really good look at how easy it is for a customer to complete their task across the myriad of channels that you offer. And then obtain the data to relate that back to the CSAT (Customer Satisfaction) or the NPS (Net Promoter Score) by channel."
This can then provide advisors with valuable information, especially if you find a preference for different persona segments of your customer base, to guide customers through on a channel targeted for their use.
For example, your CSAT and NPS scores may dictate that Dave, a 20-year-old student, may prefer to use live chat for a certain transaction. Whereas, Rose, a 71-year-old retired grandmother, may prefer to use voice for the same transaction.
6. Remember That There Is Still Value in the Email Channel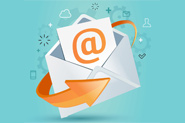 With webchat being a channel that is frequently discussed, many forget the importance of email and question its relevance in modern times.
However, Simon believes that "there is a natural progression from a webchat to an email and a similar, just less formal, email process, in reality."
This progression may be because customers want to ensure that they speak to the same advisor again, and can do so directly through email, or the customer wants to hold onto important information for a complex query.
Charlie, another one of our readers, says that often, during "complex queries, email is preferred".
This is because "it gives the customer some proof of the conversation, as many customers are unsure if they can request their call recordings."
Follow the link to read our debate: Is Email on Its Way Out?
7. Recording and Quality Is Needed in Digital Channels
In terms of monitoring, coaching and quality assurance on the voice channel, many contact centres have well-developed programmes to develop advisor performance. Yet, according to Mike Murphy at Genesys, not enough is being done to bring these processes onto other channels.
Mike says that "we have done a lot of work in the voice channel around bringing in recordings, quality control and helping advisors to become more effective, as well as making sure they are good at servicing, selling and so on.
"These tools are proven, but they must be available across all channels, and so often we are seeing that they are not. Most contact centres have no way to assess advisor performance compared with others working on the same channel, in regard to helping an individual work more effectively." 
So, to make sure advisors are giving the best service possible, Mike is suggesting that advisors should be monitored and coached evenly, across all channels.
8. Don't Assume Transfers Are OK
The sound of the hold tone will irritate most customers who call the contact centre. And, as Mike put it: "route me to somebody who can solve my problem straight away, and please don't transfer me."
To minimise the chances of this feeling arising from their customers, AO's contact centre had streamlined their IVR to find the most efficient route of service, based on the stage of the customer journey. This also increased efficiency and lowered customer effort.
Find out how AO did so by reading our article: 17 Things You Can Learn from the AO Contact Centre
9. Introduce New Channels Carefully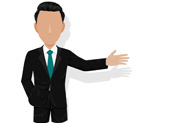 One of our readers, Mike, insists that it is important to "avoid spending lots of time and money on a new channel because you think you should.
"Ask your customers and conduct some research before putting the investment in something that has demand and will be used."
These thoughts were also shared by fellow reader Ian, who adds that it is important to "ensure the introduction of new channels is done at the correct pace for the company and the customer."
In Ian's contact centre, they "have been driven to introduce new channels at pace, 'because it's the thing to do'. Due to this they have not been robust or fully supported.
"We have turned customers off due to experience received and therefore have taken a backward step."
Find out what you should be looking out for in our piece: 13 Mistakes to Avoid… Multichannel
10. There Are Better Tools Than Outlook for Handling Emails
Many contact centres will respond to customer queries through Microsoft Outlook, without considering the alternatives.
Yet, some of our readers have changed their email platform to improve their digital customer service, including those below:
"We now put all customer emails through Microsoft Dynamics."
"We handle email in queues. We have several email addresses that come into the centre, so have separate queues. We also have to spend some small amount of time sorting the emails to clear out spam and junk every morning so we know where we stand for the day."
"We create a Case for every email which has KPI timers using the date on the email. Our target is to reply within 2 days to each email, and we have a countdown clock on every case as soon as it is created, changing colour as the deadline approaches." ~ Charlie
"We have MS Dynamics. We are planning to add Cisco SocialMiner to add email, chat and social media into Cisco Finesse." ~ Shaun
"Salesforce is an amazing case management solution that turns emails and faxes into cases to be processed and resolved for customers." ~ Chafik
"We have one tool that handles phone, email and webchat channels – Avaya. We have the flexibility to turn channels on and off dependent on each service desk's requirements for the client." ~ Su
11. Messenger and WhatsApp Are Likely to Be the Next Channels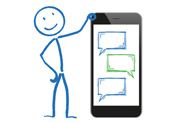 Many people believe that messaging apps such as WhatsApp and Messenger will become the next channels in the standard omnichannel portfolio.
In fact, Simon has already taken notice of this trend, stating: "Increasingly, at the end of an online purchase there is a text box asking if you would like to receive any updates on your order via Messenger."
"So, that would suggest to me that Messenger is making an active play for this base, which they would because there is commerce there that Facebook can advance with, but it feels like that will then drive the take-up of WhatsApp."
"However, the challenge is the integration of WhatsApp. But people are starting to get there."
12. Webchat Is Not Always the Easiest Channel
As discussed in point six, there is a natural progression that causes complex webchat discussions to transfer to email.
This progression frequently occurred at Natasha's insurance-based contact centre because "insurance is very complex and webchat isn't always the easiest channel for the customer to use even when they want to."
So, Natasha's contact centre added "a bespoke outbound process within webchat and we call the customer directly. The rep who calls them will know exactly what their query is and have a copy of their initial conversation."
13. Don't Settle for a Process – Keep Looking out for New Ways to Improve CX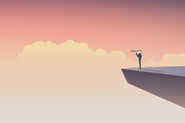 We were recently posed these questions:
Should we be concentrating more on using the data we have on the customer rather than creating more or better contact channels?
Surely the best customer experience is where they don't have to contact us because we've pre-empted their issue or question?
Mike's response was to do both in a structured way, stating: "I've watched this happen at AO, where they invested in deliberately exploring why customers were contacting them, and the management team analysed that data to discover where they could fix the problems.
"Where is the issue? Is it in the order confirmation? Or is it in the follow-up to a query? These are the things that we all must be exploring, so we can find out how we can make the experience easier for the customer.
"This process never stops, as we will never reach the so-called sunset. Because customers are customers, they will always find new things for us to be challenged with.
"So, try and get that mentality into your organisation. You may never get to the end of the rainbow and find the pot of gold, because it doesn't exist, but you have to drive customers to a place where they can find a better experience."
For more on this topic, read our article: Is There a Link Between Customer Experience and Profitability?
14. Learn How to Deal with Peak Periods
During peak periods, service level and occupancy grows with contact volumes, increasing the pressure on advisors, meaning that performance may suffer.
So it is important to create a strategy for dealing with periods, such as the lead-up to Christmas, when you would expect contact volumes to be high.
The strategy for handling increased contact volumes in these periods of the year in the contact centres where Androula, one of our readers, works is a good example of how this can be done efficiently.
Androula says that her contact centre "recruits entry-level advisors to form a peak season team to complete our easiest and highest volume email categories. This enables experienced advisors to handle higher-complexity calls.
"We even triage certain call types to specific agents, as when dealing with a specific category, higher volumes are achieved and a consistent quality is given."
Follow the link to find out: How to Work out How Many Staff You Need in a Contact Centre
Do you have any advice that you wish to share on the topic of digital customer service?
If so, we would like to hear it! So please leave your tips, as well as any other thoughts, in an email to Call Centre Helper.