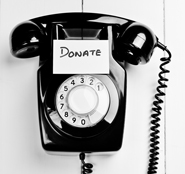 Charities are the latest offenders to be added to the list of nuisance callers, with complaints from the public increasing by 26% last year.
The figure was revealed in Channel 4's Dispatches "How to Stop Your Nuisance Calls", which aired on Monday night, raising concern that, while contact centres working on behalf of charities have successfully raised over £2 billion in the last few years, there may be fault with their methods.
The undercover documentary saw agents being told to ask for money '3 times' within any conversation, as well as being advised to set call-backs to people who've politely declined their requests for money.
It was also revealed that these practices are culminating in members of the public being harassed by up to 6 calls a day (with some of the most desperate victims resorting to 'hiding the phone in the airing cupboard') – unfortunately shedding negative light on an already-tainted industry.
It highlighted just how important contact centre technology is
"I was disappointed to see that the contact centre industry was heavily criticised in the Dispatches documentary on Monday night," said Sian Ciabattoni at Noble Systems EMEA. "Of course, it highlighted questionable practices that target vulnerable people to persuade them to donate, but we felt that it was a one-sided account – the companies that were filmed had dubious staff practices and often went off script. For us, it highlighted just how important contact centre technology is to automatically highlight any issues immediately, ensuring managers follow best practices and gain greater donations moving forward."
"So called 'nuisance calls' are the lifeblood of many charities, in fact, they enable these organisations to keep their costs down and improve regular direct debit incomes, therefore ensuring that more of the money donated goes to the people that need it."
"For us, it further highlighted the importance of a well-managed contact centre, where the quality of calls is constantly being analysed and training given appropriately. In addition, data management is key to avoiding persistent misuse of telephone numbers and if the agent is correctly dispositioning calls, eg 'soft refusals', then the donor will only receive contact from the organisation at a time and via the means appropriate to them."
It is not reflective of the UK contact centre industry as a whole
"The Dispatches documentary highlighted an issue that has caused an amount of distress and complaints, but is not reflective of the UK contact centre industry as a whole," said Amanda Bowbanks at Jabra UK. "UK call centres are highly regarded as providing excellent customer service from well-trained representatives and telemarketers who are sensitive to requirements of the customers being called, whilst providing a vital service of not only front-line problem solving but also of brand awareness."
People need to take some responsibility for protecting their data
While the majority of contact centres do run a legitimate service, there may always be a minority of businesses who use personal information to harass people (whether for PPI or charitable donations).
What do you think should be done about nuisance callers?
---