Adam asked our LinkedIn Community 'how many screens (monitors) do your agents use?'
1,087 industry professionals responded to this question, and we have collated the results to share with you below: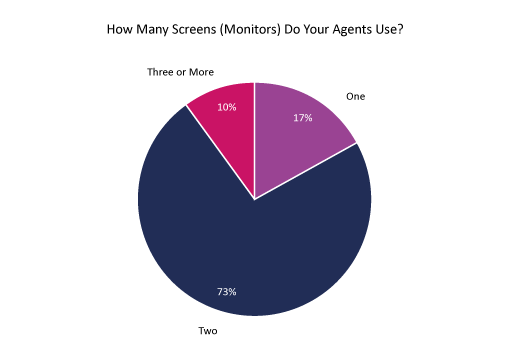 | Number of Screens (Monitors) | Response % |
| --- | --- |
| One | 17% |
| Two | 73% |
| Three or More | 10% |
With just under three-quarters (73%) of respondents selecting two screens or monitors, there is clearly a preference for this amongst contact centre professionals.
Potentially this is due to the number of applications agents have to use or it could be to ensure ease of use and accessibility, for example having chats open on one screen and the account information on another. Either way, based on this poll, it appears two is the magic number.
10% of respondents said their agents have three or more screens, which could be beneficial for complex jobs, but could also indicate that these agents have to access a large number of applications rather than just a few.
The remaining 17% of respondents stated that their agents have one screen, which could mean that agents either don't have that many applications or that their equipment is not suitable for the requirements of the job – but without knowing the details, either could be true.
☆☆☆☆☆
A number of respondents also commented on the post, expanding upon their choices and encouraging a discussion.
We have picked the best ones to share with you here:
It Depends on the Role
This largely depends on the role in our contact centre.
For example, our phone teams use just one monitor, whereas our chat/WhatsApp teams use two monitors; one for conversation and the other for using the systems.
Thanks to Igor
Two Is the Minimum
In the corporate office, they have a docking station at their desk with 2 external monitors plus their laptop screen.
This is set up to ensure the ease of looking at various programs and tools at the same time (and also partly because this is how all stations at the corporate office are set up by default!). However, when they work from home, there are varying set-ups.
I really think 2 is the minimum a user should have in this day and age, unless you are using a highly simplified interface that combines contact centre, CRM, and knowledge base in one platform.
Thanks to Meggyn
Two Is Optimum
We find that two is the optimum as it allows multiple programs to be accessed at the same time, which substantially increases efficiency.
We find that two is the optimum as it allows multiple programs to be accessed at the same time.
Some turn the second monitor portrait style as well, so the support programs can be placed in a ladder format to increase their accessibility.
Thanks to Jacqueline
Separate the Work out Across Screens
One for socials and mail / for the main work, then one for data entry and other external office use.
Thanks to Jamal
Multichannel Productivity
Productivity is the main reason. We're multichannel as well, so this aids the end consumer in terms of call duration or handling time.
Thanks to Eugene
Ease of Access When Multitasking
My team works remotely but needs to use 2 screens, as we open many documents for our customers, while also checking their accounts, as well as answering calls and replying to emails.
Thanks to Liz
We're Planning a Trial for 4 Monitors
Currently two.
However, we have been planning to trial 4 monitors per station in the coming weeks, as follows:
CRM
Queue stats/waiting
Google tab for external systems that clients use
Emails
My operators have requested this over several months so thought it would be good to try out. They have several applications and tabs open, so I know the feeling!
Thanks to Joshua
A Large Curved Screen Might Also Be an Option to Test
We trialled 4 screens a few years back. We noticed that after a while (when the hype of a big gaming set-up went down), the top two screens were not used any more.
We gave it another couple of weeks and we noticed the agents didn't even turn them on. The set-up (with desk-stand) was just too large to be able to work comfortably on the top screens.
With what is available today, a large curved screen might also be an option to test, so everything is within sight and fits into what would otherwise be across 3 standard screens.
Thanks to Dirk
We've also got some great articles on agent desktops that you should read next if you want to find out more: