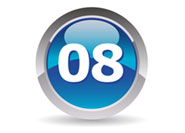 New research has revealed that while a growing number of businesses are using 08 numbers for their customer contact centres, 81% of respondents believed these contact numbers damaged their perception of an organisation.
"This data suggests that marketing departments are not taking enough interest in the customer contact experience – to the detriment of their brands.  The issue here is not just of cost but also of transparency," comments Stephen George, Commercial Director at Orca Digital.  "As well as damaging their relationships with existing customers, 08 numbers are likely to be a deterrent to prospective customers."
The cost of calling 08 numbers, which can be as high as 40p per minute from a mobile, is typically unknown to consumers until they receive their bill.  According to Ofcom, consumers spend a staggering £1.9bn on non-geographic calls – i.e. calls to numbers beginning with 08, 09 or 118 – each year, the vast majority of which are kept by mobile phone networks.
As Ofcom considers ways to clarify and simplify charges to non-geographic numbers, in order to help consumers "regain trust" in these phone numbers, the full extent of consumer frustration has now been revealed.  According to the research from Orca Digital, which was carried out by pollster YouGov, 49% of respondents have been surprised to see how much they have been charged for calling these numbers and 90% believe organisations should make the cost of these calls clearer.
"More progressive businesses are looking at following the example set by the BBC, which recently launched voice short codes for telephone voting on The Voice," continues Stephen George.  "Voice short codes give consumers complete clarity over the cost of their calls – rather than 'costing considerably more', they can see exactly what the cost is before making a call."
By using voice short codes, businesses can bring down the cost of a call for the consumer without affecting their margin from each call.  Furthermore, businesses are also able to clarify the cost of making a call from a mobile – as it is the same across all networks.
"Following in the footsteps of the BBC, ITV and Channel 5 have quickly followed suit – voice short codes are now ubiquitous across all TV voting formats," comments Will Neale, Chair of the Voice Short Code Working Group – a sub-group of the Interactive Broadcasters Forum.  "I would strongly encourage companies from other sectors to follow suit."
---