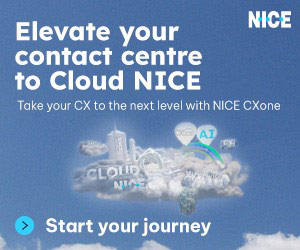 Paul Jarman of NICE inContact shares his advice for driving success and agility in the contact centre.
Unprecedented, unpredictable and unforgettable – 2020 was certainly a year like no other. The COVID-19 pandemic transformed the business landscape as consumers changed their buying habits and businesses pivoted to survive.
Although it's tempting to put the past 12 months behind us and move on, the lessons learned from such a disruptive year provide valuable information that can help guide contact centre investments in 2021.
While businesses couldn't have been prepared for the global impact of the pandemic, the key question they should now be asking themselves is: "Are we prepared to handle the unexpected?"
Part of business continuity is ensuring that all business functions, especially within the contact centre, are resilient and can weather storms with agility and built-in adaptability. By focusing on agility, organisations will put themselves in the best position to respond to any crisis – regardless of the specific scenario.
In order to drive success in 2021, contact centres should focus on building in agility through three key pillars.
1. Give Agents the Support They Need
Agents are every contact centre's greatest assets, playing a critical role in satisfying customer needs. They had to deal with considerable upheaval in 2020, facing issues such as technology glitches and limited access to key platforms amidst the work-from-home shift.
To make their lives easier, they should have access to all the necessary tools and support they need to do their jobs effectively and feel part of a team when working remotely. As such, in 2021 contact centres should prioritise investments that ensure their agents are cared for and positioned for success.
Start by providing at-home agents with access to all the applications they use with full availability, reliability and speed. This can include their agent desktop, CRM, knowledge base, performance dashboards, and more.
If these are all in the cloud, giving agents access is quick and straightforward, especially compared to making on-premises software available to remote workers. IT groups also need to focus on making sure the internal infrastructure can support remote workers, which can include ensuring VPNs, data centres and hosted applications can support the additional load.
Furthermore, eliminate mundane tasks with self-service capabilities. This will ease the burden of performing repetitive tasks and allow agents to flex their problem-solving muscles.
Increasing customer adoption of self-service tools can change the nature of agents' roles and increase their value as they begin to focus more on complex issues. As well as making an agent's job more fulfilling, the ability to quickly turn on self-service in times of crisis will help provide agility and support business continuity.
Finally, roll out processes to help manage and develop remote agents. Digital workforce engagement tools that provide anytime, anywhere scheduling will keep agents engaged and in-the-know, while eliminating manual scheduling processes.
These tools can also enable supervisors to streamline coaching efforts by monitoring agents' screens in real time, giving them the insights needed to truly understand the context of interactions and provide more effective coaching in a work-from-home setting.
2. Focus on Digital Channels
Consumer preference for and reliance on digital channels has increased significantly as a result of COVID-19, making it imperative for organisations to pivot to this business model as soon as possible.
Customers – particularly Millennials and Gen Z – now want to interact with businesses through digital channels such as chatbots and social media messaging.
According to our industry research, 62% of contact centres reported an increase in digital interaction volumes in 2020. The research also found that 90% of consumers are more willing to do business with a company that provides more ways to communicate.
Businesses must therefore ask themselves whether they are meeting today's expectations. There's an imperative for digital-first customer service that contact centre leaders must recognise and adapt to if they want to attract customers and drive growth in 2021.
But customer demand isn't the only reason to implement digital channels; there are also very practical reasons to go digital.
For example, it can help contact centres manage demand and provide more agility as part of business continuity plans. Most digital channels, unlike voice interactions, don't require real-time responses. This means agents can respond to email and chat queries in between real-time phone conversations, giving them much more flexibility.
This is particularly helpful when phone volumes and wait times are high, which we saw at the start of the pandemic.
Customers could send an email or a message on Facebook Messenger and receive a response without having to wait on a long phone queue. This provides a new level of agility, empowering contact centres to both adapt to changing customer preferences and be flexible in the face of disruption.
3. Embrace the Bots
AI-powered bots are no longer experimental technology. More organisations are successfully using them for self-service or in conjunction with agent assistance to optimise the customer experience and increase operational efficiency. And, like digital channels, they can help manage contact demand, which is why they should be a key investment focus for 2021.
Bots can be deployed in various channels – voice, chat, IVR and many more – and are typically used to answer common questions or facilitate simple transactions. They are also effective at gathering customer information that can be handed off to the agent for quicker agent-assisted interactions.
As such, adoption is continuing to increase, particularly as bots become smarter and more useful. For example, 66% of contact centres now use at least one AI channel for customer support, a substantial 16% increase from 2019. What's more, 40% plan to invest in customer-facing AI capabilities in the coming year, while 52% plan to invest in AI that will improve operations.
And AI isn't just used for chatbots. Contact centres can also use the technology to improve forecasting and routing and to measure customer sentiment. Additionally, AI-powered bots can act as agent "co-pilots", advising agents about the next best action and performing some of their administrative tasks.
Don't Forget About the Cloud
These investments are all critical for future growth, but they need to be implemented on the right platform to ensure maximum success.
Businesses now recognise the flexibility cloud-based solutions provide, with 66% of contact centres planning to accelerate their move to the cloud as a result of the pandemic.
A cloud platform allows agents to onboard quickly and seamlessly work from home. It also makes is much easier to add new digital channels and integrate AI capabilities compared to on-premises solutions.
With all this in place, contact centres will have the agility to deal with the unexpected and drive success in 2021 and beyond.
For more information about NICE CXone - visit the
NICE CXone Website