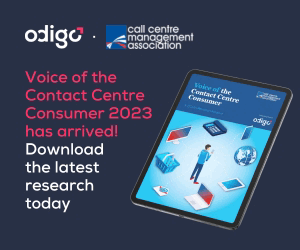 The finance industry is perhaps more emotionally charged than most when it comes to customer experience (CX). How can finance contact centres adapt to deal with delicate enquiries without losing trust?
You'd be forgiven for thinking that the likes of automation in CX might make customers run a mile – but times have changed.
The modern-day banking customer is more than happy to manage his or her finances in the palm of their hand, which means that convenience is king.
They do, however, still rely on the traditional method of contact via the phone, but they expect a much more joined-up and intuitive experience when it comes to contacting their bank.
A good example of this is the simple hand-off from mobile app experience to live agent. Until recently, few banks leveraged the identification process from the app when transferring to a live agent.
The smartphone would simply link to the number and dial and the customer would join the interactive voice response (IVR) like everyone else.
A seamless experience would be to pass the identity across to the agent, whilst providing location information and details of what they had been doing in the app before being transferred.
Let's take a look at more ways in which contact centres can level up on their finance CX solution to deliver this for customers:
Automate With AI and Monitor With Human Agent Shadowing
Money is a sensitive matter, so artificial intelligence (AI) solutions like chatbots and callbots need to be employed with great care in the finance contact centre. However, people are becoming more and more comfortable with speaking to bots to complete tasks or resolve problems.
Studies have now told us that trust levels are rising; if an automated service can help you solve an issue with the correct information at any time of the day or night, why wouldn't you use it?
Recent Capgemini research showed that 44% of people are happy to process banking transactions via a voice assistant, which indicates a significant level of trust in automated solutions.
It also indicates that it is time for financial organisations to adapt their approach to CX to keep up with customer behaviours. This is where AI can fill a gap, but it's important to remember that it's not a one-size-fits-all solution; the expectations between Generation Z and Generation X may differ greatly.
However, it stands true that consumers of any age will use self-service if it helps and doesn't hinder them. The rise of digital banking and the demise of the branch is a prime example of this.
Agents and AIs must coexist efficiently for end-to-end customer experiences to be outstanding. For example, bots can be installed to handle simpler tasks that take up too much of your agents' time, whilst human agents can be on hand to seamlessly take over an engagement if the query is not nearing a resolution or, indeed, if a bot inevitably runs out of answers.
The emphasis is on 'seamless' here; context must be retained to avoid repetition and keep customers happy.
Customers calling about financial matters must always have the option to switch to a human agent whenever they want, but the beauty of our bots is that they have in-built emotion detection capabilities, so they can recognise if a customer is getting stressed and transfer them immediately to a human agent instead.
Given the sensitive nature of money, this technology presents a fantastic opportunity to financial services as it can significantly improve the way you act in response to the way your customer feels.
It is this innovative collaboration between humans and bots that takes finance CX to a new level because it allows contact centres to find efficiencies for both agents and customers.
Optimise the Tone of Voice of Your Bots in Your Finance Contact Centre
One of the biggest turn-offs for customers when contacting their banks can be the lack of personalisation involved in the experience. Think about it: automated response after automated response in a (literally) robotic manner can be incredibly frustrating.
An additional layer here is that some people only tend to contact their banks when they have a sensitive enquiry about their finances, so there's potentially more emotion involved than there would be if they were calling about a pair of shoes.
Luckily, traditional and non-traditional banks alike can train their bots (conversational agents) to offer a more natural and human experience when humans aren't necessarily required.
This is achieved by creating a look and feel with a designer and a database of appropriately tailored responses with a copywriter for the bot to call upon when a customer makes contact.
That said, though, it is important to always make it clear to your customers when they are talking to a bot, as it can be more damaging to try to hide it.
It is of course the case that most of the engagements that customers have with a bank will eventually end up with human-to-human contact, but engaging with a more relatable bot beforehand will have (1) helped direct the enquiry to the right agent and (2) potentially lowered any heightened emotions better than a one-dimensional, mechanical bot would have otherwise done.
What's more is that ongoing analysis of your bot-based customer engagements will also allow you further refine your messaging so you (or your conversational agents) can present the right information at the right time.
It's no good offering the option of transferring to the mortgages department if your current account customer is already agitated, so we work with you to ensure that you get both the content and the tone of voice right at every stage of your CX process.
Create a Connected Finance CX for Your Contact Centre Agents and Customers
We live in an age of convenience that allows customers to manage their finances on the move, so it follows that it should be convenient for them to contact their banks whenever and wherever they are – no matter what their enquiry is about.
This means ensuring full CX integration with the likes of customer apps so that there is a direct line of communication between them and your agents. Likewise, your agents need to understand the context behind any given contact, so they need comprehensive customer insights at their fingertips.
Customers and agents are all too often experiencing disconnected experiences that involve repeating information and inevitable frustration.
This blog post has been re-published by kind permission of Odigo – View the
Original Article
For more information about Odigo - visit the
Odigo Website