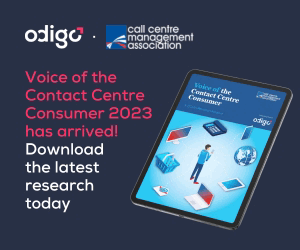 The demands of the modern consumer when it comes to personal and business finances require a new, channel-less approach to customer experience.
How can traditional banks compete with BigTech companies and challenger banks in order to keep up in a continually evolving landscape?
Customer expectations in the finance industry are changing as quickly as the technology that serves them, so it's more important than ever for traditional banks to keep up.
As people get savvier and busier, there is more onus on providers of financial services to be there when it matters to their customers – and that means delivering experiences that are consistent, engaging and satisfying every time.
The World Retail Banking Report 2019, recently published by Capgemini and Efma, showed a clear disparity between the level of satisfaction with the customer experiences (CX) offered by traditional banks and non-traditional firms like BigTechs and challenger banks, such as Apple, Google, Monzo and Starling.
Most Gen Y customers (71.9%) stated that they consider mobile apps to be an important banking channel today, but fewer than a third of them (32.9%) claimed to have had a positive experience with them.
This is just one of the examples of the divide between traditional banking services and customer behaviours and expectations. In a world in which younger generations prefer web and mobile apps to bricks-and-mortar branches, that gap must be closed if brands are to remain relevant and relatable to their customers.
Stop Thinking in Channels for Finance CX and Start Thinking in Convenience
CX in finance is rooted in trust. Money is a sensitive issue, after all. That's why banks are still delivering positive experiences at touchpoints that require the human connection, such as in branches – or in the branches that remain on our high streets.
It's a transition that isn't restricted to the financial industry, but physical banks are shutting down at a head-turning rate in the UK, in part because they don't offer the kind of convenience that can be provided by alternative digital channels like apps, chatbots, callbots and self-service.
There's a reason that these digital and physical channels can't necessarily exist in tandem for financial institutions, too. Finance CX is not about providing every channel for your customers in a catch-all mentality; it's about providing the right channels for them to get their financial business done in the quickest and most convenient way possible.
This means that some customers will still be reliant on the trust they get via the human touch on the phone, whilst other customers will be comfortable talking via text to a chatbot as long as their problem gets resolved.
At any moment, though, they might want to switch channels if they are not reaching a resolution or can't find one, which means that seamless transitions are critical for modern-day financial customer relations departments if they are to provide the kind of convenience that customers demand.
Don't Give Your Customers a Reason to Go Elsewhere With Bad Finance CX
There are more choices than ever in today's competitive world, and the dominance of financial comparison sites is a clear sign of that. Customers are always looking for better options, especially when money is involved.
Again, this is typified in the aforementioned World Retail Banking Report. Three-quarters (75%) of customers are now using at least one financial product from a BigTech company. Moreover, of those who are considering switching their primary bank within the next 12 months, four out of five (80%) are already using payments, cards or bank account products from BigTechs and challenger banks or, if not yet, they plan to do so within three years.
Customer expectations are on the rise when it comes to finance CX, so if an experience falls short of them, people aren't hard-pressed to find a better alternative. Indeed, the process of switching current accounts in the UK is so easy now that many customers would have no issues with making the few clicks of a button or taps of a screen that it takes to do so.
This puts greater pressure on contact centres and overarching CX solutions not only to get it right every time, but to go one better than that – to delight customers and give them reasons to stay.
One of the major aspects of thinking like your customers in finance CX is to understand and appreciate that they are probably always comparing you to your competitors. It's more important than ever, then, to ensure that your customer service offering is as customer-centric as possible.
Maintain Consistent and Convenient Finance CX at Every Engagement
At the end of the day, finance is one of the most sensitive industries when it comes to getting CX right. Customers have high expectations that are held up not only alongside direct competitors, but alongside globally dominant competitors like Google and Apple, too.
Their financial services integrate seamlessly with the hand-held devices that most people own today, so it makes for consistent and convenient experiences wherever customers might be or whatever they might be doing.
This principle of providing seamless engagements between you and your customers is built into the Odigo cloud platform to allow you fit comfortably into their lives around the clock. A person's reason for contacting you as their financial services provider is likely to be time- or money-sensitive (or both), so this level of service and quality of experience should be the standard you look to achieve when it comes to showing your customers that you not only think like them, but you are there for them in the moments that matter.