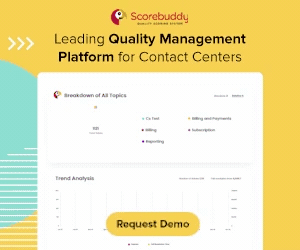 Quality monitoring, absenteeism, poor morale and staffing issues are all much more difficult to get right if you have poor quality assurance infrastructure, so it pays to choose the right quality assurance software for your contact centre.
For many, the temptation might be to settle for built-in QA that is often included with the contact centre system for a small additional cost. But there are sound reasons for thinking twice before putting your trust in a software add-on that may be little more than an afterthought or a tick box exercise.
The Challenges of an Add-On Quality Assurance Solution
Several limitations hinder the effectiveness of built-in quality assurance software compared to a purpose-built QA solution. Built-in QA systems offer only limited scorecard creation options and basic answer choices, outcomes and feedback that could be confined to a range of 1 to 5 or only 3 stars.
Rudimentary scorecards restrict the reporting capability of the system because they can only capture limited data. Basic data and feedback produce limited insights from which to make decisions about agent performance and engagement.
The level of detail you can capture and the ability to report on that detail is important when it comes to helping agent engagement and retaining agents. The limited feedback of built-in QA software makes it harder to provide the best direction and coaching for agents.
Poorly coached agents can have a detrimental effect on Customer Satisfaction Score (CSAT) and Net Promoter Score (NPS) ratings, which can also hurt the company's bottom line. Agents can become disillusioned and leave. Losing staff is an expensive process and agents can be hard to replace.
These limitations can become even more painful as the organization grows. Built-in QA is less likely to be upgraded and enhanced regularly compared to purpose-built QA software. Suppliers of contact centre systems will not devote the same time, effort and attention to QA solutions as developers of purpose-built QA.
Key Reasons Why Purpose-Built Quality Assurance Will Make Life Easier for Your Contact Centre
Ability to Identify Goals.
Use a purpose-built solution to establish your customer-facing strategies and use ongoing data to align with business goals. Set quality goals for the contact centre. Create a monitoring scorecard and set relevant parameters for scorecard development.
Purpose-built QA allows you to set up as many different scorecards as you like. Analyze contacts for customer experience input. Monitor quality scorecards for relevant adjustments. QA is important for acquiring new customers but also for reducing churn in existing customers.
Identify and Manage Customer Feedback.
Customer feedback is the lifeblood of contact centres. Consistent customer feedback helps companies detect problems and work to solve them before they become an issue. Metrics such as Net Promoter Score (NPS) and CSAT help determine customer satisfaction.
The best way to do this is to ask for their feedback and open up a dialogue about what they like and don't like about your brand, contact centre and customer service representatives.
Think about asking customers to fill out a short survey after every interaction or end every contact with a question about how you did and what they would improve for next time. AI & Machine Learning can help identify why customers contact you and how they feel about their interaction.
It can help you make better and faster decisions by revealing the topics that matter to your customers and the volume and trend of customer queries and problems.
Integrate Your Quality Processes From Start to Finish.
A purpose-built QA system provides a framework for QA management to take action on every insight. It is designed to work with all quality processes to uncover patterns and highlight trends that can lead to more educated business decisions based on real-time insight.
Use AI to Manage Your Search and Case Selection.
AI greatly expands the volume of customer interactions that can be analyzed. One of the biggest struggles of contact centre quality monitoring is the low number of interactions with customers and prospects that can be monitored.
QA managers are usually forced to select a few random interactions to try gleaning quality insight because they cannot manually analyze all text conversations, emails and help tickets. AI text analytics can automatically analyze 100% of all text-based interactions through natural language processing.
This allows QA managers to extract insights on topics, sentiment, and trends in the customer's own words, without added manual effort.
Measurement.
"You can't manage what you can't measure". Purpose-built QA solutions offer a greater breadth of data than add-on versions.
You can spot trends and identify training gaps with ease. An automated contact centre QA measurement and reporting tool provides an easy-to-access dashboard, customizable data points and time frames, real-time analysis and automatic submission of reports to contact centre management.
Real-time data and at-a-glance dashboard access is crucial for contact centre productivity as well as the achievement of business objectives.
Work on Continuous Improvement.
Implement continuous feedback by consolidating customer feedback, agent training and coaching plans. Develop and maintain evaluation forms about your quality assurance process to measure contact centre QA.
The forms should identify important business and contact centre goals, map the goals to contact centre KPIs and include a performance scorecard that allows you to score agents against certain metrics.
The QA forms aim to consistently improve the contact centre QA process by monitoring what is working well and what isn't. External benchmarking is also important to measure your contact centre performance against your competitors.
Making the Best Choice
Your organization needs to make the best choice for the business when deciding which contact centre QA software to implement. Built-in QA software might seem like an easy option, but it falls short of the capabilities of purpose-built QA software.
Purpose-built QA can help you to develop and implement the most effective quality assurance infrastructure for your contact centre.
This blog post has been re-published by kind permission of Scorebuddy – View the
Original Article
For more information about Scorebuddy - visit the
Scorebuddy Website