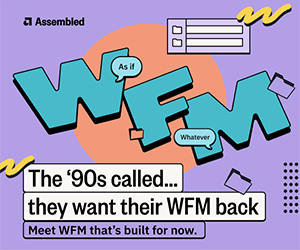 When you're running a call centre, the to-do list is endless: managing schedules, capacity planning, and training agents–the work never ends!
While you're juggling task after task, you still have to guarantee that your agents can provide the dependable service customers expect.
After all, 40% of customers stopped supporting a company after one poor customer service experience. How do you provide exemplary service, and make sure you support your agents at the same time?
That's where call centre quality assurance (QA) comes in. In this post, we'll examine what call centre quality assurance is, how it works, and how you can use it to benefit your business.
What Is Call Centre Quality Assurance?
Call centre quality assurance is the process of confirming that agents adhere to standards set by their company.
With QA, you can resolve common customer complaints, like frequent transfers or lack of a follow-up. This way, you can continue providing the level of customer service that your patrons have come to expect.
In a nutshell, QA exists to make your job easier. And though it may seem like QA is often implemented in response to customer complaints, in fact, most QA is preventative.
Think of it this way: If you can anticipate the needs of customers, you can adjust your business strategy accordingly.
For example, if you've noticed that there's been a slump in agent follow-ups, you can schedule preventative training sessions before you start hearing customer complaints. One of the best features of QA is its ability to help you be proactive about mistakes.
Why Is QA Important?
While chat-based services, email, and other digital customer support services are picking up steam, 76% of consumers still prefer to contact support by telephone.
This could mean trouble if you don't have a quality assurance process set up. How will you find out what happened if an agent goes off-script? Most phone calls don't leave chat logs. How do you manage that risk?
QA exists to manage that risk. While managing a call centre certainly is not without its challenges, QA should effectively tamp them down. As mentioned above, QA prevents the challenges that call centres face. A few of these challenges include:
Identifying customer service flaws
Aligning agent performance with expectations
Ineffective training
Through QA monitoring, it's easy to see where to make improvements in your overall business strategy to adapt to challenges.
If your agents have trouble sticking to a script, you can make adjustments as needed. Better yet, you can find opportunities to get agents more training.
Here are some other ways that QA can improve the processes in a call centre:
Strengthens support teams – QA can help you find ways to make improvements to your team and create a better strategy for coaching and training agents.
Improves customer experience – A stronger team means better service, which causes high levels of customer satisfaction and higher employee retention levels.
Refines business goals and processes – Consistent QA means that you can anticipate your customers' needs, so you can adjust procedures to accommodate them.
Creating a Call Centre QA Framework
In order to set up a call centre QA process, you'll need the right framework. A call centre QA framework is the system that is used to collect and analyze agents' performance data.
This means that you'll need to figure out which metrics to use to monitor your agents and how you'll collect the data. Though it may seem daunting to build a framework, let's look at a few considerations to make it easier:
Figure out which KPIs you'll use to measure performance. Consider how you want your agents to perform. If you pride yourself on how well your employees impress customers, then you'll probably want to use a KPI like customer satisfaction scores (CSAT) in your framework. Keep in mind that a well-balanced framework should prioritize both speed and service.
How will these metrics be measured? Depending on which metrics you choose, you may need to measure them differently. You'll also need to find a good balance between manually monitoring calls and automatically collecting data.
How will this data improve the customer experience? Now that you have all of the data, how will you use it to turn these insights into actions? If the data suggests that your agents frequently transfer calls, how will you use that information to satisfy customers?
The overall goal for using a QA framework is to strategize how to improve your customers' experience with these metrics.
Benefits of Quality Assurance
Beyond simply keeping agents on track to meet goals, QA can keep down costs, boost sales, and can even simplify hiring. Let's take a look at some other benefits of using quality assurance:
Increases customer engagement. Let's face it, customers are quick to abandon ship. QA gives your agents the tools they need, like improved scripts, to keep customers happy. Customers feel valued when they're given high-quality service.
Boosts employee retention and productivity. Call centres get a bad rep as a revolving door of dissatisfied agents transitioning from one call centre to another. QA lets you close that door. When employees understand how they're being monitored and why, it's easy for them to meet goals. Likewise, QA can also protect employees from rude, aggressive callers by giving them the tools and protocols to escalate appropriately. This gives agents greater satisfaction, which means they stay with your company.
Productivity and development. Since QA hinges on using metrics to evaluate performance, it's easy to identify where to make improvements. QA encourages continuous employee improvement, as ongoing training is essential for confirming that agents are hitting benchmarks.
Data collection and analysis. With data collection and analysis, you can pinpoint exactly where to make improvements. To reap the full benefits of QA, you'll need to think about what types of data you'll collect, and how. Robust reporting capabilities provide historical and real-time insights you can use to improve call centre performance.
QA can even help you find places to keep business costs down. Say that you're having a hard time with unmanageable, uneven call volumes. Agents feel like the phone either rings off the hook or they spend their shift twiddling their thumbs.
With QA, you can ensure that shifts are appropriately staffed, saving you cash and making your agents feel more appreciated too.
Improve Call Centre QA With Best Practices
How you decide to approach quality assurance will vary depending on the size of your company, the culture there, and your long-term goals. However, there are some best practices to QA that can help you get your QA process on the right track:
Have an employee dedicated to managing the QA process. Others can manage training and coaching sessions or monitoring calls, but one employee should manage the QA process. This ensures that there is standardization throughout the process and throughout your organization. This employee should have the right performance monitoring and data collection tools to make this process more efficient.
Consistently evaluate agent performance. It's important to keep a close eye on agent performance. Expect to have frequent calibration sessions to get agents on the same page about expectations. Don't forget to use a large sample size when you're monitoring agents' performance so that you get the most accurate data.
Provide regular agent feedback. Agents should receive feedback in a clear, instructive manner. Be careful to avoid mixed messages and biased feedback. Consistency and clarity in protocols can help QA managers provide constructive criticism to agents.
Have clear criteria and scorecards. The criteria you end up using to provide feedback is just as essential to the QA process as other evaluation methods. This isn't limited to KPIs or metrics—agents should know how to handle issues like disgruntled customers or long wait times. Above all, your scorecard should tell you how well your agents are performing against measurable benchmarks.
With these best practices, your agents will excel beyond their goals with confidence, as they'll see constructive criticism as an opportunity to succeed. Your customers will be happier too.
Optimize Your Workforce
Call monitoring, accurate scorecards, and quality assurance can transform your staff's performance and productivity.
When agents get poor feedback and get vague instructions to do better, their work suffers. With QA, you can build a workforce that not only follows procedure, but knows why it matters.
In order to provide your employees with the feedback they need, you'll need the right tools to collect QA data and to monitor agents' calls.
This blog post has been re-published by kind permission of Assembled – View the
Original Article
For more information about Assembled - visit the
Assembled Website