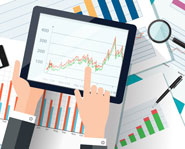 Jonathan Wax explains how interaction analytics can boost performance and quality in your contact centre.
1. The ability to target coaching and training
Many hours are wasted in contact centres as a result of general coaching or training of agents, many of whom never go on to use what they are taught.
With careful use of voice analytics, the relevance of coaching and training can be improved to focus on support where and when it is needed.
2. Cut the gap between the best and the worst
By focusing on specific aspects of calls that drive key performance indicators (KPIs), it is possible to increase the visibility of an individual's strengths and weaknesses.
This means contact centre leaders can cut the gap between the best and worst and concentrate on raising the quality of the majority.
3. Process and compliance
In regulatory environments such as finance, insurance and utilities, speech analytics gives the opportunity to monitor 100% of calls to check that specific words or phrases are included or avoided by advisors.
This needs to be tightly defined and automatically analysed.
4. Revenue generation or collection
Analytics provides the evidence of what the best do and allows this to be replicated.
New metrics can be used to measure sales effectiveness, allowing those in need of support to receive special attention.
5. Team managers and coaches benefit from new tools
Using call snippets makes coaching conversations more evidence-based and makes it quicker to find the best areas for training for individual agents, therefore saving time on "blanket" training.
6. Introduce a more customer-focused view of performance 
By using voice analytics to highlight customer reality and introducing a more customer-focused view of advisor performance, training and behavioural change is more likely to "stick".
It is possible to use call snippets to identify issues and bring them to life.
7. Representative samples
The Quality and Performance team are able to evaluate targeted samples in a shorter space of time. Advisors also see evaluation as fairer and respond better to feedback.
Meanwhile, it is more cost effective to evaluate more calls.
8. Embed behaviours
Queries can be created to automatically track who is doing what.
These can be specific, e.g. questioning, summarising, cross-talk, categorising, use of brand, data capture, selling, and necessary action can be taken.
9. Track the impact
Interaction analytics can be used to track the impact of training, coaching, induction and other interventions.
It becomes easier to identify the success of individuals or groups and monitor change over time. What was happening before and what is happening now?
10. Recognition and best practice
Remember to celebrate the success of strong performers and share what sounds good and works. Reward in public, correct in private.
Analytics isn't something you buy – it's something you do. By following these top 10 tips, organisations may quickly find the missing link to outstanding performance and quality.
With thanks to Jonathan Wax at Nexidia
---