Here are some great ideas we picked up on our visit to the General Motors (GM) contact centre in Luton.
The General Motors (GM) contact centre in Luton – supporting Opel, Vauxhall, Chevrolet and Cadillac – is a 350-seat customer hub, part of a 550-strong team across Europe. They support 210 different phone lines across 19 languages.
1. Set up initiatives to help everyone learn a new language
If your contact centre is multilingual, you may find your native English speakers are keen to catch up with their multilingual colleagues. It can therefore boost morale to offer everyone the opportunity to learn a second language.
Once moderately fluent, your agents may also be able to use their new skill to take additional calls.
This initiative can be formally supported through sponsored language courses. However, you could also encourage "language exchange" sessions – where 2 different native speakers meet for coffee once a week to brush up on their language skills.
2. Bring the outside into your breakout rooms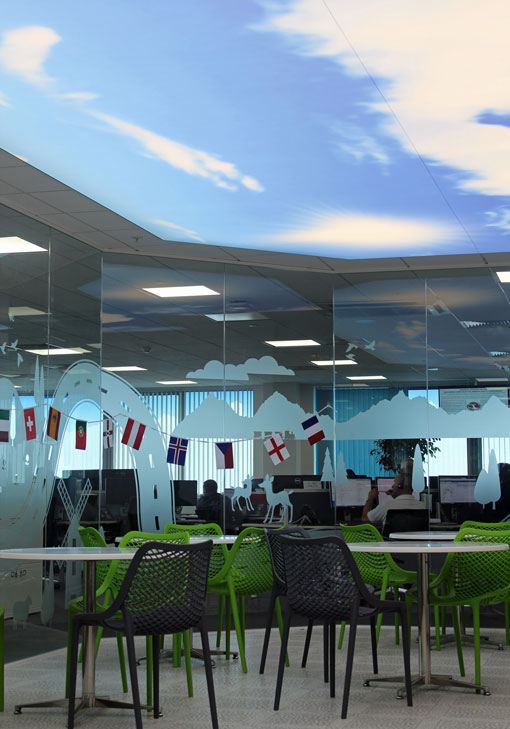 Bringing the outside into your breakout rooms can give your agents a more relaxing retreat away from the contact centre floor.
A fake "cloud" ceiling, indoor plants, "pebbled" Lino flooring, and landscape scenery on the walls can all help to create an indoor haven – without having to worry about the unpredictable weather!
Giving your breakout rooms this kind of makeover can be especially worthwhile if you don't have any actual outside areas for your agents to relax in.
3. Take your management team on a daily Gemba walk
A Gemba walk can help upper management engage with the frontline and better understand where there is room for improvement.
[Definition: Gemba is a Japanese term meaning "the real place." A Gemba walk takes management to the frontlines to look for opportunities for improvement.]
Every day, representatives of each core contact centre management team (operations, planning, training, etc.) come together to sit with a team of agents on the floor.
For half an hour, they encourage agents to highlight any problems and put forward their suggestions for improvement. Each team is revisited every 4 weeks – and is given updates on previous suggestions, as well as the opportunity to discuss new ideas.
This daily activity is supported by a weekly management meeting, where all of the suggestions are discussed and plans are made (and reviewed) to action them.
"When we first started the initiative, we heard a lot about surface-level problems, such as the need for more microwaves in the breakout areas. Now these issues have been addressed, we are seeing more engagement with process improvement and efficiency," said Deborah Taylor, Site Manager. "There was also some resistance from the management teams in getting the initiative up and running, as it was just seen as a drain on the day, but now it is just part of the routine and everyone really benefits from the improved communication."
4. Offer a financial reward to agents who refer their friends to the contact centre
Offering a financial reward to your existing employees for "referring a friend" to work in your contact centre can help support your recruitment team.
For example, frontline staff at the GM contact centre receive a £750 recruitment bonus – funded by Minacs – if they refer someone to the company who is successfully recruited.
5. Encourage agents to wear their team colours for important sporting events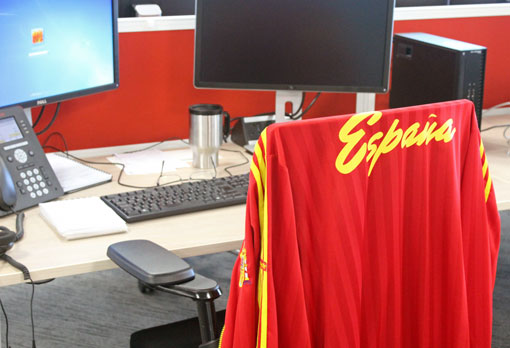 A good way to embrace football fever – without half of your frontline "pulling a sickie" – is to encourage your agents to come in wearing their favourite football shirt, or wearing their team's colours on match day.
You can also try scheduling your agents around important matches, so they can watch their team play during their breaks at work.
6. Add computers and phones to your training room
There is only so much classroom teaching that can be done before an agent needs to get on the phones and learn from their own mistakes.
Make the transition easier by putting phones and computer systems in your training room for new recruits to practise on.
7. Fill empty corridor space with retro games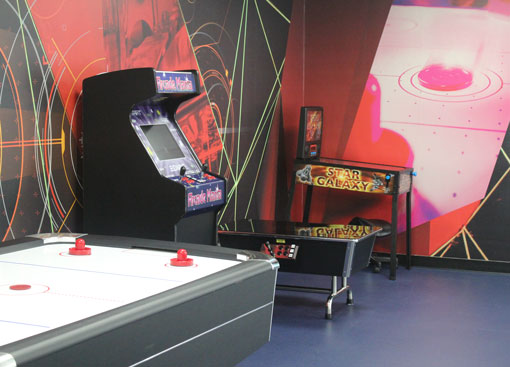 Jazz up any wide empty corridors with arcade-style games machines.
These areas can also be themed. For example, you could choose a selection of games with an 80s theme and decorate the surrounding walls accordingly.
8. Regular job shadowing opportunities can help agents choose a career path
Job shadowing opportunities can open your agents' eyes to the career paths available within the business.
This initiative can also help agents to see the real challenges other departments face, instead of making negative assumptions about why "Julie from sales hasn't followed up with that customer yet".
The GM contact centre offers every frontline employee up to 3 job shadowing sessions each year – and they have already witnessed in-house progression as a result of this initiative.
You could also try creating a section on your company's intranet system to illustrate all of the different roles in the business and the skills each person has.
9. On-floor lockers can help keep desks nice and tidy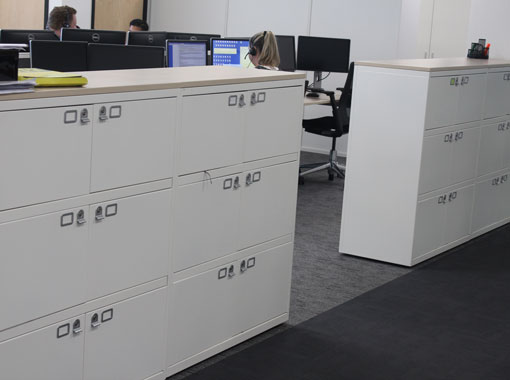 Having lockers on the contact centre floor in easy reach of agents' desks can help keep desks and the surrounding floor space neat and tidy – without compromising agent accessibility.
They can also act as partitions, breaking up a large contact centre floor.
10. Sound diffusers can be decorative too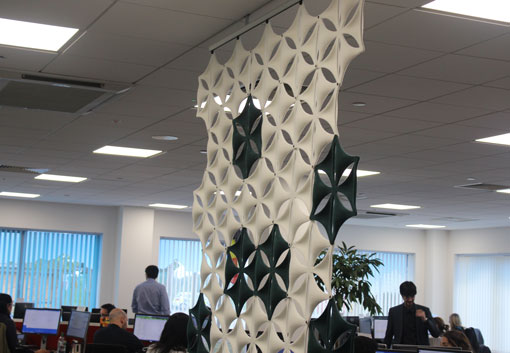 Hanging sound diffusers up around the contact centre can help reduce the noise levels on the floor.
They can also be decorative, tying into colour schemes and marking off designated walkways around the core working areas.
Small changes to your canteen can have a big impact on morale
We also picked up some great tips on how to improve your canteen:
Sell greetings cards in the canteen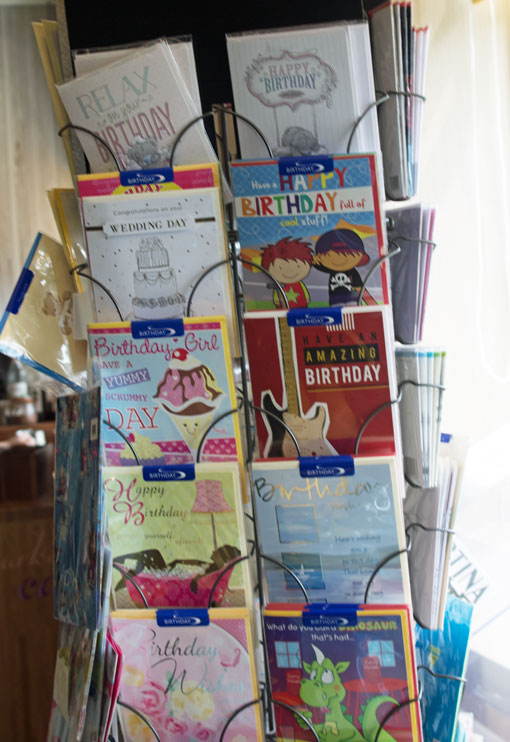 Make it easier for your frontline to send birthday cards to their loved ones by selling greetings cards in the canteen.
This initiative will have the biggest impact if your contact centre is a fair distance from the nearest supermarket.
Work with other departments to help reduce queues in the canteen
A queue in the canteen can leave agents worrying about whether they'll have enough time to squeeze in a sandwich before getting back to the phones.
One way to reduce the stress of the canteen queue – and rescue morale – is to talk to other departments in the business to find out when they usually use the canteen.
If you find out the marketing team typically go to lunch at 12 noon, for example, you could then plan for your agents to take their lunch break at 12.15 once the "marketing rush" has passed.
A 24/7 self-service canteen can help support agents on the night shift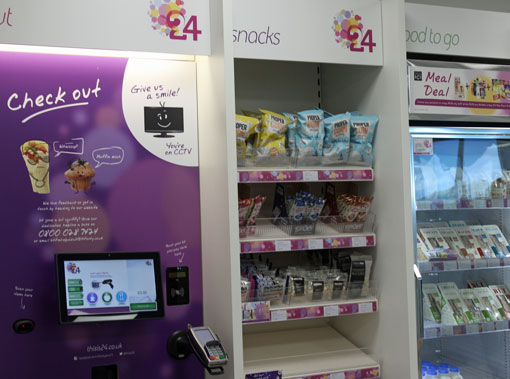 Save your night-shift employees from living on chocolate by adding a self-service canteen to your contact centre.
Fridges can be stocked with sandwiches and wraps, with agents paying for what they take "on trust" on a self-service till.
Reflect different cultures in your canteen options
If your contact centre is multilingual, it is probably multicultural as well.
A fun and engaging way to celebrate this diversity is to rotate your canteen options to reflect different national dishes. Speak with the canteen chef and agents to work out what options might be available.
Alternatively, you could organise themed food days or cook-offs to give representatives from different countries the chance to show off their culinary skills and share their favourite dishes.
With thanks to the team at the General Motors (GM) contact centre