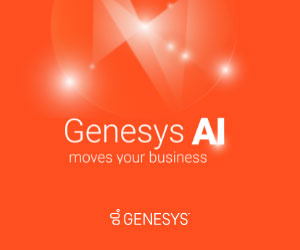 Here are some ideas we picked up on a site visit to the AO contact centre in Bolton.

1. Spread a "be brilliant at the basics" initiative
When walking around AO's contact centre, you will notice a lot of art on the walls, which mostly represents the five values that the company wishes its staff to work by. These principles are: caring, driven, fun, bold and smart, and they can be seen in the image below.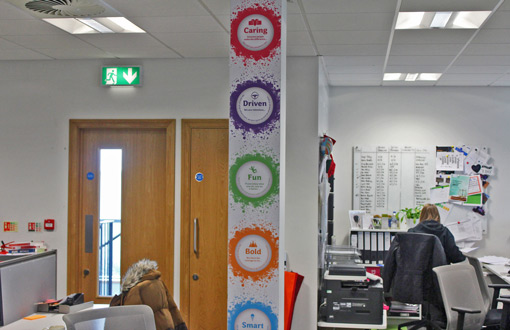 AO urges its advisors to always remember these values as guiding principles when interacting with customers. This does not mean that the company gives prescriptions of what you must say and do when one certain situation arises, but simply reminds advisors to be conscious of being caring, driven etc.
One example that David Atherton, Director of Customer Experience at AO, uses to assert this point is of a delivery person. Instead of saying "Washing machine, love", say "Hello, Mrs Smith, I have your washing machine." David notes that the second remark is much more caring, whilst the first can easily be construed as being impolite.
2. Use live chat as a source of customer insight
AO Fact File
Agents
250 seats
200 FTE
Call volume – per week
Inbound calls: 25,000
Outbound calls: Only in response to inbound contact
Technology
ACD
Genesys | Interactive Intelligence
Headsets
Plantronics
Wallboards
Genesys | Interactive Intelligence
WFM
Genesys | Interactive Intelligence
Agent Desktop
Genesys | Interactive Intelligence
Call Recording
Genesys | Interactive Intelligence
Call Scoring
Genesys | Interactive Intelligence
Scripting
Genesys | Interactive Intelligence
Dialler
Genesys | Interactive Intelligence
Speech Analytics
Genesys | Interactive Intelligence
A whole section of AO's contact centre is designated to advisors who handle live chats and emails at the same time.
Good examples of customer live chats and email interactions are then held on to and logged by the advisor, who can then pass them on to a team leader.
This helps AO to harness the voice of the customer, allows advisors to highlight their own good work, and gives team leaders and managers the opportunity to log well-received answers to questions into the company's Frequently Asked Questions section on their website. This section now has a database of over 800 examples.
3. Provide different routes in the IVR based on how far the customer is on their journey
AO have streamlined their IVR system to take the customer through the most efficient route of service, based on the stage of the customer journey.
This allows efficiency to be maximised and customer effort, in terms of the customer having to spell out their query, to be reduced.
The six stages of the customer, which are installed as menu options in the IVR, include:
Pre-order
Pre-day of the delivery
Day of the delivery
Post-delivery
Up to 30 days since delivery
Over 30 days since delivery
So, an example of how this would work is on the day before delivery, you just provide the information on time of arrival, then the customer would have the option to book a different delivery time or be put through to the advisor.
Find out other ways of improving IVR by visiting our page on: 19 Ways to Create a Great IVR Experience
4. Use a green to red NPS text message scoring system
After an interaction with the company, AO send a brief Net Promoter Score (NPS) survey to the customer.
The survey asks: "How likely is it that you would recommend our company to a friend or colleague?" with answers ranging from one to ten.
This scale is highlighted by emoticons, with a green, delighted face signifying a score of ten and a red, disgruntled face indicating a one score, with a traffic light system for everything in between.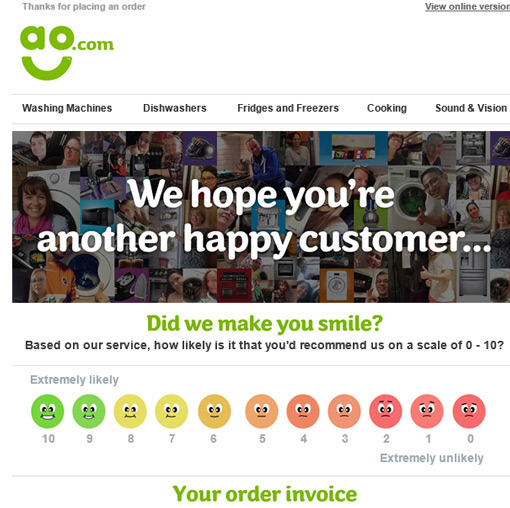 However, they have been careful in how they implement this, as they discovered their previous scale, also of 1–10, would only appear as 1–5 on certain mobile phones. So now the scale, as seen above, moves from 10–1 from left to right instead of from 1–10.
AO discovered this by calling everybody who scored an eight or below, the so-called neutrals and the detractors of the business of the NPS scale, to see what more they could do for customers in the future.
For more information on NPS in general, read our article: Net Promoter Score and How it can Improve your Call Centre
5. One word advisor feedback
Also by text message, AO often ask customers to describe the advisor who handled their request in just one word.
The answers given are then categorised as negative, neutral, good or excellent, which can help when monitoring the performance of advisors.
This technique is not only used to highlight candidates who may require additional coaching, but to emphasise which advisors deserve acknowledgement and even a reward.
David used the example of the customer describing the advisor as "helpful", to highlight how the system works.
David suggested that: "although 'helpful' might sound positive, the caller could have gone to greater extremes, as 'helpful' doesn't reflect great performance. So, we would class it as neutral."
6. Remember that you cannot pay people to care
When it comes to recruiting advisors, AO focus on finding "people that care".
So, AO include games, such as working as a team to make toy cars out of empty plastic bottles, when recruiting to pick out individuals who are optimistic, proactive and natural.
For more information on this topic, read our article: Recruiting According to Attitude – What to Look for From Potential Trainees
7. Have a "rookie pod" to avoid overwhelming beginners
Whilst attrition has never been a major problem at AO, they have implemented a "rookie pod" with the intention of easing new employees onto the contact centre floor.
This pod is a training contact centre space for new advisors where they are initially set low targets, gradually increasing over the course of twelve weeks. After this time, the new recruits can join their more experienced colleagues in the rest of the contact centre.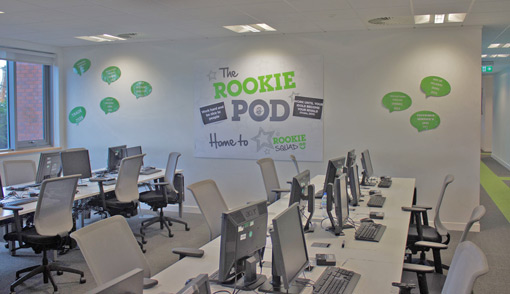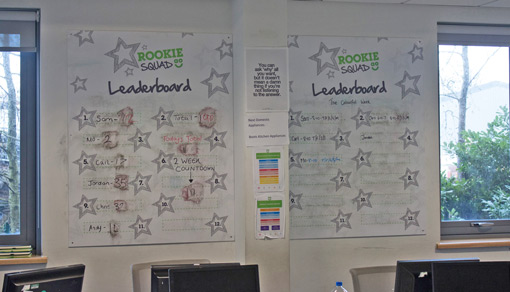 The area includes leader boards, posters and more, as seen above, and could be an invaluable addition to a contact centre that has high levels of attrition amongst new recruits.
8. Feel, felt, found
In training, AO teach new advisors who sell over the phone to use the "feel, felt, found"method of dealing with objections.
Erik Pollitt, a Sales Trainer at AO, used this concept in the example: "I completely understand how you feel. A couple of our customers have felt the same. However, what they have found is…"
This includes a demonstration of empathy, reassures the customer and involves personal pronouns, which can all benefit the sales process.
For similar advice, read our piece on Top Tips for Selling Over the Phone. More training guidance can also be found if you visit our page: 50 Call Centre Training Tips.
9. Introduce letters of acknowledgement
Having gathered customer feedback through the method stated in point 4, AO make sure that they acknowledge advisors and ensure that their work does not go under-appreciated.
So, AO's CEO John Roberts writes a letter to the exceptional advisors highlighted by the feedback, which are then framed and placed on a specially designated wall.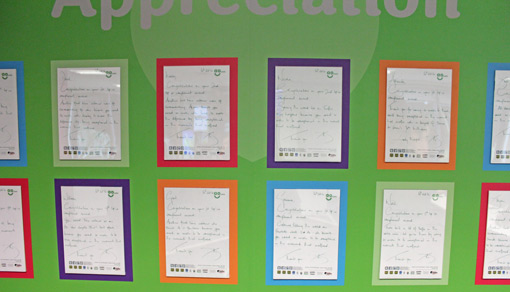 Having this type of reward system in place can also provide motivation for an advisor to improve their personal performance.
For more on this subject, read our article: Building Better Performance Through Intrinsic Motivation
10. Follow a different customer journey every week
In 2016, Call Centre Helper discovered that 38% of contact centre professionals had never called their own contact centre, which could possibly affect their understanding of how to support advisors correctly.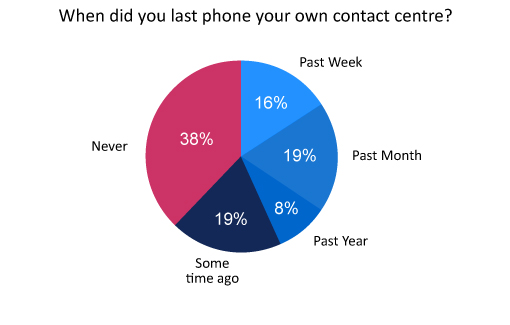 However, AO make sure that they avoid this pitfall by following a different customer journey every week, to see if each process works as smoothly as it could.
In addition, the AO contact centre gives wall space to flow charts, as seen below, which follow these customer journeys, to remind advisors of the processes that customers follow and the outcomes they wish to achieve.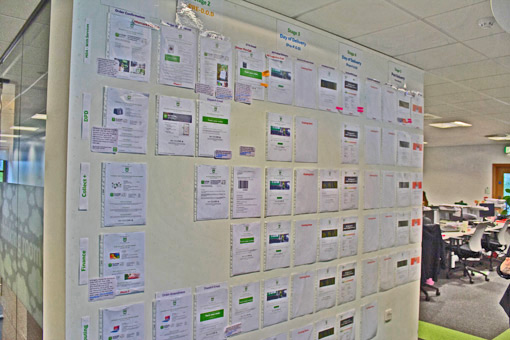 11. Support local charities with MAD days
Giving back to the local community that surrounds your contact centre, where most of your advisors will live, is likely to be recognised and valued by your employees.
This is a principle that AO stick to, working with organisations such as Bolton Lads & Girls Club and St. Barnabas, by offering staff two paid days each year where they can work with these charities or one of their choice.
These are called MAD (Make A Difference) days, and they coincide with other charity activities that are part of AO's development programmes. This year, these 'other activities' include being part of the "Call Centres – Comic Relief" initiative.
12. Hairdresser on site
Increasing agent salaries is not always practical, so AO have introduced initiatives that help to make advisors' money stretch further to boost morale.
One prominent initiative was to create a full-time spa at its Bolton headquarters, where staff can have their hair cut or nails done. This means that staff can align duties in their outside lives conveniently with the contact centre.
Another interesting idea AO have embraced is a £2 gym membership in the complex located just on the other side of the road. Yet, that is not all, as they also provide special deals for the in-house spa, masseuse, and nail salon.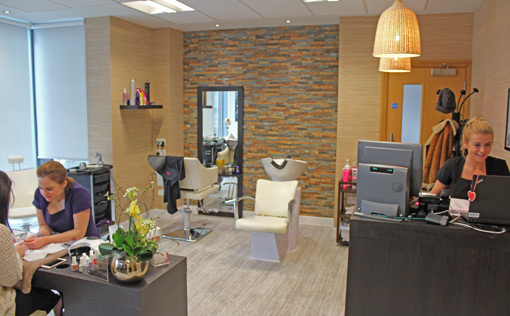 Other benefits that AO offer to their employees include:
Enhanced maternal / paternal leave
Childcare vouchers
Requests for flexible working for new mums and dads returning to work
A £50 gift to employees who have just become parents
A £50 gift for newly-weds
An opportunity to join the "Cycle to Work" programme
Half price well-being activities (e.g. football / bootcamp / badminton, etc.)
Free fruit
To find other ways of improving morale, read our article: Use Your Imagination! 11 Creative Tips That Will Boost Morale in the Contact Centre
13. Instil company mottoes and values
As mentioned previously, the five company values: caring, driven, fun, bold and smart, are denoted by artwork and decoration deployed around the AO contact centre.
However, AO also had a number of catchphrases to reflect these principles:
Principles not prescriptions
High tech – high touch
Treat the customer like your Gran
What would Ann Robinson say?
These were just few of the examples that we heard on our short visit to Bolton, which made it clear that AO used mottoes like those above to replace scripts with guidelines and create a proactive culture in the contact centre.
Find similar techniques to boost the culture of your contact centre by reading our article: Create and Maintain a Positive Culture
14. Rewarding with experiences
Another initiative that AO run is to offer a reward to those who provide an excellent customer service in "moments that matter".
Nominations for the advisor who receives this monthly award can come from anybody and anywhere, but AO ensure that the reward is an experience tailored to the interest of the advisor.
The idea of winning an experience and not a product is to create positive memories that the winner will associate with the contact centre, which could consequently boost morale.
One example that David was keen to point out was the award AO gave to a previous winner, which was two tickets to the Manchester City vs Barcelona Champions League tie. The winner, a keen Manchester City fan, was said to be very grateful to receive the prize.
Follow the link for our: Top 10 Call Centre Incentive Rewards
15. Snacks and Starbucks
It is important to AO for advisors, especially when working long shifts, to maintain a positive mindset that can only benefit their approach when it comes to enhancing customer service.
So, AO's contact centre has an on-site Starbucks with discounted prices, a subsidised canteen and a selection of free fruit.
Having this in place also allows team leaders and more senior managers to feel more assured of the well-being of their employees.
16. Split different sections of the contact centre into themes
It can be difficult to instil a team spirit onto the contact centre floor, so AO have given certain areas of the contact centre a specific theme with its interior design adapted to represent that topic.
One example was called "Mission Control", an area of the contact centre where employees would focus on KPIs and monitor advisor performance.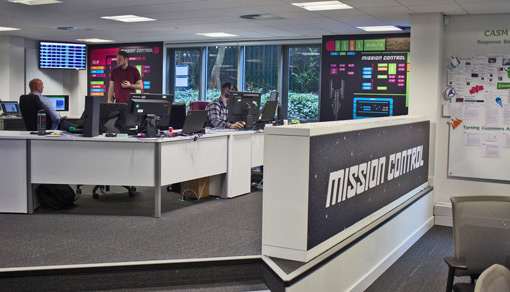 This concept almost splits the large contact centre into small teams, which has been proven to boost productivity, efficiency and engagement.
For more advice on boosting engagement in the contact centre, visit our page: 5 Principles for Developing Employee Engagement
17. Introduce the "Wall of Fame"
Another strategy that AO have implemented to ensure that their advisors receive the recognition they deserve is to have a regularly updated "Wall of Fame".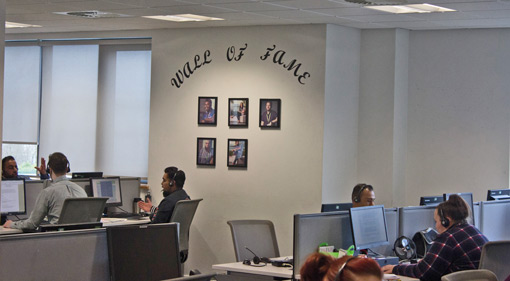 By dedicating wall space to include a picture of the advisor that they chose to acknowledge, AO provide their agents with a good sense of the company's commercial performance.
Also, AO could be seen to be hinting at the area in which advisors should concentrate their time and skills.
Thank you to AO for facilitating our visit to their Bolton contact centre.
For more great tips from excellent contact centres, read our articles:
But what about you? Do you fancy showing off your contact centre?
If so, you can contact: newsdesk@callcentrehelper.com and maybe we will see you soon!