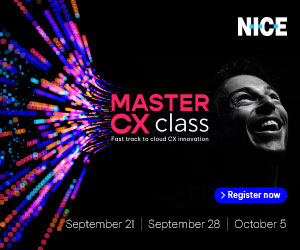 NICE have announced that General Motors (GM) is implementing NICE Performance Management (NPM) version 7.0. 
GM's decision to deploy NICE Performance Management version 7.0 is to put the customer first by boosting employee engagement.
The NICE solution also provides a pre-designed sequence of steps for supervisors and agents to guide them in their performance improvement activities focusing on services and sales.
These components together with the graphical user interface in NPM ensure a better user experience, increasing user adoption and engagement amongst employees, and therefore translating into customer satisfaction.
Tom Kanable, Business Intelligence Support Lead, General Motors, said, "Inspiring our employees and giving them the right tools is critical to achieving the objectives we set for ourselves including putting our customers front and centre."
"Engaged employees foster excellence in everything they do and focus on customer satisfaction, which are core values for GM. NPM 7.0 provides us with the tools for initiating personalised performance improvement activities within the solution, as a direct step from the personalized insights it delivers."
"In fact, it has already begun delivering an excellent user experience which is advancing NPM user adoption and employee satisfaction."
NICE Performance Management (NPM) is built to drive improvement amongst today's workforce across all levels within the organisation and enables GM to tap into the following key capabilities:
Advanced Reporting – enabling agents and employees at all levels to identify and display correlations across multiple data sources. The Advanced Reporting engine includes options for visualisations of analytic data such as heat maps, bubble graphs and more. Integrated with the ETL engine, Advanced Reporting also delivers near real-time reporting, meeting proliferating analytics and granular data reporting needs.
Advanced Coaching Toolset – delivering flexible and personalised coaching programs that significantly reduce supervisor coaching preparation time. The toolset focuses on coaching conversations and follow-up tasks for both supervisors and agents, ensuring closed-loop coaching documentation, and enabling coaching impact measurement. As a result, supervisor and agent coaching time is benefited and the coaching impact increases.
Agent Self-Correction – empowering agents to self-correct by providing personalised dashboards with detailed interaction records (e.g. call recordings), including the ability to easily and independently review their own customer interactions in the context of personalised KPI data and reports. This aims to ensure accuracy of agents' post-interaction documentation and encourages proactive self-correction and mentoring requests to supervisors.
Barry Cooper, President of the NICE Enterprise Product Group, said: "We're pleased to collaborate with GM by offering solutions that make employees true partners in the success of the company while helping GM put their customers first. Experiences drive choices in today's economy, both for employees and for customers."
"At NICE, we understand the depth of impact that front line employees have on customer experience. NPM version 7.0, with its personalised performance insights, advanced coaching, and self-service analytics offers a personalised user experience and empowers each employee to take ownership of their performance thus driving up engagement."