In the second of a series of quick insights, Mats Rennstam of Bright busts some customer service myths.
The Myth: The gender and age of your advisors impacts on C-SAT
We are diving headfirst into one of the most sensitive subjects, gender stereotypes, with males being portrayed as the solution-oriented, straight-forward doer, while the empathetic females are more understanding and caring.
Based on over 50,000 customer satisfaction surveys, we have broken down the scores by gender and then taken a look at these two questions in the survey:
How would you rate our advisor on communicating in a positive and caring way? (Empathy)
How would you rate our advisor on being knowledgeable? (Knowledge)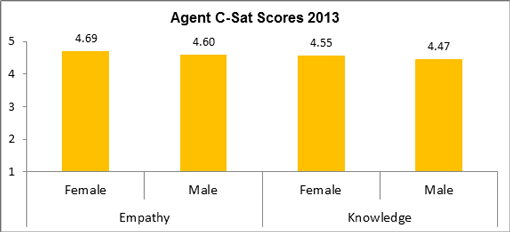 The findings suggest that females do receive slightly higher scores both for their soft and hard skills; however, the difference is very marginal. It is worth taking into account the psychosocial effect of rating an actual person you just spoke to, as well as the fact that we are slightly biased towards giving women positive feedback in general.
We also did not find any real difference between age groups when it came to customers' empathy and knowledge scores.

Myth busted: Customer service experience is NOT affected by age or gender!
---
The Myth: Off-shoring is a lot cheaper – but quality is lacking
Because of far too common prejudices about off-shore call centres, carrying out a truly unbiased comparison of customer satisfaction scores is proving to be a challenging task. This is because many customers will provide a lower score because they dislike the accent, regardless of how helpful the agent is.
For example, when comparing calls handled in South Africa versus Wales, the evidence showed that actual first-call resolution is higher in South Africa and customer effort is the same, yet customers gave a lower perceived-knowledge score to the off-shore operation.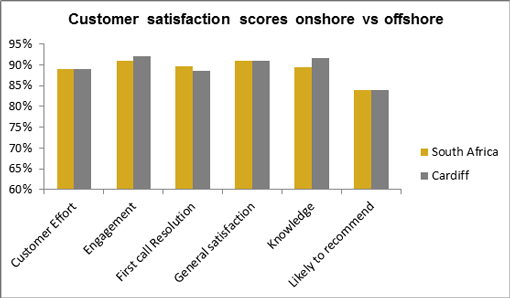 But what if we instead looked at emails handled where accents won't affect the results? Based on 20,000 surveys from 2013, the results showed a much smaller difference between UK and India than public perception would have us believe.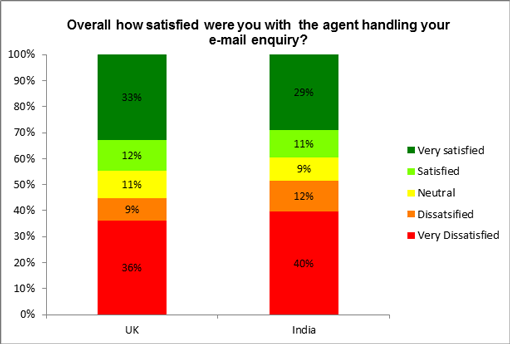 Myth busted: Off-shore operations do NOT deliver significantly worse quality than on-shore!
---
The Myth: Speed of answer is the top driver of customer satisfaction and NPS
Unbelievably, answering 80% of calls in 20 seconds is still the key target in the contact centre. When we looked at half a million customer satisfaction surveys, speed of answer did have an impact on C-SAT, but customers who were very dissatisfied with how long it took to talk to an advisor still went on to score an average overall satisfaction.
Customers very dissatisfied with advisor engagement and knowledge, however, went on to score both C-SAT and NPS at rock-bottom levels.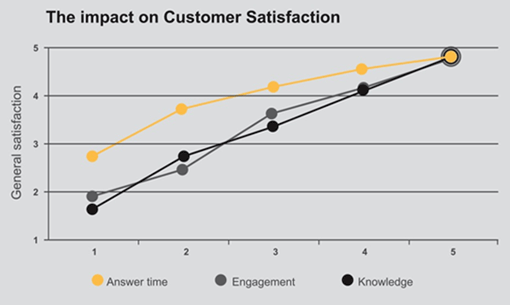 The graph shows how customers scored three different metrics and their subsequent scoring of overall satisfaction.
Myth busted: Speed of answer is NOT the most important C-SAT and NPS driver!
---
The Myth: Online channels are becoming more important than the phone and email
There is a significant discrepancy in the focus social media is getting right now versus an old channel such as email. Yet the reality is that an average UK contact centre handles 19.2% email and 80.8% calls; an average operation handles around 200,000 emails per year. The number of social media contacts directed at companies is so small that it doesn't even warrant assigning a single full-time employee. This doesn't mean that you shouldn't monitor it, though, vented dissatisfaction online is like word of mouth on steroids.
In many cases, the target for responding to an email is 18 hours, an increasingly unacceptable response time for consumers. And why do companies think it's a good enough target when at the same time trying to handle calls in 20 seconds?
The death of email has been greatly exaggerated. It is still very much alive, both in contact centres and as a communication channel overall.
Myth busted: Online channels are NOT becoming more important than the phone and email!
Published On: 16th Oct 2013 - Last modified: 18th Sep 2019
Read more about - Archived Content
---