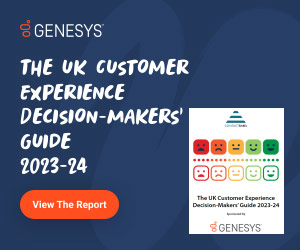 In today's hyperconnected business landscape, it's essential for multinational organisations to have a strong global presence to meet the expectations of new and existing customers.
With worldwide expansion comes important IT considerations for customers' data, especially as compliance with data privacy regulations continues to change and evolve.
According to the new IDC Cloud Pulse 2Q22 survey, almost half of survey respondents (48%) say that data residency and industry compliance have factored highly in discussions about their future IT architectures.
Another top concern for global IT organisations is how to solve latency challenges with real-time media, including voice, for quality communications across multiple geographic regions. For businesses, even the slightest delay in audio can negatively impact call quality, frustrating both employees and customers.
We're thrilled to announce the Genesys Cloud CX platform is expanding its global availability to help meet these needs by adding three new satellite regions, including Paris, Jakarta and Hong Kong. With these additions, Genesys Cloud CX now has 12 core regions and four satellite regions around the world.
Paris, Hong Kong and Jakarta Satellite Region Deployment
Access to three new satellite regions allows multinational customers to deploy Genesys Cloud CX with ease. Satellite regions help to enhance voice quality by keeping real-time media paths local — and closer to the customer and agent — for superior call quality.
Satellite region services are deployed in Amazon Web Services (AWS) Regions and span multiple AWS Availability Zones for maximum reliability and resiliency.
They're designed to work with the Genesys Global Media Fabric (GMF), allowing our multinational customers to quickly deploy and scale across multiple geographic regions.
GMF takes full advantage of high-speed AWS network connectivity and Bring Your Own Cloud (BYOC) carriers around the world.
It provides a seamless, cloud media fabric consisting of core and satellite media regions for geographically distributed customers to leverage for processing real-time media.
This ensures the most direct route for media traffic, resulting in lower latency, less jitter, reduced packet loss and better overall quality for multinational organisations.
Global organisations with customers and employees in or near these new regions can leverage GMF and their chosen cloud telephony service provider to optimise operations. That results in lower costs, greater agility and better service quality.
Keep Call Recordings Secure with New In-Region Storage Capability
Countries around the world continue to create data privacy laws to help protect their citizens. This leaves it up to multinational companies to ensure they're compliant with local regulations in order to avoid hefty fines and operation disruptions.
In conjunction with the three new satellite regions, we're excited to announce a new regional call recording storage capability in Genesys Cloud CX. This is aimed at helping global organisations address their data residency requirements.
Multinational customers can now store call recordings in the region where the recording was initially captured. This control over where call recordings are stored, helps companies comply with user data residency requirements and protects sensitive customer data.
For example, a customer headquartered in the United States might also have their customer base in Canada or Europe. Call recordings for interactions originating from customers in these regions might need to be stored in these respective geographies.
The extensive global footprint of Genesys helps orchestrate billions of customer experiences for organisations in more than 100 countries.
Genesys provides multinational organisations with the distributed contact centres they need to drive business value, ensure regional compliance and orchestrate experiences at scale.
This blog post has been re-published by kind permission of Genesys – View the
Original Article
For more information about Genesys - visit the
Genesys Website