Want to motivate your staff, but don't have the time or resources for team outings, group activities etc.? Here are five simple and cost-efficient methods to boost the morale of your call centre agents.

1. Give regular praise for a job well done
Don't underestimate the impact of praise and positive feedback!
Taking the time to say "well done" – especially in the heat of the moment – can go a long way in making your agents feel appreciated. It can also help to nurture good habits and improve overall performance.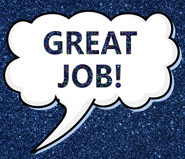 A good way to introduce this exercise into your daily routine is to walk the floor after lunch – making an effort to learn the agents' names and say "well done" when you hear something great.
You can also make a habit of putting regular "shouts outs" up on the wallboards for the whole contact centre to see.
2. Add some competition to the contact centre floor
There is nothing quite like a bit of healthy competition to keep agents happy and motivated in the contact centre – and there is no shortage of ideas to choose from either.
Here are some to get you started:
Short bursts of excitement – Set aside an hour where you pitch teams or individual agents against one another – whoever gets the most sales or highest quality score within that hour wins.
Hot potato – Start by setting an egg timer on the team leader's desk. The first agent to make a sale is handed a tennis ball. The ball is passed around with every sale that is made. Then, in a similar fashion to 'pass the parcel', whoever is holding the tennis ball when the timer goes off wins. You can keep resetting the timer throughout the day to keep your agents on their toes.
Friday challenge – On a Friday, reward the day's top performers with an early finish.
Click here for more contact centre games ideas
3. Give agents the opportunity to improve themselves and others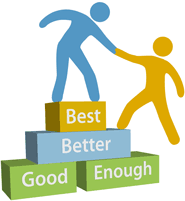 Setting aside time to train your agents and expose them to new experiences is a great way to keep things fresh and interesting.
Even if you don't have the budget for away-days or training specialists, you can still stretch your agents by switching them between campaigns or offering them a 'new starter' to take under their wing.
4. Create opportunities for your agents to voice their opinion
Giving your agents regular opportunities to voice their opinion can help to nip any problems in the bud – before they escalate to a full-on mutiny!
Developing a culture of open communication in the contact centre doesn't happen overnight, but introducing an open-door policy and putting an anonymous suggestions box on the contact centre floor is a good place to start.
Just make sure you acknowledge any suggestions that do come in – even if you just explain why the idea isn't being carried forward – so agents view it as a worthwhile exercise.
5. Encourage agents to personalise their desks
Giving your agents the freedom to personalise their desks can help to encourage a sense of ownership and belonging in the contact centre.
You can even turn this into a competition to give your contact centre a Christmas, Halloween or Easter-themed makeover.
You should also encourage your agents to bring in some of their favourite photos. A silly snapshot of their pet dog will put a smile on their face even during the toughest shift!
What have you tried to make your agents' day a little brighter?
Written by Megan Jones, Call Centre Helper