Here are some interesting schemes that we observed in practice on a visit to the Intercall contact centre in Gloucester.
1. A 20:20 vision day
As the name suggests, this scheme involves Intercall sharing their vision of the business's future with call centre agents, giving them the opportunity to be part of where the company is going.
To project their vision, Intercall designate one day each year to the cause.
This day also functions as an open day for agents, who can submit their own ideas, visions and perspectives on how the business can evolve.
They can also fill out surveys, such as an ESat survey, so that Intercall can develop a thriving database and recognise any negative feedback.
The day also offers the company a clear platform to interact with its agents. This platform can be used to share what the business has done over the course of the past year, how they have acted on agent suggestions, and if they have not done so, they can explain why they chose not to.
This helps to enlighten agents on Intercall's key strategies and allows them to feel a genuine connection with the company.
2. Dragons' Den
Intercall have introduced themed events that their frontline workers can participate in whilst generating a productive output.
One such event that really caught our eyes was Intercall's Dragons' Den project. This project provided employees with a way of bidding for executive-level sponsorship for their business and workplace improvement ideas, which are being pitched to Intercall's "dragons".
Since the project's beginnings, Intercall have implemented 17 of the 19 ideas pitched and have also identified agents who have key talents away from the telephone.
The people so identified then have the opportunity to attend developmental courses or the in-house learning academy, which enables them to further progress their career within the business.
The project was said to be a great success, as it also offered agents a rare opportunity to interact with senior management.
3. Introducing the learning academy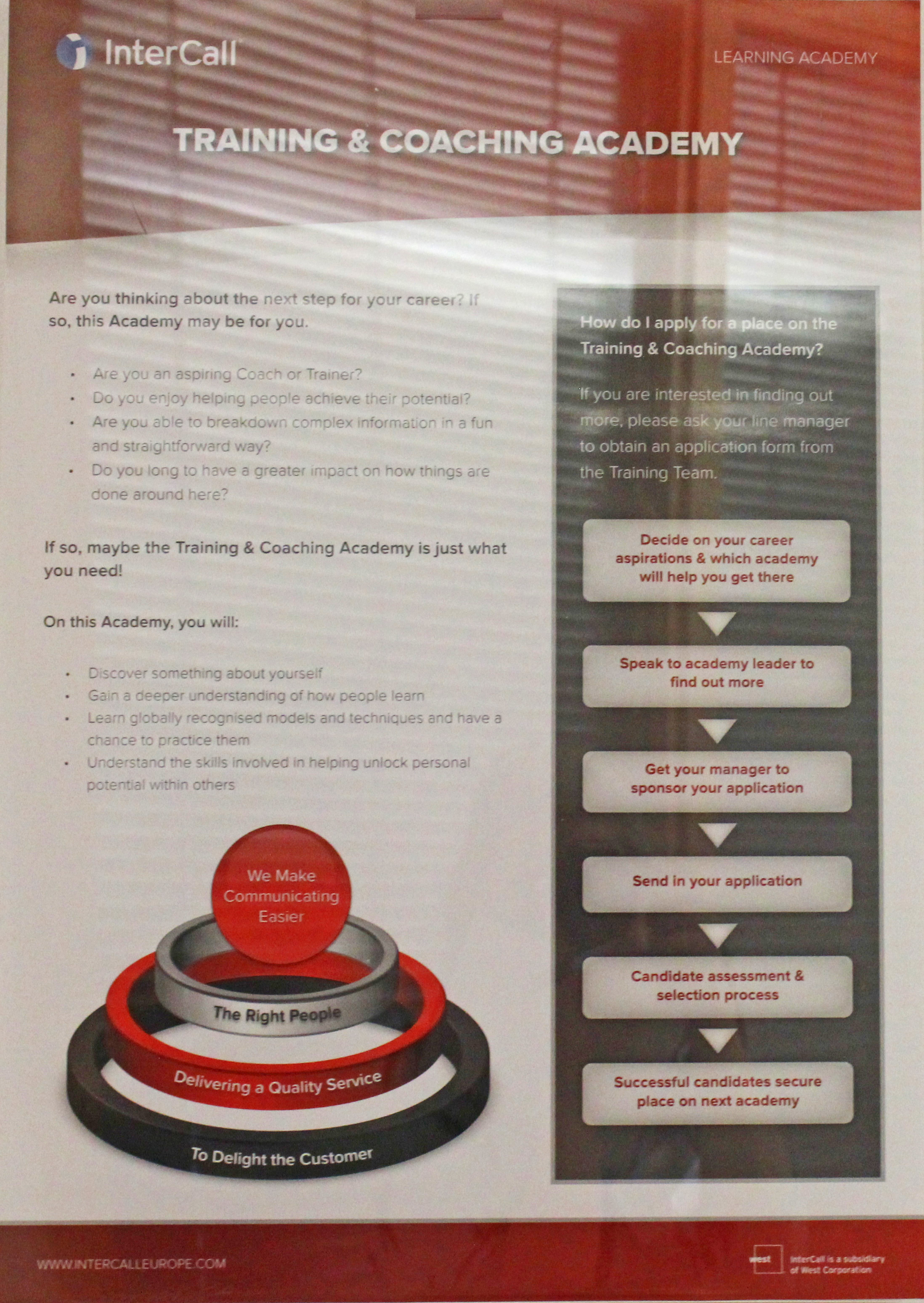 As the average age of agents is very young compared to other professions, Intercall decided to introduce a learning academy that offers a route of progression within the company.
Such a scheme can be used as a motivational tool for agents, as not only are the courses accredited by the University of Ulster, but they offer agents the chance to develop their skills in and knowledge of the call centre industry. This runs parallel to their duties as an Intercall agent.
Along with such factors, the academy further entices workers with the possibility of gaining more of a leadership position or managerial responsibilities within the company in the future.
The academy offers many courses, which include Leadership, Project Management and Future Technologies. Consequently, agents can choose an area of study based on their individual interests, which gives them a head start if an opportunity comes up in their chosen field.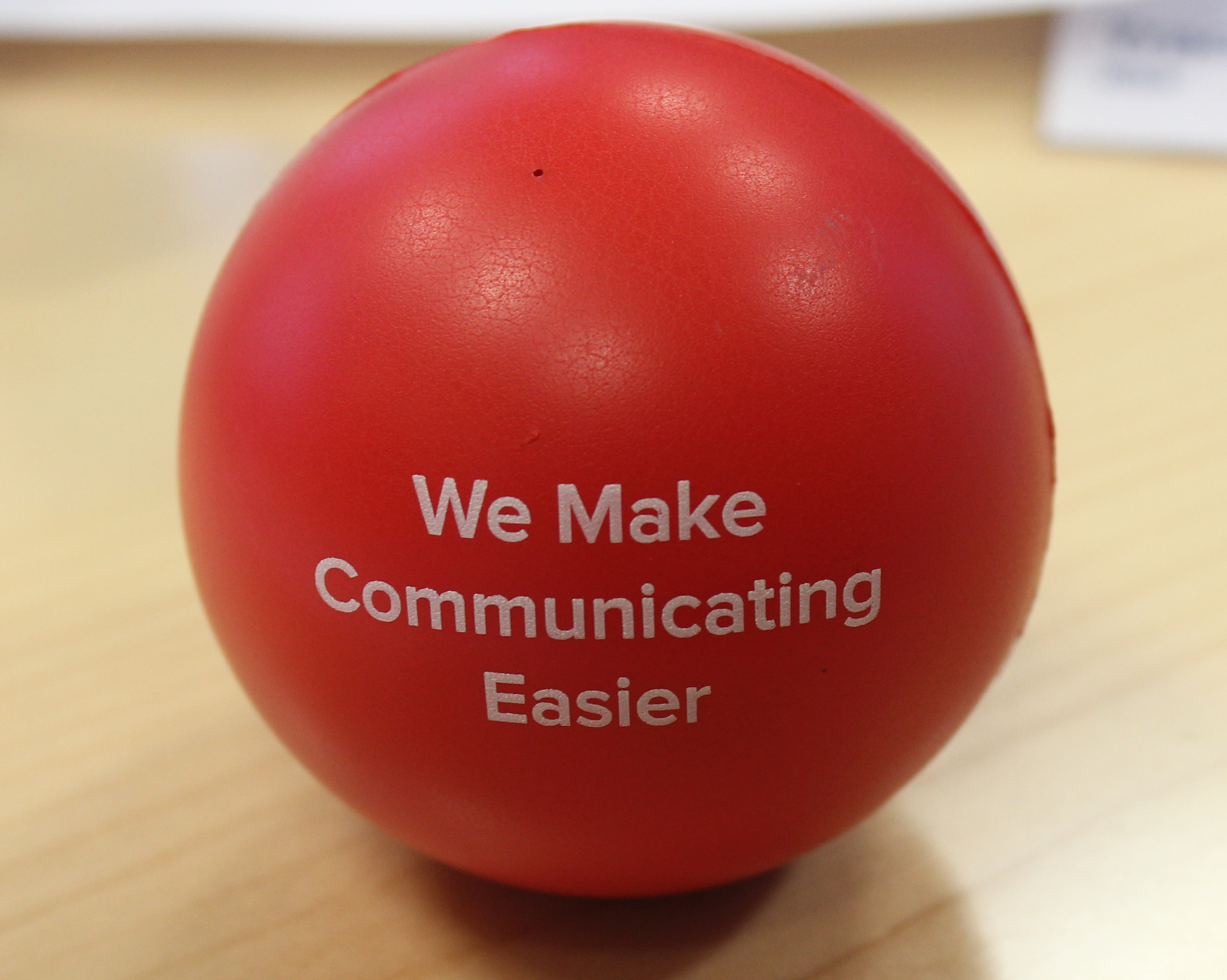 4. Using imagery and props to convey business strategy
As an agent working in their Gloucester contact centre, it would be difficult to forget the fundamental business strategy of Intercall.
The business's foundation, "We Make Communicating Easier", is everywhere.
Hanging from the ceiling there were props emblazoned with the Intercall foundation's motto, stress balls with the same slogan at nearly every desk, and corresponding imagery was clinging to every call centre wall.
There is no question that such imagery is everywhere to remind the frontline staff of the message that they are there to uphold. That, as a community, the Intercall workforce are all there for the same reason, to make communicating easier.
5. Raising the bar
As a call centre agent, your daily routine can become quite stagnant, but not at Intercall, who are determined to "raise the bar".
This external process, which is supervised by a separate department within the business, starts by measuring an agent's current job performance, their bar. When this is measured, activities are undertaken to develop the agent's knowledge and skill set, in order to "raise it" or possibly exceed it.
To do this, Intercall implement coaching sessions, role-playing activities and one-to-one reviews, so that agents feel supported by the company and are fully prepared to answer customer queries.
6. Presenting a 100% accuracy board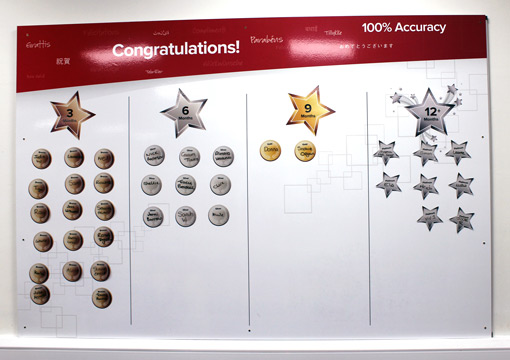 Intercall appeared to be very keen on offering incentives to people who earn them via hard work.
One method that they use is awarding stress balls and red lanyards to those who are deemed to have earned them and a photo that frames its presentation to the recipient.
Another is the "100% accuracy board", which recognises the achievement of an agent who has had three months, six months, nine months or 12+ months of 100% accuracy in customer service.
The board is highly decorated and is the most eye-catching feature, of many, on the call centre walls. This proves effective in highlighting the company's recognition of outstanding work by its agents.
7. Offering a training wildcard
An interesting incentive that Intercall utilise as a motivational tool is the possibility of a training wildcard.
This reward for hard work entitles an agent to undertake any company-endorsed training course free of charge. These courses can be part of the in-house learning academy or a separate lynda.com qualification, and they provide agents with tangible future career options within the company.
By doing so, the company can also feel more assured of keeping its most talented agents.
---
Many thanks to The Forum for facilitating the site visit to Intercall as part of their annual programme of site visits hosted by finalists of their Customer Contact Innovation Awards.