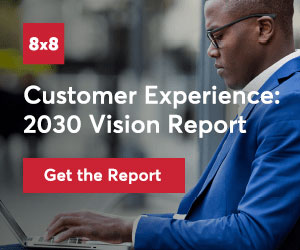 Tricia Morris at 8×8 shares her ideas outlining why now is the right time for contact centre transformation.
Often considered a company cost centre and the Rodney Dangerfield of departments, contact centres were historically overlooked and underfunded when it came to digital transformation initiatives.
But doing nothing today is only driving costs even higher – to the tune of millions of dollars – as disconnected agents spend their time trying to get information to resolve issues and improve the customer experience.
Aberdeen estimates that siloed contact centre agents spend almost 15% of their day trying to find information and that a 200-agent contact centre loses $1.5 million annually in this type of lost productivity alone. If there ever was a time for contact centre transformation, 2020 is making the case.
Here's what modern contact centres are realizing about untethered collaboration and what yours could realize, too:
Improved customer experiences. While 88.3% of organizations consider customer experience a competitive differentiator, more than half (53.5%) of CX operations are still managed in silos. Those that are not – unified communication-enabled contact centres – are seeing a 2.9x average handle time improvement year-over-year and an 80% decrease in customer complaints, according to Aberdeen.
Noticeable productivity gains. Aberdeen's research reveals that unified communication-enabled contact centres see a 50% increase in agent productivity. That's no small change. Neither is the next reason for contact centre transformation.
Cost savings. If a 200-agent contact centre loses $1.5 million in labour costs annually from siloed communications, imagine what the whole company is losing. A recent Planview survey shows that all knowledge workers lose around 20 hours a month due to siloed communication tools. Imagine the recouped savings in increased productivity alone, then think about what your company could save from a reduced real estate footprint and hardware costs if your contact centre could operate from anywhere.
Reduced employee turnover. Siloed tools created employee frustrations. In a 2020 State of Work survey, 88% of workers said the technology their company uses is an important part of the employee experience, and 91% say they crave modern technology solutions. 84% say businesses today are missing opportunities by not moving to more modern solutions.
Higher quality talent. Modern contact centres are attracting tech-savvy agents who can meet tech-savvy customers' high expectations, as well as more experienced employees who want long-term remote options with the ability to collaborate just like they're in the office.
Greater visibility and actionable insights. According to Dimension Data's 2020 CX Benchmarking Report, customer analytics is the #1 factor that respondents think will reshape the customer experience in the next five years, followed by AI and digital integration. When contact centres are easily able to communicate, collaborate and share information with the rest of the business, it informs customer experience and product and service improvement. Most importantly, this informs potential new business models that are the key to true digital transformation.
Agility. Sadly, according to the same benchmarking survey, only 15% of respondents say their current customer experience technology will meet future needs. It's time to raise that percentage.
Positive culture change. Another recent survey shows that for more than half of employees (58%), culture is more important than salary. For companies working to build a customer-centric culture, the number one challenge is functional silos that are preventing customer data sharing.