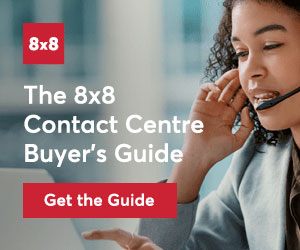 Erica Marois of 8×8 shares her advice for creating a reward and recognition programme that will successfully motivate your contact centre team.
Employee retention is a top concern for businesses of all sizes. According to the Society for Human Resource Management (SHRM), in the last decade, it's climbed to the top of the HR leaders' list of challenges. And more than two-thirds agree that employee recognition helps address retention.
But for small businesses in particular, developing meaningful, scalable, and affordable ways to recognize employees is often just another overwhelming item to add to the to-do list.
How can leaders set aside the time and money to express appreciation to their employees all while growing and running a business?
There are plenty of low-effort, high-impact ways to show your employees you appreciate them. The key is to make the recognition personal, which is a lesson Brian Robben, the founder of Robben Media, has learned while leading his small business.
"Ask questions like 'What gets you excited inside and outside of work? What are your goals? How are things going? What's your dream? How is your family? This intentional conversation will make their month," says Robben.
"Second, give one personalized gift per year to each employee. If you hear Sam's a big Raiders fan, get him tickets to the game."
"If Susie loves Taylor Swift, surprise her with tickets to the show. Implement these two things and you'll build a winning culture through thoughtful moments of generosity."
No budget to send the whole team to their favourite sporting event or concert? There are tons of other ways you can apply Brian's advice to create memorable moments of recognition.
Whether you have $5 to spend or $500, we've compiled creative gift ideas from small business leaders across a variety of industries.
As you plan for the next birthday celebration, employee anniversary, or major holiday, let this post serve as your shopping list for unique gifts that will foster a sense of meaningful recognition and help you retain your best team members.
8 Small Business Leaders Share Their Favourite Employee Gift Ideas
1. Public Praise
They say the best things in life are free, and when it comes to employee recognition, Anh Trihn agrees.
The founder and CEO of a two-year-old media startup GeekWithLaptop, Anh's team started out small and mighty, working from an apartment space.
They've now grown to ten employees strong, and he attributives much of his success to expressing genuine and regular appreciation for his team.
"Praising your employees in the presence of their co-workers can boost morale," he says.
"Not only does it help the employee you're praising to feel good about themselves, but it helps their co-workers to see them in a better light. That is a priceless gift."
Want to take the praise to the next level? Getting other employees involved, and documenting it all on video can be another great way to show appreciation.
2. Video Messages
Alistair Dodds, Marketing Director & Co-Founder at Ever Increasing Circles, says the simple act of sharing messages of gratitude via brief video messages has made a huge impression on this team.
Don't have an in-house video team? No need to feel intimidated!
"Whilst we're lucky enough to have an in-house dedicated video editing team, you can make and edit videos super-fast and for free using online video editing tools," says Dodds.
While he cautions not to overuse the gesture, Dodds says that when timed right and shared with the right employee, personalized video messages can even bring the whole team together, boosting morale not only for the recipient but for everyone involved.
"In the past year, a member of our team was suddenly hospitalized and needed emergency surgery. We put together a video of best wishes and told him how much he meant to us all," he says.
"We surprised him when he was recovering in hospital, and let's just say it got emotional! In a small business, your team is everything. Without them, the business doesn't function."
"Showing employees just how much they mean to everyone in a heartfelt, surprise video message is a great way of showing genuine gratitude. It works for us anyway."
Aside from the life-changing milestones, what are some ways to make time for praise and gratitude in the midst of the day-to-day grind? Idea number three offers ideas for addressing the small moments.
3. Regularly Celebrate Small Wins & Milestones
When it comes to employee rewards and recognition, it's also important to remember that you shouldn't save gifts or moments of gratitude only for the big occasions. Joe Bailey, Business Development Consultant at My Trading Skills, says his team makes a point of keeping track of small wins throughout the year and pausing to celebrate those accomplishments.
"At our company, we track and celebrate the small wins for each employee. When a weekly target is met, or a problem is solved, we normally celebrate using pizza for the office, and a round of applause for the employee(s)," says Joe.
"We also set aside a day each month to celebrate the birthdays. Celebrating the small wins and the birthdays with pizza and cake is inexpensive, and has helped us appreciate each other more at work."
Looking for a spot to buy the perfect cake or pizza for your next team party? You may want to scope out local deals, according to the GreenPal CEO, Groupon is a goldmine for employee gifts.
4. Leverage Groupon to Support Other Local Businesses While Treating Your Team
GreenPal dubs itself the Uber of lawn care, and its leadership team is big on employee recognition as well as supporting other local small businesses.
That's why their CEO, Bryan Clayton, is a big fan of leveraging Groupon to find the perfect personalized employee gifts.
"A little kind gesture I like to do for our team members is buying everybody a small treat on Groupon once per month," says Clayton.
"Often, it's a massage, or a house cleaning, or a car wash, or some other tangible service that doesn't break the bank. It's an easy way to show employees that we appreciate them and everything they do. It's also a nice way to help a local business out at the same time."
5. Never Underestimate the Power of an Inside Joke
If you're looking for a less conventional way to say "thank you", don't underestimate the power of a good inside joke. According to Marc Sloan, CEO & Founder of Context Scout, those jokes can become the best source of inspiration for a meaningful, memorable employee gift.
"It was a running in-joke in our office that one of our employees resembled the tennis player Marin Cilic, so for his birthday, we got him a signed photo of Marin," says Sloan.
"It didn't cost much, but it was memorable, personal, and everyone in the office enjoyed it, in particular the employee who proudly displayed it on his desk."
Not feeling creative? Struggling to think of the perfect inside joke? The only thing this next idea requires is an app you likely already have on your phone.
6. Have Their Favourite Food Delivered
Nothing says "thank you" quite like delicious food. But when it's delivered, paid for by your boss, and tailored to your preferences, that's even better.
Chris Stasiuk, Founder & Creative Director at Signature Video Group, likes to regularly express gratitude to his team in just this way.
"After a long shoot or challenging project, I'll order from one of their favourite restaurants and have it delivered to them at home (Via Uber Eats or Skip The Dishes)," he says.
"It's personal, fairly inexpensive and really helps to show appreciation."
Not a fan of shopping? This next gift idea requires no effort but goes a long way to boost morale.
7. Give the Gift of Flexibility
If you're struggling to come up with a gift idea for the employee who has everything, or you have team members that aren't big fans of public praise, it may be easier than you think you express your gratitude for their good work.
Kristin Chambers, Owner/Director at Meerkat Media Group, says she rewards her employees with the gift of flexibility.
"I am a small business owner with a marketing agency and show gratitude to my employees through a flexible work schedule. So many companies now do business online, which can be done from anywhere in the world," she explains.
"Therefore, when my employees need to travel, it is never an issue and does not affect their pay (so as long as they meet their deadlines)."
"Coming from a corporate background, there is a huge lack of flexibility, which for me resulted in high-stress levels that were not conducive to a healthy lifestyle."
"More flexibility gives employees greater freedom to pursue their dreams, while also making a living."
Want to take it a step further? Consider how shorter workweeks or days might work for your team.
8. Institute a Company-Funded Gift Exchange
We're all familiar with the concept of a Secret Santa or White Elephant gift exchange. Whether you've participated in one at work or enjoyed watching one play out on The Office, you may not have thought about revamping the traditional gift exchange in the way the Lakewood, CO Dickey's Barbecue Pit team has.
Their spin on the beloved holiday tradition? The bosses pay for all the gifts.
"At the end of the year, we do a gift exchange. Every employee gets $50 and draws a name. They purchase gifts for that person," says co-owner Jenn Uhen.
"My husband Shaughn and I saw that when they purchase gifts for each other, they are incredibly thoughtful."
"Our employees are talking about the gift exchange for weeks with their ideas and excitement to shop for each other."