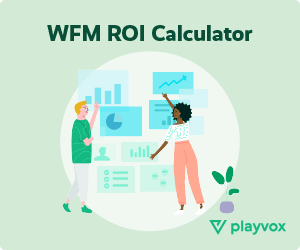 Playvox outlines four ways you can incorporate agent recognition into your QA monitoring program.
Agent attrition is an issue that has plagued contact centres for years, negatively impacting organisational bottom lines. It's a startling statistic: The average contact centre grapples with an estimated 30-45% turnover rate annually. That's double the average attrition rate of other organisations.
Each time your business loses an agent, remaining contact centre staff members are left to bear the brunt of an increased workload – often bringing about a multitude of challenges, which may range from dissatisfaction and poor productivity to a decrease in quality of customer care.
Findings released by the Society of Workforce Planning Professionals reveal that replacing just one contact centre employee costs an average of $6,440. And while that number alone is considerable, it does not account for the costs associated with lost productivity and diminished employee morale.
To facilitate progress and help organisations thrive, business leaders must address the reality of agent attrition. One key to reducing turnover: Incorporating incentives and agent recognition into your quality assurance monitoring program.
Why Employee Recognition Is a Valuable QA Monitoring Tool
Quality assurance monitoring is vital for a thriving contact centre. Ongoing tracking and monitoring can ensure every customer receives a consistent, satisfying and positive experience.
QA monitoring tools can help in automating this process and delivering valuable data your organisation needs in order to improve.
Fostering employee loyalty requires proactive planning and continual evaluation of your QA monitoring and measurement strategies.
When you prioritise employee satisfaction initiatives, this translates into reduced churn and increased profitability. In fact, data shows that, on average, companies with low turnover rates bring in 4X higher profits.
According to McKinsey & Company, highly engaged and satisfied contact centre employees are:
3.3X more empowered when resolving customer issues
4X more likely to stay with the company than dissatisfied coworkers
16X more likely to make candidate referrals
Beyond these compelling statistics, employee recognition is good management. Employees like to be recognised for valuable contributions. And when your contact centre agents are validated, they're more likely to repeat that success and continue delivering an exceptional customer experience.
Your agents are the backbone of your QA monitoring program and generally want to invest their time and effort in helping drive its success. To keep motivation high, it's essential to show gratitude and reward individuals for their work and achievements.
4 Ways to Implement Recognition in Your QA Monitoring Program
What kind of employee appreciation tactics should you incorporate into your QA monitoring program? And how do you get started? Let's dive in.
1. Decide What Performance Metrics to Measure in QA Monitoring
In order to begin incorporating employee recognition into your QA monitoring program, managers and key decision-makers must first get to the heart of what matters most when it comes to KPIs.
There's no sense of accomplishment for agents if you have not established measurable goals that align with the company's mission and vision.
Whether your focus is on average handle time (AHT) or customer retention rate (CRR), providing agents with clear metrics and tying those numbers into the larger purpose will help instil a sense of meaning in their work.
Ensuring your contact centre agents understand how their work is impacting – and contributing to – company goals is a pivotal piece of driving motivation.
It is possible to monitor countless metrics in your contact centre, and a good quality assurance monitoring program has determined, defined metrics that matter most. Aligning your team on the most important metrics in your contact centre is a great place to start.
2. Decide on Rewards, Contests and Recognition Tactics
To make an impact on quality assurance, management must leverage performance metrics to reward consistency and cultivate an atmosphere steeped in recognition and praise. The first and easiest way to reward staff is by giving public recognition – not just every so often, but daily.
From a congratulatory meme on your office's messaging platform to calling an agent out in a group meeting, giving public praise is an effective way to drive performance, strengthen company culture, motivate other team members to reach higher, and create a sense of pride in one's work.
Another approach is using contests to fuel friendly competition. Gamification and contests have become popular ways for business leaders to increase engagement and incentivise workers. Prizes for the winners can be anything from a free lunch to additional paid leave to tickets to a sporting event.
This is an opportunity to get creative and allow your team members to inject fun into their workday. There's no shortage of ideas when it comes to giving your team the recognition they deserve.
3. Engage Agents in the Process to Reinforce Behaviors
To best achieve buy-in from your contact centre agents, it's important to encourage feedback and the sharing of ideas. When you involve agents in the creation of your employee recognition program, you communicate that their input is valuable. You can use digital survey tools to collect feedback from your team about:
What technology or tools they need to accomplish their goals
What type of incentives or rewards they'd like to receive
Thoughts, concerns, or suggestions regarding QA monitoring and measurement processes
Soliciting feedback is another key way to show your agents that QA monitoring is more than a top-down program. It is an integral aspect of the contact centre at all levels.
4. Evaluate, Refine, Repeat
Introducing employee recognition into your QA monitoring program is a long-term undertaking. It requires your organisation's leadership to continually assess its efficacy, adjust metrics as needed, and develop new strategies to ensure recognition feels genuine, fresh, and valuable.
Creating a strong employee recognition program for your contact centre isn't a costly or intricate process. The investment is minimal from a financial standpoint, yet delivers a plethora of benefits that will drive growth, retention, and profitability for your business.
Like other contact centre best practices, agent recognition is a habit worth establishing.
Looking for more insight on how to reach new levels of success? From building a quality culture to establishing the right framework for achieving your contact centre's QA goals, don't miss all the valuable tips in Playvox's 2021 QA Success Blueprint: Improve & Monitor Your Call Centre Agents.
For more information about Playvox - visit the
Playvox Website