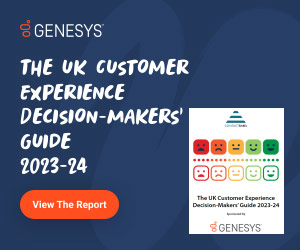 We define speech recognition software, before our panel of experts discuss how it is being used in contact centres.
What Is Speech Recognition Software?
Speech recognition is the ability of a computer to recognize spoken words.
Speech recognition is the ability of a computer to recognize spoken words. Speech recognition software is now becoming commonplace in today's digitally connected world.
In recent years, its growing use in consumer technology has made it nearly synonymous with popular voice-activated digital assistants like Siri, Alexa and Cortana.
However, long before these digital innovations stole the spotlight, speech recognition was already playing a starring role in many contact centres and is now being used more and more, in each of the following ways…
10 Uses for Speech Recognition Software in the Contact Centre
Here are ten ways that contact centres are using speech recognition software to the benefit of their customers and teams.
1. Advancing Call Routing
As speech recognition enables devices to understand and respond to spoken commands, prompts or queries, the natural first step for speech recognition software was to be installed in the IVR.
Connecting callers to the right advisor frees up valuable time and saves customers the frustration of having to repeat their verification information or explain their reason for calling to more than one agent.
Connecting callers to the right advisor frees up valuable time and saves customers the frustration of having to repeat their verification information…
IVRs with speech recognition can make contact centres more efficient by prompting a caller for this information ahead of time and then forwarding the call to the agent with the best ability to assist, through use of voice only.
2. Enhancing Contact Centre Analytics
Taking speech recognition to its next logical tier, data collected and recorded by speech recognition software can be studied and analysed to identify trends in customer queries.
In addition, an analytics system that has embedded speech recognition software can identify gaps in contact centre processes that may need to be addressed.
Rather than requiring a human to listen and comb through thousands of hours of call recordings, speech analytics makes use of voice recognition technology to spot keywords, phrases and even emotional triggers, such as a caller's anger or frustration evident in the recording.
Thanks to Bob Moore at Aspect Software
3. Improving Self-Service on Phone Calls
Speech recognition software allows for a more conversational interactive voice response (IVR) experience and allows customers to have more human-like interactions.
With this capability, customers can self-serve more and successfully resolve issues within the IVR. It can also deliver a more intuitive experience that anticipates their needs and enables them to interact with the system naturally, in their own words.
In addition, self-service IVRs can take on some of the workload from advisors, allowing customers to perform simple enquiries.
But arguably the greatest benefit for these IVRs is that they work 24 hours a day, seven days a week and allow customers to get in touch whenever they may need.
Thanks to Brent Bischoff at Business Systems
4. Completing Identification and Verification Processes
Speech recognition software can be used for completing an identification and verification (I&V) process, with the customer speaking their details such as account number, date of birth and address.
With this capability, advisors don't have to ask customers for these details themselves, so it reduces call length and therefore operational costs.
From this example, we can see how speech recognition allows more of your simple processes and transactions to be automated. This saves the customer time spent queuing and leaves your advisors free to concentrate on the more complex tasks where they deliver the most value.
Thanks to Andy Hearsey at Noble Systems
5. Automating Simple Processes
In the contact centre, speech recognition software is being implemented across a whole host of automation processes, and can be used as a tool to create a more automated framework.
Whether it's being employed to verify customer details, fully automate tasks like appointment bookings or find out where your order is, speech recognition software can take over a whole range of responsibilities in the contact centre.
Not only does this ease the workload of advisors by helping out with routine, repetitive tasks, but it also helps create a smoother customer journey by helping to resolve their query in a more efficient manner.
Thanks to Steve Murray at IP Integration
6. Recognizing Customer Sentiment
The ability to analyse calls using speech recognition and machine learning helps contact centre management to review all calls and identify issues or trends.
One of the key areas of speech recognition and natural language processing (NLP) is sentiment analysis. This is the ability to understand emotional tones in speech and print.
A use for this is in understanding sarcasm. Take the example of when somebody says: "Great service." While most analytics systems will detect that as a good thing, depending on the sentiment, it could also be sarcastic and therefore negative.
Yet by using speech recognition and machine learning in combination, organizations can better detect this positive and negative sentiment, and therefore better measure customer emotion.
Thanks to Frank Sherlock at CallMiner
7. Spotting Compliance and Legal Risks
Using speech recognition within an analytics solution, contact centres can analyse all voice interactions to automatically detect potential risk or compliance issues, instead of a time-consuming manual review of individual scripts.
While compliance means different things for different centres, ranging from legal speech compliance to script adherence, the ability to automatically mitigate these risks through the use of speech recognition is highly beneficial.
These benefits largely arise from the ability to create custom rules that look for non-compliant speech and rules that identify interactions that do not contain necessary disclosures.
Thanks to Bridgete Phillips at NICE inContact
8. Adding Insights to Contact Centre Reports
By coupling speech recognition with machine learning technologies, contact centres can automatically categorize contact topics, find anomalies and even pinpoint where existing queries aren't capturing the full picture of conversations.
With these insights into the root causes behind customer satisfaction, or the lack of it, businesses can build reports and workflows to take action on improving loyalty.
AI-enhanced speech recognition drives objective, consistent and accurate scores that measure behaviours, such as if an agent is friendly, listens actively or builds rapport with their customers.
Having access to valuable insights like these will highlight how different organizations can use the gold mine of data collected every day for the benefit of their customers.
Thanks to Jonathan Wax at NICE Nexidia
9. Generating Ideas for Coaching Improvements
Contact centres can use transcripts from speech recognition software to train and empower agents.
By reviewing transcripts from previous interactions and analysing what did and didn't work well, advisors can learn how to navigate difficult calls or how to personalize an interaction, improving the overall customer experience.
Yet in terms of the potential of speech recognition in the contact centre, there is still a lot to come from the technology, for it to further benefit customer experience.
There is even talk about how it could be paired with new facial recognition technologies within a contact centre environment to improve the quality of customer service interactions!
Thanks to Sunny Dhami at RingCentral
10. Improving Service at Peak Call Times
Generally, any transaction that advisors handle today by asking specific information from the call, typing the information into a computer screen and then reading answers back to the customer can all be automated with speech recognition.
These technologies can therefore be especially useful to businesses during after-hours or peak periods when advisor availability can be limited.
Think of queries such as: "What is my account balance?" Or: "When will my order be delivered?" These can all be automated through speech recognition in the IVR.
This ability to automate these simple queries at peak times reduces the time customers spend in the hold queue and provides them with the information that they need during peak times or when the contact centre is closed.
Thanks Juergen Tolksdorf at Genesys
In Summary
With the rise of speech recognition technologies like Siri, Alexa and Cortana, we may just be beginning to realize the vast potential of speech recognition technologies, at home and in the contact centre.
Yet, as Steve Murray at IP Integration reminds us: "Don't look to put a speech recognition project in place just because it's what everyone else is doing, as you'll only run into costly trouble when it fails to add value to the customer service or deliver a return on investment."
Just remember, the customer should be at the heart of every decision, and the most important thing to consider when implementing any new technology or strategy is to think about how it will affect them.
For more from our panel of experts on contact centre technologies, read our articles: