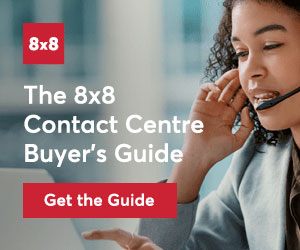 8×8 have introduced a series of new capabilities to 8×8 X Series, 8×8's award-winning, one cloud-based technology platform for business communications and contact centre.
The new capabilities for 8×8 X Series include advanced speech analytics, an enhanced integration framework, and real-time dashboards which help businesses of all sizes to accelerate growth by improving communication experiences between employees and customers.
"We launched 8×8 X Series in 2018 and it remains the industry's only cloud communications platform to offer voice, video, chat and contact centre through one application. Multi-vendor solutions can't match the ease of our one platform, and our customers confirm that X Series helps improve employee productivity across the organization while enabling IT to be more efficient via a single admin portal," said Dejan Deklich, Executive Vice President and Chief Product Officer at 8×8.
"Today's announcement reflects our commitment to continue to deliver a superior communications solution."
8×8 X Series helps companies transform their customer and employee experience with one system of engagement across voice, video, collaboration and contact centre, and one system of intelligence on one cloud-based technology platform.
Success in business depends on the speed of responsiveness and execution, and with 8×8 X Series, businesses communicate faster and smarter to meet these demands for speed.
Key new capabilities and enhancements for 8×8 X Series include:
Powering business ecosystems with communications: The 8×8 Integration Framework is built on microservices and industry-standard APIs, making it easier and faster to embed communications into CRM, ERP, helpdesk and productivity applications. The latest integrations include Microsoft Dynamics 365, Bullhorn and Slack. Businesses are now able to accelerate responsiveness, enable company-wide engagement and provide data-driven insights which empower employees to deliver better customer experiences.
Speech analytics for contact centres: The enhanced 8×8 Speech Analytics, powered by microservices and running on public cloud infrastructure, gathers information from recordings of customer interactions, enabling companies to use data to optimize customer experiences. Businesses gain instantaneous insights through predefined categories, topics and hundreds of predefined words and phrases, eliminating expensive professional service costs associated with competitive solutions and providing immediate time-to-value.
Real-time dashboards for contact centres: Contact centre managers can now quickly and easily create their own customized real-time dashboards, share them with other users, and display as wallboards to provide visibility on important contact centre metrics.
For additional information, visit www.8×8.com