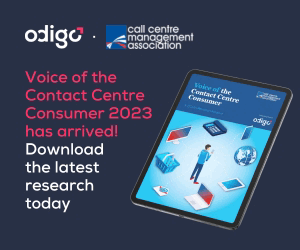 Steve Owens at Odigo explains how to automate insurance and harness data to enhance CX.
Any change organisations implement should improve workflow for agents, not add complexity, but the ultimate goal should always be to improve CX.
Efficient, economical processes are only of benefit if customers want to use them. The next question then becomes how to make informed decisions about where to apply these processes.
Harnessing the wealth of data insurance companies can access will not only help identify where to automate insurance but also enhance accuracy at each step of the underwriting, claims and settlement process.
Intelligent Application of Automation in Insurance
The thing to remember about automation is that it often operates as part of more complex interactions, not just stand-alone ones. With so many potential applications, where is a good place to start when organisations want to automate insurance processes? Here are some straightforward applications that can make a big difference:
Call qualification and advanced routing,
24-hour services,
Low-complexity queries with predictable answers, for example 'when is my policy renewal date?', or 'how many years of no claims bonus do I have?',
Instant transactions like secure payment IVR systems,
Automate insurance reminders and policy notifications.
CCMA insights into customer opinion back up such an approach, as acceptance of self-service for routine low-complexity queries, is rising while it is lower, and has actually decreased a little during 2021 for high-complexity or urgent ones.
By using the data available it is possible to identify what should be automated rather than simply what could be. Companies can analyse their own data to check their most common reason codes for easy-to-answer insurance queries that would be suited to automation.
Once these have been identified insurers can decide which to implement first, possibly by picking those that could offer the greatest cost or operational efficiencies.
Using Data to Automate Insurance Enhanced With AI
Automation and artificial intelligence (AI) services are increasingly overlapping. In contact centres, this means automated responses can follow from AI-driven analysis of customer speech and text.
This process uses increasingly sophisticated natural language understanding (NLU) to harvest more accurate data, but the real value lies in what this data can then achieve for customers and insurers. In this context, there are 3 key uses that can make a big difference to CX and efficiency.
Firstly, call management uses NLU to more accurately identify callers and their queries so as to route them directly to the right specialised team for the task: underwriting, policy amendments, claims etc.
This sets a call up for success and can positively influence first call resolution and average handling time. This may not be the first application that springs to mind when considering where to automate insurance but it is extremely effective.
Secondly, transcription analyses speech during a call and produces text known as a transcript. Automation in this sense lends support to insurance agents by taking down vital details of a new policy or claim.
Keywords or phrases can also be programmed into a contact centre solution to prompt next-step suggestions, based on the speech analysis. These improve compliance to working processes and highlight opportunities for cross-selling and up-selling.
Finally, the accuracy of any AI-led service like a voicebot or chatbot also depends on data acquired through NLU analysis of text or speech.
These bot-led interactions afford the greatest benefits to customers when they are fully integrated into a channel-less strategy.
This allows customers to complete claims renewals or retrieve quotes in a cross-channel journey that suits their needs while maintaining visibility for agents.
The Benefits of Enhanced CX and Greater Customer Support
Amir Raskin, data and analytics product strategist at Sapiens International, said "the game is changing," Featured in an article by Insurance Business UK, Raskin went on to describe how "doing the hard back-office work of registering the policy correctly, working with the authorities, completing all the paperwork and so on, will soon become a commodity. That's the 70% that all insurance companies share. The 30% differentiation will be in the pricing, the risk management, and the customer experience".
This differentiation is crucial to insurance companies because retaining existing customers is 5-25 times cheaper than attracting new ones.
When companies automate insurance effectively it provides experiences customers want and thanks to digital deflection gives insurers time to support customers through stressful processes, such as the reporting of accidents.
This can boost satisfaction at key 'moments of truth' in the customer's experience with an insurer that can ultimately make or break retention efforts.
This blog post has been re-published by kind permission of Odigo – View the
Original Article
For more information about Odigo - visit the
Odigo Website