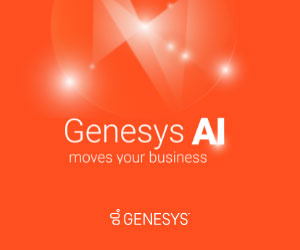 Charlie Mitchell investigates how contact centres can use Customer Service automation to simplify processes and increase efficiency.
Discover, Remove, Improve
When approaching contact centre automation, think: discover, remove, improve.
Discover involves analysis of why customers are calling. This should go beyond looking at call disposition codes, as contact reasoning data is, historically, unreliable.
Remove the simple, transactional contacts from the contact centre entirely through self-service and website enhancements.
Finally, consider the remaining, trickier contacts. Improve an advisor's ability to answer them through automating the manual tasks they complete along the way.
To do so, analyse the entire process of answering those calls, from when the customer enters the interactive voice response (IVR) system to when the advisor completes the after-call work (ACW).
This approach was shared with us by Wayne Butterfield, a Global Lead at ISG Automation. However, it's not the only way to identify customer service automation opportunities in the contact centre…
The Value–Irritant Grid
The matrix below is often referred to as the "Value-Irritant Grid".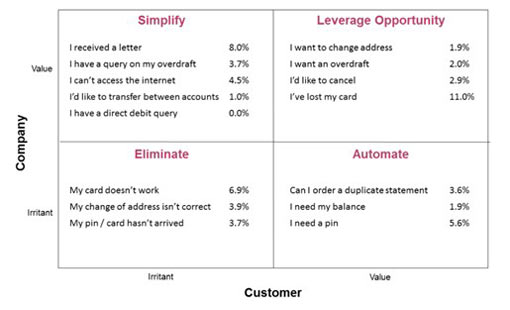 By pinpointing common contact reasons and placing them into the relevant quadrant, contact centres can come to terms with which are best to automate.
To do so, consider each contact reason in terms of its value to the customer and the contact centre, as has been done in the example above.
The bottom right square is where automation efforts to remove contacts from the contact centre should be focused as, while they are valuable to the customer, they are irritating to the company.
Also of interest is the "simplify" box. These contacts are irritating to customers but valuable to the business. Automation can also be used here, but not to remove the contact. Instead, it can improve how that contact is handled by simplifying processes.
So, again – despite presenting two different models for automation – we see two key areas emerge: automation to remove and automation to improve. The Do's and Don'ts of Customer Service Automation.
These contacts are, after all, unnecessary and contact centres should try to work with other departments to remove them entirely.
By freeing up the extra resource, the contact centre can spend more time handling contacts of great value to both them and the customer.
But let's get back to the topic at hand. How can contact centres automate to remove and automate to improve?
Automation to Remove
Simple transactional contacts that cannot be stopped at the root cause are prime candidates to be automated and removed from the contact centre mix.
The simplest way of doing so is through customer FAQs and online search engines. These are classic examples of self-service solutions for the contact centre.
However, there are many more options to choose from, including:
IVR self-service
Customer-facing knowledge base
Chatbots
Online manuals and self-help videos
Proactive messaging
Online portals can also be used to remove common queries such as "Where's my stuff?" Such a portal would help the customer to track their delivery.
Through such technology, contact centres can use automation to remove many common queries. These include online statements, account balances and password resets.
Yet, before looking at new ways to automate, first review existing self-service systems. This is something that far too few contact centres do enough of, as exposed in 2019 through a Call Centre Helper report.
Could building upon these help to remove contacts? If so, work to improve existing systems, increase customer confidence in them and cut contact rates. Such a practice can be a big cost-saver in comparison to spending money on new technologies.
Just remember, when installing self-service systems to automate contacts, that organizational processes and customers are always changing. This highlights the danger of leaving self-service systems to their own accord, even if they are successful at the get-go.
Discover more top tips for managing self-service solutions by reading our article: The Do's and Don'ts of Digital Self-Service
Automation to Improve
Those common contact reasons that drag on and on are the source of much contact centre anguish. They can't be automated entirely, but they can be sped up through automation.
How? Well, there are three key parts of the call to tackle. Let's inspect each area, one by one.
1. Pre-Call Automation
The ability to provide a quick synopsis of the customer to an advisor before the contact begins can be a good place to start with automation.
Just consider: can we provide the advisor with the information they may need, as soon as the call begins, from multiple systems, and present it in a nice little dashboard?
The ability to provide a quick synopsis of the customer to an advisor, before the contact begins, can be a good place to start with automation.
Contact centre arenas such as collections may particularly benefit from this, as they may need to retrieve data from four or five systems to answer a customer query.
It can also prove particularly useful for speeding up the customer research process for outbound sales.
Then there is automating the identification and verification (ID&V) process at the start of the call.
Contact centres can do so by using passcodes, push notifications to an app or voice biometrics.
2. Mid-Call Automation
Walk through the process advisors follow to solve a contact. Think about the time advisors spend on systems to get something and time spent on systems to do something.
Uncover opportunities where advisors can accomplish tasks more quickly through automation than they would manually. These tasks can be automated through attended robotic process automation (RPA) and desktop assistants.
Examples of the types of tasks that can be automated include:
Launching applications
Copy and pasting information
Mouse selections
Auto-filling forms
Calculating figures
Other technologies can also be used to automate advisor procedures and improve the call handling process. These include:
Unified desktops – Reducing multiple log-ins into different systems
Knowledge base – Giving easier access to helpful support and guidance
Screen-sharing software – Reducing time spent describing what is on the screen.
Another exciting example of automation is in helping advisors increase their ability to answer more contacts concurrently on digital channels.
Traditionally, contact centres have asked advisors to answer four or five live chat contacts at once. This hasn't equated to great customer service, as handle times are pushed very high, while it can also prove stressful for advisors.

If there was a bot that could decipher customer needs right away, from their initial query, advisors can action that quicker, saving lots of time. Contact centres can then potentially look to increase concurrency safely and cut costs.

Wayne Butterfield Global Lead at ISG Automation
As evident in these examples, the objective here is to automate to reduce handling times. This is where the contact centre will find maximum return on investment (ROI).
Generally, the longer the handling time of the contact reason that's being addressed through automation, the more opportunities to streamline the conversation will reveal themselves.
3. Wrap-Time Automation
Bots can monitor the systems that advisors dip into and the processes they follow to answer a call. This enables the contact centre to generate an automated summary of what has just happened.
While the summary may need top and tailing, it can save advisors much time when completing ACW, as they don't need to write up certain call notes.
These bots can also potentially automate the entering of call disposition codes. However, these technologies are not yet 100% accurate, so, if this capability is installed, coach advisors to give dispositions a quick check.
After the call is wrapped, automated messages can be used to follow up, if need be. This will potentially save advisors from making a second contact.
Automation in Operations Management
Many manual tasks can potentially be automated.
Usually embedded within specialist systems, there are many other examples of how automation can be used in the contact centre, away from contact management.
For example, to a certain degree, each of the following fields can be automated:
Quality Assurance – Scorecard criteria can be automated through speech analytics technologies. They can then be handed straight back to advisors, automatically.
Resource Planning – Automation can be used to test forecasting models and simplify the scheduling process.
Recruitment – Specialist solutions can scan CVs to draw attention to particularly interesting candidates and sweep aside others who don't meet the requirements.
Customer Research – Through analytics systems, contact centres can identify issues such as low customer sentiment, dead-air time and repeat calls.
Coaching – Bots can be used to assess performance statistics, spot advisor disengagement and feedback to team leaders.
However, one area in which automation has really made its mark is within back-office processes.
Why? Because many manual tasks can potentially be automated. Data validation, migration and retrieval are great examples of tasks that can be performed without the risk of human error.
To Automate or Not to Automate…
Analyse your top contact reasons, follow the call-answering process and discover key opportunities to improve and remove contacts.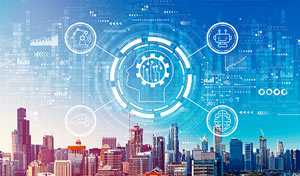 If several call reasons are transactional, consider removing them with self-service. If there is no simple solution, assess whether chatbots could fit the bill.
For longer, more complex queries, analyse the steps advisors take to answer them.
Are there any simple copy-and-paste, data retrieval or mouse selection tasks that can be automated to save advisors time?
Bring each of these potential ideas together to see if there are multiple opportunities – across different contact reasons – for automation. This is what will answer the question of whether to automate or not.
Further unpack the mystery of contact centre automation and artificial intelligence (AI) by reading our articles: