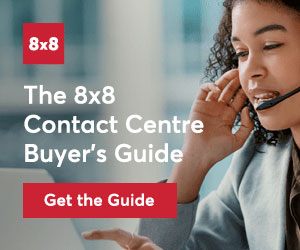 Just two weeks after Debenhams announced it is closing 50 stores across the UK, research reveals that nearly six in ten (59%) consumers have stopped shopping with a retailer due to poor customer service in store, on the phone, or online.
That's according to 8×8, a cloud provider of voice, video, collaboration and contact centre solutions for over one million users worldwide.
One call to resolve one query
When asked about the bad service they had received, the most common issue consumers cited (78%) was being 'passed around the houses' or having to re-explain their problem multiple times to different people in order to get an answer.
The majority have had to speak to three different people on average, with some saying they spoke to a staggering 12 different agents for just one query.
Nearly half of customers (49%) also said that staff had been rude to them.
Disjointed data
Retailers struggling to join up their internal data is also impacting service levels.
Over half (51%) of consumers said they are less likely to shop with a retailer if they can't talk to the online customer service team about in-store purchases, or go into a physical store to ask about online orders.
95% also said that they found it frustrating when agents didn't have any information about their previous calls or emails.
Good service makes a difference
When asked what they consider the most important elements of good customer service, having queries resolved quickly is the most important factor for retail customers (48%), followed by getting a human response (47%), and having one person being able to answer their query first time (44%).
David Rowlands, Director, Customer Success, UK & EMEA, 8×8, said: "For UK retailers, every customer counts and in a tough year for the sector, this has never been more important. Yet if customer service isn't up to scratch, customers are happy to vote with their feet and shop elsewhere."
"To help meet growing customer service expectations, whether online or in-store, staff need to have the right technology to hand. Cloud communications technology can empower agents with instant access to the right information, in one platform, and allow them to collaborate with the right experts internally, wherever they are, to give customers an experience that delights them – and also inspires loyalty."
8×8's research also revealed the UK's top eight customer service frustrations:
Being put on hold for a long time (86%)
Automated responses or obviously scripted answers (85%)
Customer service teams not having information about their previous calls or emails (83%)
Customer service teams not caring (82%)
Being told to go to a help section or FAQ instead of being helped on a call (77%)
When I call a company for a specific query, but get asked to visit their website instead (76%)
When staff try to sell them a product while they are still trying to get their problem solved (75%)
Not being given rewards for being a loyal customer (64%)
For more information about 8×8, visit www.8×8.com.