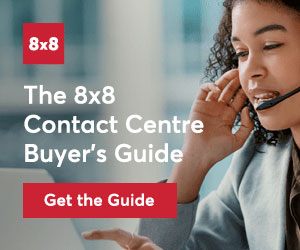 Choon Khee Koh at 8×8 outlines what every business leader needs to know about CPaaS.
We all know that nearly any business problem can be solved by getting the right people connected. But, doing so is easier said than done—especially when it comes to real-time human connection and personalisation.
Sure, the number of connected devices has skyrocketed, and yes, digital technology is generally making our lives easier, but many businesses are still plagued by customer support inefficiencies, low customer and employee retention, and missed sales opportunities.
Enter CPaaS (Communications Platform as a Service), which has been hailed as the catalyst for flexible and accessible communications across a range of business applications. If you're not familiar with the term CPaaS, think: cloud-based, embeddable communication APIs.
In very basic terms, communication APIs are low-code software rules that allow multiple communications systems to share data across any physical device—which is exactly why they are taking the business world by storm.
Out of all the technology options out there, communication APIs are often the easiest to implement and come at a price point that businesses can actually afford.
With CPaaS, businesses are able to unlock disruptive capabilities by streamlining multiple communication channels, such as SMS, chat apps, voice, and video, into a single dashboard. The benefits are trifold:
First, cloud-based communication APIs are fully customisable to suit any business need
Second, communication APIs allow remote stakeholders to communicate as if they were all in the same room
And finally, communication APIs help business leaders to refocus, retarget, and convert leads
Communication APIs Can Be Customised for Any Business Need
It's no secret that speed and agility are the keys to success in our hyper-competitive, hyper-digitalised world. While it might be difficult to imagine workflows faster than our already supercharged reality, that's exactly what communication APIs do.
Communication APIs unlock a whole new level of fast communication with responses that are automated, scalable, and customisable.
Through API-enabled feedback loops, HR, marketing, sales, customer support, and IT teams can receive real-time, actionable feedback and continuously refine processes accordingly.
For example:
Marketing teams can refine communications strategies to create more engaging customer experiences via data-driven customer analytics
Customer support teams can retain customers by always being ready to respond, even across multiple platforms
HR teams can collate sentiments from remote team members by sending out SMS surveys to employees
Business leaders can enhance collaboration between teams with secure, high-quality virtual meeting rooms that are just as good as the real thing
Customers can interact with a business on the chat app that they're most comfortable with
Conquer Your Remote Engagement Woes With Communication APIs
In an era when digital meetings have virtually replaced physical ones, businesses need video solutions that can replicate real-life boardroom conditions. Poor connectivity, lack of security, and limits to file sharing are just some of the problems that have prevented remote communication from being as effective as it can be.
These common conferencing headaches can be removed with communication APIs. With high call capacity, scalable digital infrastructure, and refined, open-source configurations, users can enjoy uninterrupted meetings with crisp sound and video quality.
The icing on the cake is privacy and end-to-end encryption features, which ensure that meetings from home are just as safe as the ones back in the office. This makes a video solution a must-have for building connections in high-impact industries, such as healthcare and education. It's also proven to save much needed time in the areas of technical support and field services.
Communication APIs Help Marketing Teams Refocus, Retarget, and Convert Leads
Business teams have accepted miscommunication as a necessary evil for far too long, but communication APIs are eliminating this by opening two-way communication. This is important for customers and employees alike because the journey from awareness to purchase has never been faster, and customer loyalty is getting harder and harder to achieve.
A singular platform lets marketers send automated SMS notifications or WhatsApp messages in bulk, taking much of the legwork out of promotional notices, order confirmations, shipping updates, and anything else that takes up more time than they have available.
When integrated into an existing CRM, this platform can also help marketers monitor campaign responses and receive real-time updates at every phase of a campaign.
Instead of zigzagging across conversations on multiple platforms, customers can reach out to a business on the channel that they're most comfortable with. When they reach customer service agents, they won't have to wait while the agent fumbles to locate their profile and previous calling history, either.
The Best Part? Deploying Communication APIs Is as Close to Hassle Free as It Gets
Communication APIs lower the barrier to entry and democratise access to communications technology. Low-code and even no-code implementation means that teams can plug and play SMS, voice, video and chat app solutions without even hiring a developer.
And yes, communication APIs can be implemented even if a company is still using legacy software, as they function on top of existing applications and business processes. In fact, that's why APIs are the preferred option for industries that traditionally have slower transformation curves, such as pharmaceuticals, healthcare, and education.
Instead of losing precious time and money overhauling legacy infrastructure, or tying disparate communication systems together, businesses can use the modular, cloud-native components of APIs to design a platform that makes the most sense for their unique communications strategy and business needs.
It's Time to Reimagine Business Outcomes
As the saying goes, the only constant in life is change. To succeed in today's hectic business environment, companies need to find ways to accelerate sales cycles, improve hiring and training, and enhance communication between teams and customers. And to do that, new ways of interaction are no longer negotiable.
With SMS, voice, video, and chat app solutions, your business can rise to this challenge and get ahead by working smart, not hard.
This blog post has been re-published by kind permission of 8x8 – View the
Original Article
For more information about 8x8 - visit the
8x8 Website