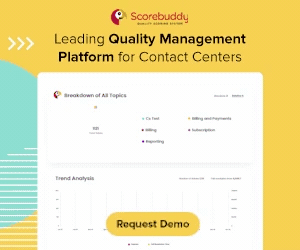 First impressions are key in the call centre industry. That's why it is so important that all call centre staff, especially agents, are consistently following set protocols and standards.
Their performance hinges on whether or not customers will have a good experience with your centre. Establishing a solid set of training and development processes is important because:
64% of customers say their experience is more important than the cost of a product.
49% of consumers will share their experiences, good or not, on social media.
62% of organizations view call centre customer experience processes as a competitive differentiator.
These statistics demonstrate why consistent processes are so vital. But how can you make sure your call centre is set for success?
It starts with proper call centre management from your leadership team. Call centre management is important for retaining customers, keeping your call centre team engaged, and continuously improving both the customer and employee experience.
What Is Call Centre Management?
Call centre management refers to the way call centre supervisors and leadership teams manage the centre. This can include:
Managing schedules
Agent coaching and training
Onboarding practices
Customer experience processes
It is important to understand that these management areas should be proactive in nature. Good call centre managers should make sure they are always monitoring and adjusting their approach as needs change.
What Makes for Successful Call Centre Management?
Call centre management can't function without a knowledgeable call centre supervisor. These supervisors need to be excellent communicators, who can motivate and inspire call centre staff to continuously improve.
Tasks for the call centre supervisor can include managing and motivating the team, overseeing hiring, handling issues and identifying KPIs.
Best Practices for Managing a Call Centre
Managing call centres can be challenging, with a lot of responsibility and a formidable workload. But with a little organization and proactive thinking, it can be done quite effectively. We've outlined some best practices to make it as seamless as possible.
Prioritize Your Call Centre Staff
Your call centre staff are the lifeblood of the organization. Without prioritizing the engagement of these employees, your call centre management processes will be ineffective. There are several types of call centre staff to consider, including:
Call centre managers
Team leads
Call centre agents
Call centre trainers
No matter who they are, all contact centre staff members need to be prioritized in your call centre management plan. But pay special attention to the contact centre agents, as they are the ones who deal first and foremost with customers.
Your Contact Centre Agents
Contact centre agents are charged with inbound and outbound calls. Today, contact centre agents also manage customer queries that arrive through other channels, such as social or email. Typical call centre agent duties include:
Answering customer service calls/messages in a professional way.
Recording relevant information to effectively handle calls.
If required, learning to cross-sell and upsell.
Meeting targets set by management.
These agents work hard to provide customers with excellent service. This is why it is important to recognize call centre agents for their hard work and to prioritize them in your call centre management plan.
Define and Manage Your KPIs
Call centre managers need to monitor customer behaviors and the performance of staff. In this same vein, managers need to gather data and analyze metrics to identify trends, Customer Experience (CX), agent performance and overall call centre performance.
An example of these types of metrics, called Key Performance Indicators (KPIs), is the Net Promoter Score (NPS). NPS measures how likely customers are to recommend you to their friends and family. Other KPIs that might be worth measuring include:
Average Handling Time (AHT). This is the amount of time a call centre agent spends resolving a customer issue.
First Call Resolution (FCR). This multi-channel KPI measures how an agent handles an issue during a customer's first call.
Customer Satisfaction Score (CSat). This KPI measures how satisfied a customer is on a numerical scale.
Organize Your Call Centre Processes
Now that you've got the perfect team, and the ultimate list of metrics, you're ready to go! Well, not quite. Call centres require more than simply phones and people. You need to make sure your call centre processes are tightened up and ready to go. Here are a few reminders as you get started:
Establish internal procedures and processes for your teams to follow. When an agent has an established process to follow, it reduces wait times and solves issues faster.
Implement processes to track important call centre metrics. Customer service software can help enormously in this instance.
Watch out for patterns and trends that your data reveals and implement change based on these preferences.
Put The Customer First
Customer expectations are high and are always changing. To provide the best possible service to your customers, the call centre needs to evolve. If we group customers together, it can help to manage them.
This is where quality assurance comes in. Analyzing your KPIs, like the NPS, can help you determine the strengths and weaknesses of your approach. An NPS score can also help you see the following categories of customers, called Promoters, Detractors and Passives.
You need to:
Follow up with your Promoters. These are the customers you want to thank for their loyalty. By reaching out to the Promoters, you are demonstrating your company's continued commitment to their satisfaction.
Contact your Detractors. While dealing with unhappy customers is no one's idea of fun, it is important to understand why your Detractors feel the way they do. Their feedback can provide valuable information about how your call centre team could improve their actions to better meet customers' needs.
Stay in touch with your Passives. These customers are the ones you can sway in your call centre's favor. They can help you find both small and large ways to better solve problems, which not only means moving these customers up the scale to Promoters but also improving your call centre's overall function.
Getting the Right Call Centre Solution
Improving your call centre management processes requires digging into your metrics and data. A quality assurance (QA) program is the ideal way to create an actionable plan for process improvement. After all, you can't improve your ROI and your revenue without first understanding if you are helping your customers.
This blog post has been re-published by kind permission of Scorebuddy – View the
Original Article
For more information about Scorebuddy - visit the
Scorebuddy Website