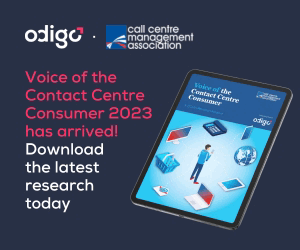 Neil Fulton at Odigo explains that many industries are still reeling from the effects of Covid-19, and none more so than travel and tourism businesses.
Uncertainty stretches on, and changing government restrictions are forcing companies to become ultra-flexible. As the industry seeks to promote a more resilient and sustainable form of travel industry, the importance of customer service in tourism has never been higher.
The pandemic has seen the global travel industry lose over 42% in revenue. As the industry tries to rebuild and promote a safer, more resilient and sustainable future, we investigate how the contact centre and tourism can come together to deliver better experiences for travellers and enhance results for businesses.
From automated chatbots to personalised marketing, the importance of customer service in tourism through Contact Centre as a Service (CCaaS) solutions will inspire a new growth era in this industry.
The numbers behind the tourism industry's recent struggles are stark: in the UK, accommodation and travel agencies saw the sharpest decline of any segment during the early stages of the Covid-19 pandemic. The Office for National Statistics estimates a 90.7% drop in turnover for this sector between February and May 2020.
New infection outbreaks and rolling lockdowns have contributed to further uncertainty, to the extent of a global loss of around 42% in revenue for the entire tourism industry.
The arrival of vaccines has brought some cautious optimism that the industry can bounce back through 2021. McKinsey acknowledges this strong leadership and recognises the importance of customer service in tourism:
"Many players have acted quickly to retain customer goodwill, tap new sources of liquidity, and work effectively with unions to agree on voluntary redundancy programs. We have also seen innovation and a focus on customer experience."
In the face of almost overwhelming economic challenges, the tourism industry has shown resilience. But to rebuild effectively, it must accelerate digital transformation programs to encourage sustainability and greater customer centricity in equal measure.
Automation and the Importance of Customer Service in Tourism
Quantifying the current and future impacts of this crisis on the tourism sector remains challenging. Gathering real-time data is, therefore, essential for travel organisations to stay ahead of the curve.
The tourism industry has typically been slow to adopt automation and data analytics, leading to a lack of robust, comparable, timely and granular data for use in quickly evolving situations. But there is now an urgent need for a synergy between the contact centre and tourism businesses, as reliable and consistent indicators are needed to inform policy and business decisions.
Recovering tourism demand also requires systems to be put in place that make both customers and employees feel safe. This means transparent and consistent communications regarding protocols – particularly with regard to remote contact centre agents, who will need seamless working models if they are to provide seamless experiences to customers.
Customers travelling in 2021 will be conscious of changing health measures in destination countries, and in the UK, the changing status of "green list" countries will impact on consumer decisions, driving up demand for staycations and domestic travel.
These stop-start travel cycles will require increased agility and scalability in contact centre operations, enabling tourism businesses to manage peaks and troughs in demand and cater to a consumer audience craving communication clarity.
Recognising the Importance of Customer Service in Tourism Means Overcoming Legacy System Challenges
The need for remote and self-service access will see a surge in the importance of customer service in tourism, specifically omnichannel customer service and the use of intelligent data analytics to boost forecasting for capacity and destination demands.
Pushing past legacy system challenges to achieve digital transformation will furnish organisations with advanced passenger profiling (including the integration of track and trace data into booking systems) and extensive customer experience (CX) surveys. In this context, usage-based IT and operational systems could be an appealing option for travel organisations to maintain proportionate costs and scale when demand does spike.
The pandemic has accelerated the shift to digital technology which has been underway for years now, with high street travel agents becoming all but redundant, and tourism joining the e-commerce revolution. Travellers are now looking to book with more flexibility, bringing the omnichannel contact centre and tourism into greater alignment.
The convenience we see in many other aspects of life – such as contactless retail and food delivery – is now expected in tourism too.
Despite this, there is a heightened demand for customer touchpoints and omnichannel contact options. This means businesses need to grasp the importance of customer service in tourism, rethinking contact centre operations to provide optimum customer service in the digital age.
Today, the importance of customer service in tourism has seen the contact centre's role expand to become the full CX hub, providing sophisticated, analytical support to customers and driving value for businesses. They achieve this by instilling business readiness across ecosystems, something which cannot be ignored in the diverse value chain of tourism, especially for SMEs.
It's not just travellers who need extra contact points – food, fuel and many other suppliers, who typically work with airlines and hotels – have also experienced significant disruptions. Furthermore, the sustainability imperative makes use of the contact centre's data collection capabilities to shape outbound marketing campaigns or identify new suppliers that cater to  sustainably conscious travellers.
How CCaaS Aligns the Contact Centre and Tourism
These trends have led to the growth of cloud-based Contact Centre as a Service (CCaaS) platforms. Over the longer term, the global CCaaS market size is projected to reach GBP 7.25 billion by 2027, exhibiting a compound annual growth rate (CAGR) of 16.1 per cent.
CCaaS platforms can support the future of the tourism industry in a number of ways by aligning the contact centre and tourism.
From intelligent integrated workforce management systems that enable agents to work with insight and confidence regardless of location, to omnichannel customer contact touchpoints which encourage customers to travel by keeping them informed and safe, cloud-based CCaaS platforms can deliver experience-enhancing interactions, pre, during and post-trip.
Real-time translation allows travellers to converse with customer service agents or conversational agents in their native language to stay up to date with changing regulations. This reduces  the burden on contact centre agents to retrieve and convey accurate information, thereby improving speed and efficiency overall, while also offering a greater ROI to businesses.
Enhanced data collection and analytics also enable more targeted and effective marketing and communications, from personalised accommodation adverts to automated reminders and itineraries.
By recognising the importance of customer service in tourism and by focusing on optimising customer experiences, organisations can help drive ROI and facilitate better, easier access to services for travellers.
This blog post has been re-published by kind permission of Odigo – View the
Original Article
For more information about Odigo - visit the
Odigo Website