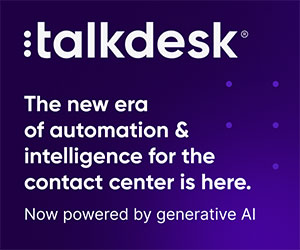 Taylor Johnson at Talkdesk explains what CCaaS is and provides a brief history of Contact Centre as a Service.
What is CCaaS?
CCaaS stands for Contact Centre as a Service and is defined by call centre software that is hosted (or built natively) in the cloud instead of hosted on-premises.
CCaaS providers maintain and develop the software (hence "as a service"), which allows call centres to focus on using the software to provide better customer experiences.
The primary purpose of CCaaS software is intelligently routing contacts from all communication channels, sometimes referred to as "skills-based routing".
What are the Differences Between UCaaS and CCaaS?
Unified Communications as a Service and Contact Centre as a Service both serve as ways to streamline and modernize a business's daily operations.
Generally speaking, UCaaS streamlines the internal operations of an organization, while CCaaS solutions focus on its external communication channels.
CCaaS Definition
Contact Centre as a Service enhances customer support efforts by enabling companies to offer an omnichannel customer experience. Customers rarely just rely on phone calls and often go to other channels to find support.
CCaaS solutions are necessary for most modern, customer-facing businesses because they provide the means to support the type of omnichannel experience that today's customers expect.
CCaaS integrates multiple channels such as live chats, social media messages, and emails into a single dashboard.
Contact Centre as a Service also provide phone call enhancement options such as interactive voice response (IVR) menus, artificial intelligence (AI), integrations with other business systems, and more.
CcaaS solutions also serve as the basis for cloud-based contact centres. By centralizing all customer service operations into a single, virtual platform, these solutions enable better workforce management for a dispersed team. They also provide powerful metrics about your centre's customer service interactions.
UCaaS Definition
Unified Communications as a Service, on the other hand, provide a similar type of team collaboration, but for internal operations.
For example, a UCaaS often includes live chat, mobile platforms, audio and video conferencing, and other collaborative tools for internal team communications.
While UCaaS solutions help teams collaborate better internally, they are not intended for contact centres to use when interacting with customers.
UCaaS platforms are specifically configured to work within a single organization. But, they can still help contact centre performance by creating collaborative relationships between agents.
Benefits of CCaaS
CCaaS solutions offer several benefits to contact centres, especially for today's remote-based, dispersed workplaces. They not only provide the technology to make contact centre agents' jobs easier, but also include features that help to provide better assistance and increase customer satisfaction.
A CCaaS platform can play a key role in the digital transformation of your contact centre's operation.
Better Customer Experience
CCaaS features enable your organization to keep up with growing customer expectations. Today's customers expect issues to get resolved rapidly on their preferred channel- whether that be SMS messaging, live chat, phone call, etc.
Customers also look for consistency between channels, such as agents coming into conversations with the context of previous interactions that this customer already had with the brand.
CCaaS platforms enable organizations to provide this type of omnichannel channel experience for customers. They also provide clear direction on how contact centers can improve by measuring metrics and agent performance in a single dashboard.
By digitizing your customer service initiatives, your organization can also provide better industry-specific tools and features to make your customers lives easier.
As an industry-specific example, the TalkDesk CCaaS platform enables insurance companies to provide policyholders with better customer service.
By hosting all customer service operations in a central location, it's much easier for insurance companies to add excellent industry-specific features such as digitizing the claims experience, building out a partnership ecosystem for performing easy cross-platform tasks, and more.
Cost Savings
CCaaS platforms cut costs as well. They are much less costly than upkeeping on-premise contact centres and allow for cost-effective scalability and training.
For instance, onboarding a call centre agent inside a physical office space could take weeks and require high costs. Instead, organizations can use cloud-based contact centres to add on new users within minutes. With this level of flexibility, call centres can scale up or down, depending on factors such as peak seasons.
Agent Experience
CCaaS solutions enhance the agent experience as well, streamlining their processes and making communication much easier.
The learning curve for today's CCaaS solutions is not difficult. Agents can become more productive with an easy-to-use dashboard and backend omnichannel management features. In addition, CCaaS solutions often connect to other business tools with integrations.
The First Form of Call Centre Software
15 years ago, contact centres were primarily run with on-premises software systems. This meant that software was downloaded and maintained on in-house computers and servers and required a significant ongoing investment both in people and regular upgrade costs.
Legacy providers of on-premise call centre software include leaders Avaya, Cisco and Genesys who cornered most of the contact centre market until the late 2000s.
The Introduction of Contact Centre as a Service: The First CCaaS Providers
In the early 2000s, companies such as inContact, Five9, and Interactive Intelligence realized there was a huge opportunity to take traditional call centre software and host it in the cloud. Instead of accessing software via specific computers in a call centre, agents could now log in to any internet browser and access the same systems.
This first wave of CCaaS offerings (see Gartner's initial evaluation of this nascent market below) included benefits such as lower maintenance costs, the ability to reduce IT headcount, more flexibility for agents who could work from home instead of only in the call centre and the ability to scale up and down seamlessly to meet seasonal demand.
Their disruption of the call centre software market worked. In 2016, inContact was purchased by on-premises workforce optimization provider NICE to build a new integrated omnichannel and workforce optimization (WFO) solution hosted in the cloud.
At the time of the acquisition, inContact was generating over $250M in annual revenue with a final purchase price of just over $850M.
Legacy contact centre provider Genesys also acquired Interactive Intelligence that year for $1.2B, while generating $300M in revenue. Genesys clearly was aiming to help take their on-premises solution to the cloud. Five9 garnered significant acquisition interest, but ultimately is the only "leader" left who has not been acquired by a legacy on-premise contact centre company.
The Second Wave of CCaaS: New Players Enter the Contact Centre as a Service Market
Despite the success of the first wave of CCaaS providers, there were still lingering issues. Their software was built in a transitional time where most code bases were built for on-premises systems and changed to be hosted in a cluster-based environment in the cloud.
This resulted in significant downtime events, difficulty integrating with 3rd-party cloud applications and long development and deployment cycles for even the most basic functionality improvements.
A single release can take over a month to deploy to all clusters, as this model is following the on-premise logic in a hosted environment.
As a second-wave provider, Talkdesk has the benefit of being built natively in the cloud with complete micro-services architecture.
This delivers the ability to innovate and deploy at a rapid pace with less probability of errors and downtime, all while providing a far superior customer experience.
2022 Gartner CCaaS Magic Quadrant Report
The Future of Cloud Contact Centre Solutions
The future of CCaaS is bright for two important reasons:
1) The worldwide Contact Centre as a Service (CCaaS) market is projected to grow from $4.87 billion in 2022 to $15.07 billion by 2029.
2) The global pandemic caused a shift towards technology-based CCaaS solutions, due to dispersed workforces and client contacts.
According to Fortune Business Insights, the CCaaS market continues to grow because of a few factors:
The growth of remote workplaces.
Innovation in AI-powered chatbots.
Launch of various API-based customer experience programs.
This blog post has been re-published by kind permission of Talkdesk – View the
Original Article
For more information about Talkdesk - visit the
Talkdesk Website