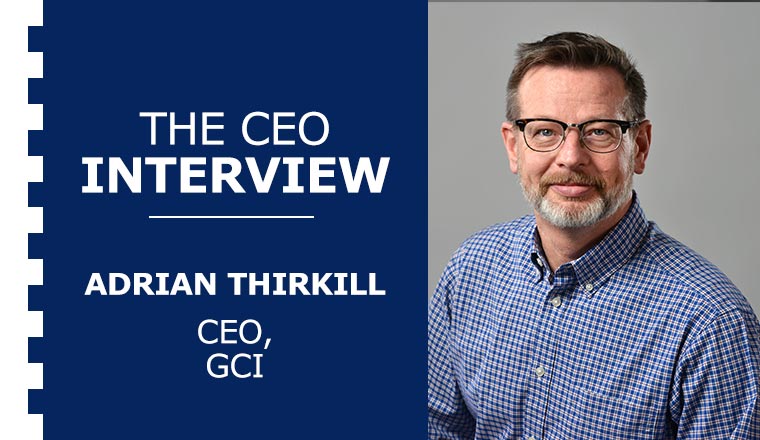 Adrian Thirkill introduces us to GCI and discusses how organisational success is down to happy, motivated employees.
Tell us about your history with the company
"I joined in January 2016 with a remit to take the business to the next level. In the past, GCI was a combination of a lot of previous M&A (Mergers and Acquisitions) that weren't fully integrated with one another. The business wasn't solely a channel business, an SME business or enterprise focused, and consequently our products and services were all in different silos."
"While the business was financially in a good place, there weren't new services to sell to customers, who in turn didn't really understand the GCI story or what we stood for. So, I thought it was a great challenge to take on."
How has the company grown since you became CEO?
"When I started as CEO we were making £7 million in EBIT (Earnings Before Interest and Tax) and about £43 million in revenue, but since then we've grown to £19 million in EBIT and nearly £100 million in revenue."
"We've been busy, growing organically and making further acquisitions. One of our first acquisitions was Outsourcery, which brought a great Skype for Business and Cloud Enterprise platform, and our latest was managed services provider Blue Chip. They have added a vital string to our bow, enabling us to provide a full-service wrap and setting us apart as one of a handful of organisations that can truly offer a fully managed, end-to-end portfolio of services and solutions."
What do you attribute your success to?
"GCI's success is in the solidarity and empowerment of its people, because everybody knows we're in it together. We all communicate a lot, and I make sure we communicate with everybody."
"Also, we all know the challenges in front of us; we don't 'sunshine report' things through to our staff, and we know that you get success through hard graft and a positive attitude."
Happy, motivated, engaged employees deliver happy, motivated, engaged customers.
"Those are some of our values as a business, and our success is down to making sure that our employees and our customers are treated the same. This is because happy, motivated, engaged employees deliver happy, motivated, engaged customers."
What do your customers tell you are their greatest challenges?
"There are two main areas where organisational challenges arise. Firstly, there are business challenges. How do they increase market share? How do they compete more? How can they become first choice in an ever-commoditising market? …and so on. For me, it's understanding these business challenges and what they want to achieve before you get into the technical stuff within their contact centre."
"Secondly, how do they use technology to achieve more? Contact centres want the team to collaborate more, to be secure and to be empowered, but they also want to compete in a digitised environment."
"If you're a UK-based company – of any size – you have to compete on the web, with apps, on social media and everything else. You have to be digitally integrated with your customers, with your suppliers and with your employees."
What do you predict will be the biggest change that will happen in the industry in the next five years?
"In the press recently, employees of large organisations are actually agreeing or disagreeing with how a company conducts itself and who it does business with."
"For example, suppliers have been given a hard time by their employees for providing such things as immigration systems for the US government, and Google has withdrawn from providing services to the US military."
"For larger companies, the way that they go about their business and who they do business with will be dictated more and more by their employees' consciences."
"Artificial Intelligence (AI) will be a big disrupter in organisations and their contact centres; however, the consciences of employees will also be another disruptor that will sit in the background."
What product developments will your company be making over the next five years?
"First of all, if you plan more than two years into the future you can get caught out. I've seen companies do that."
"However, specifically around contact centres, we will continue to drive the trend for cloud delivery, including the underlying telephony systems. This will enable service providers to deliver integration in the cloud that will deliver better customer experiences and reduced contact centre CAPEX spend."
"Also, there's managing data – it's all about using data to its potential and finding trends that can dictate the next thing that the customer is likely to do. AI in particular doesn't work without data, so using this information and being proactive in customer service is something that we have a keen focus on."
What is your proudest achievement at your company?
"My proudest moments are when we have company events and I'm talking to the team about all of their successes."
"We are bigger, better, happier, more engaged, more motivated and more of a team than we have ever been before. The employee satisfaction survey scores are as high as they've ever been, and helping to create such a 'spirit' makes me very proud."
What has been the best company/contact centre that you have recently visited?
"In terms of innovation, I think that Travel Counsellors have one of the most interesting approaches to customer service, in terms of the fact that they don't have a traditional contact centre."
"We provided the organisation with a worldwide cloud platform, which means that all of their 'advisors' work from home. This approach highlights the changing face of contact centres today, as not every major company feels the need for monolithic applications in single locations any more."
"Having this solution in place – where the team can log on anywhere, to any device and serve customers – gives Travel Counsellors a lot of flexibility in terms of workforce management (WFM). This makes handling unexpected peaks in call volumes, for example, much easier."
Having a global cloud solution with homeworkers also helps with business continuity should the worst happen to their premises.
"Having a global cloud solution with homeworkers also helps with business continuity should the worst happen to their premises, in terms of extreme weather and other interruptions."
If there was one piece of advice that you could offer our readers, what would it be?
"Don't get stuck in a culture of presenteeism."
"One thing that surprised me about the 'Beast from the East' was that, despite all this technology being out there, multiple call centres were closed – even those of major utility providers."
"Also, even with the organisations that are embracing technology, making people sit in an office two by two still seems outdated."
"If you look at the productivity of the UK versus our global counterparts, our output is terrible and that's because we still run a presenteeism environment and culture. Had those contact centre advisors been ready to work from home they could have actually delivered a service when we needed it."
"Real change in the UK with large businesses needs to take place, because large companies will be overtaken by smaller, faster, more agile companies."
Thanks to Adrian Thirkill, CEO at GCI, for sharing these insights.
---