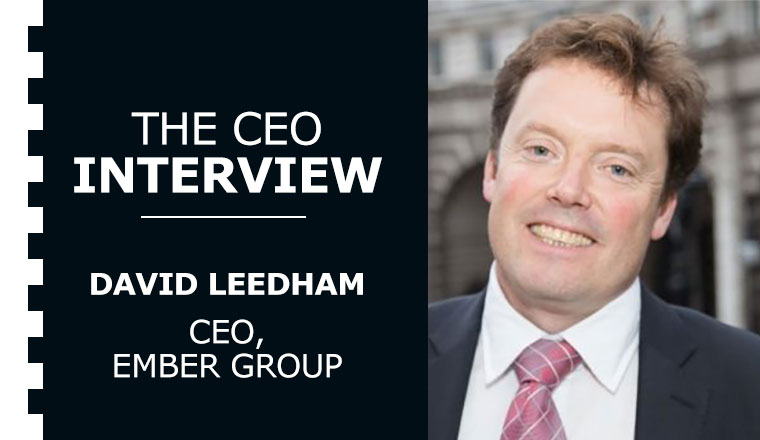 David Leedham discusses the quick growth of Ember Group, while sharing his advice for overcoming common contact centre challenges.
How was Ember Group set up?
"The idea of Ember was first developed in 2009. At the time, we were just three founding shareholders – Mike Havard, Paul Mackenzie and myself, and we initially set up Ember Services, as a management consultancy led by practitioners, from a shed in my back garden."
"Within a space of a few years, we'd grown and moved to corporate offices, in order to expand the group, so that we could offer a more holistic service to our clients."
"Subsequently we incorporated a recruitment business into the group, which is now known as Ember Search, and then, in 2016, a Learning and Development consultancy business, Ember Real Results – a company with an already strong reputation in the contact centre industry."
"It was at that point, two years ago, with three trading companies, that we decided we needed a CEO to oversee the group structure. That's when I moved from the role of MD to Chief Executive."
How has Ember grown as a company since then?
"From just the three of us, and in the space of just nine years, we have grown to a strong team of 51 people."
"In fact, over the past two years, we have seen the most significant growth, as we've more than doubled our staff numbers."
"Within the group, we offer our clients a range of specialist services and solutions that address specific challenges they face in this technological age. As we continue to grow, in 2018, we're targeting a turnover of £10 million."
What do your clients tell you are their greatest challenges?
In the 20 years I've been advising clients, contact centres have been facing the same challenges that only vary on theme…
"In the 20 years I've been advising clients, contact centres have been facing the same challenges that only vary on theme. The challenge is about: How do I get a better performance from my customer management operations, most cost-effectively?"
"Currently this question is being asked within the context of digital technology. So, clients are asking: "What is the best way to go about digital transformation?" This is typically on the back of the assumption that technology can improve operations and be more cost-effective in delivering a better customer experience."
"While this may be true, there isn't a one-size-fits-all solution. We advise on what to take into consideration for the specific business, look at how to structure change, as well as advise on who to recruit and where learning and development can enhance business value."
What do you think will be the biggest change in the industry within the next 5 years?
"I'm not a great believer in radical change. You see the death-of-the-contact centre predictions every other year, whether that's the dot.com boom, offshoring or robots."
"Contact centres are always going to be written off, or predicted to change radically, but I don't subscribe to that."
Contact centres are always going to be written off, or predicted to change radically,  but I don't subscribe to that.
"However, within that context, I do think that new technologies like automation and robotics will have a significant impact, and that's what people will need to adapt to."
"Personally, I don't think adoption of technology will radically reduce contact centre volumes – I'm pretty sure there will still be a million people working in the industry in five years' time. What may change is what they're doing and how they operate."
"Change will be driven by the potential and possibilities of new technologies. But, people said that in the 1990s about IVR – that they would radically change contact centres – but they didn't. The same thing was said about the internet. The secret is to sensibly assess and apply these new possibilities and not get carried away by the hype."
"Having said that, the back-office industry is very different and this is most likely where job shrinkage will occur due to the introduction of robotics and automation. But in contact centres, I just can't see the impact to the degree that some people are thinking."
What makes you stand out from the competition?
"We have a very strong and clear proposition, and, throughout all our growth, we have kept our focus on customer engagement and the customer experience."
"Our consultants have extensive first-hand experience within different environments, sectors and business functions. This enables us to bring a range of ideas and insight to the issues and challenges that many businesses face."
"Also, we offer our clients a full suite of customer-centric solutions, and our customer management strategy recommendations are supported by actionable insights and detailed analytics. This makes results measurable."
"Along with this, we have specialist teams that consult specifically on digital change and transformation."
"Our learning and development division provides training solutions that are customised to a client's needs and incorporate e-learning aimed at learning retention and the transfer of skills.
Finally, our executive search and recruitment division helps to secure the right people for the roles needed to drive business change."
I hear that Ember are developing an analytics suite. What more can you tell us about that?
"Yes, we are currently focused on developing an analytics suite. This is based on generating insights from customer interactions through speech, text and email analytics."
"We offer an effective way to answer crucial questions and discover hidden trends and patterns – providing actionable insights that relate specifically to our client's organisation."
"Another area that we're working on is extending our CX (Customer Experience) and UX (User Experience) product sets. In contact centres, this is an essential part of what we have always done, but now clients are asking us to do this in a more integrated way, across all channels."
"In Ember Real Results, our L&D business, we are concentrating on developing our digital learning proposition. As part of this, we have launched ERROL, our online learning platform which is focused on improving knowledge retention and employee engagement."
What has been the key to your success?
"It sounds bit of a cliché, but our success is all about our people. I am very happy that we've got 51 really good people working for us and that will soon be significantly more."
It's the ability to attract that quality of person. It's something that still makes me sometimes sit up and go "we must be doing something right".
"It's the ability to attract that quality of person. It's something that still makes me sometimes sit up and go 'we must be doing something right'."
"On a personal level, I'm very proud of some of the deals that we've done for our clients. We've been part of some of the biggest outsourcing deals in the last 10 or 15 years, and I've had a very hands-on part in that."
"The fact that some of these deals are still in place now is a testament to how well they were procured and negotiated. It is a satisfying feeling."
Aside from implementing technology, what can contact centres do to build a great culture?
"A great culture is a result of engaged leaders, managers and employees. Personally, I love it when contact centres have hands-on products right there in the contact centre and the advisors in the teams know the product, as they are constantly being exposed to it."
"While in some industries this is not practical, the best example of this that I've seen recently is Lego. There is a buzz there that comes from the extent to which they care about their product and their customers."
To find out more about Lego's contact centre in Slough, read the article: 14 Things You Can Learn From the LEGO Contact Centre
What final piece of advice do you have to give to our readers?
"Sticking to my favourite subject of outsourcing, the one piece of advice I'd offer is: don't just go for the cheapest price or for what looks like the cheapest total contract value."
"It is important to make sure that your commercial structures all hang together, and by commercial structures, I mean the price structure, service levels, forecasting and all that supporting "stuff" – it's vital. Everything all needs to come together in what is the best solution for your business."
"So many times, we've been involved in contracts that we try to rescue, where people have gone for what appears to be the cheapest option."
Thanks to David Leedham for sharing these insights!
To find out more about Ember, visit: www.embergroup.co.uk
---
---