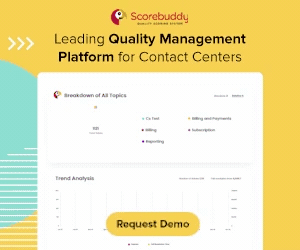 Excellent customer service has always been a key component of any successful contact centre and, with customer expectations continuing to grow, this is truer than ever before.
Bad service is likely to stick in the memory, cementing negative associations for the customer, damaging your brand and ultimately leading to missed opportunities and lost revenue.
When you think of bad customer service, you probably imagine a rude, unhelpful agent—but it's not always so simple.
There are countless examples of what bad service can mean to a customer, and in this article we will explore some of these examples of bad service, what the potential solutions are, and how a QA platform can help to fix these issues.
What is Bad Customer Service?
In simple terms, bad customer service is when a business fails to meet the expectations of a customer. In reality, things are never so clear-cut and bad customer service can manifest in a number of ways.
From poor response times to low-quality interactions, or just an unhelpful overall experience, there are a variety of ways in which contact centre agents might fail to meet the needs of a customer.
As the contact centre agent is typically the first port of call for a customer reaching out to resolve an issue, it is vital that these agents are capable of delivering excellent service and meeting, if not exceeding, customer expectations every time.
Basic training is the first step to ensuring that agents are equipped to deliver excellent customer service—and aware of the ramifications of failing to do so.
Reaching the point where you are delivering great customer service in each and every interaction will, of course, take time and experience, but given the importance of customer service, it's certainly worth putting in the effort to get there.
Why a Lack of Customer Service Can be Devastating
It's obvious that bad customer service can do significant damage to a business in a relatively short amount of time, but it's important to drill down into the specifics and understand the specific negative impacts of poor customer service.
It Damages Your Brand
If a customer has a negative interaction with a company, it's more than just an isolated event. The ramifications of bad customer service are more far-reaching than you might imagine and can lead to serious brand damage in both the short-term and the long-term.
Indeed, a June 2022 survey found that after an encounter with a rude employee, 63% of respondents would share the experience with their close contacts or social media followers.
It Costs Conversion Opportunities
If a customer isn't satisfied by their interactions with a company, via any channel of communication, it will negatively affect their perception of that company.
If a customer perceives a company as unhelpful, disorganized, or just plain rude, it's extremely unlikely that they will commit to that company financially. Potential leads go elsewhere and conversion opportunities dwindle.
It Reduces Customer Loyalty
If a customer continually receives poor service they are extremely unlikely to keep returning. Customer loyalty can be a fickle thing in such a competitive marketplace, so it's no surprise that contact centre customers are unwilling to stay loyal to a company that provides weak service.
With plenty of other options available, why would a customer remain loyal to a company which consistently fails to meet their service expectations?
A recent report from Customer Contact Week Digital (CCWD) found that 60% of customers would consider switching to a competitor after two or fewer bad customer service experiences.
It Leads to Lost Revenue
The bottom line is that bad customer service has a huge impact on the bottom line. In fact, according to a 2018 survey, bad customer service was costing businesses upwards of $75 billion a year—an increase of $13 billion from the previous survey carried out in 2016.
With these eye-watering figures arising from poor customer service, it's clear that solutions are needed to better equip agents to provide excellent customer service on a consistent basis.
7 Examples of Poor Customer Service and How to Fix It
Bad customer service extends beyond the obvious examples too. Customer expectations are high today, and the concept of poor service is more complex than the classic example of the rude, unhelpful employee. Poor customer service can arise for a variety of reasons and there are different solutions for each cause.
1. Untrained Agents
If agents don't receive appropriate training in handling a range of customer service situations, they will not be able to provide the kind of service experiences that customers expect.
A commitment to ongoing monitoring will allow supervisors to analyze the relevant KPIs in order to provide helpful feedback and targeted training for agents to improve performance.
2. Poor Communication
A lack of clear communication between agents and departments can hinder agents as they strive to meet the needs of customers.
Systems and strategies are the answer—a simplification of the internal process for sharing information and a clear communication strategy for departmental collaboration can rectify the issue.
3. Missed Calls
If a customer has a negative experience before they even get to speak to an agent then we're in trouble. Missing calls immediately puts you on the backfoot when it comes to providing good customer service.
It's important to automate low-value, repetitive tasks to allow agents to focus on the customer as their top priority and increase their availability for calls.
4. Lengthy Resolutions
Customers don't like to wait—the longer it takes to resolve a request, the more likely they are to become frustrated and take issue with the interaction.
One way to avoid this is to give customers the option to handle their own requests via self-service channels like FAQs or explainer videos. Additionally, optimization of staffing and scheduling will help to shorten resolution times for customers.
5. No Empathy
Empathy is a valuable trait in any walk of life, but particularly in customer-facing roles where an understanding of the customer's needs and wants is essential for resolving issues.
Despite the widespread importance of empathy, it can be tricky for agents to master. It's important to hire the right agents in the first place, and then hone their empathetic nature with specialized training.
6. Constant Transfers
Being pushed from agent to agent is an undeniably frustrating experience for any customer. Unfortunately, this process of transferring between agents is sometimes necessary to resolve issues.
Therefore, it is vital that customer service remains of a consistently high standard across all channels of communication. This will minimize friction and alleviate stress for the customer.
7. Rude Employees
Given today's high customer expectations, a polite agent is the absolute minimum expectation for most people. Of course, we all have our good and bad days, but politeness is an essential quality for any contact centre agent.
Quality assurance tools like scorecards can be used to measure agent approaches in every interaction to check tone and performance.
Final Thoughts
Customer expectations are higher than ever before, so it is vital that contact centres understand how bad service arises and what can be done to rectify the issue.
With competitors always waiting to swoop in and offer an alternative to an unsatisfied customer, agents must strive to deliver excellent customer service at every opportunity. A quality assurance platform can help to identify and resolve the root causes of bad customer service.
This blog post has been re-published by kind permission of Scorebuddy – View the
Original Article
For more information about Scorebuddy - visit the
Scorebuddy Website