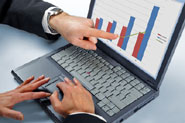 Traditional contact centres are set to be replaced by customer management centres, as more organisations focus on  expanding  contact services beyond telephony and email offerings.  
According to research results published in Dimension Data's 2011 Global Contact Centre Benchmarking Report, of the 546 contact centres surveyed in 66 countries, 64% are already handling Internet, with 40% managing SMS interactions and a quarter offering web chat – all via the contact centre.
This year's Report also reveals that social media interactions are high on the agenda of contact centre businesses.  Just over 18% of research participants report they're already managing these interactions, with 32% saying they're planning to do so over the next two years.  And with products becoming more commoditised, service is increasingly being used as a differentiator as organisations recognise the contact centre as the heart of the business.
"The evolution of the contact centre to a full service customer management centre confirms that organisations view contact centres as profit generators.  Where contact centres were traditionally regarded as cost centres, almost half (47.9%) of respondents said they regard them as *profit centres – 18.4% of them based upon sales revenue generated (up from 8.6% in the 2009 Report)," says Andrew McNair, Dimension Data's Head of Global Benchmarking.
The research results also show that this year's top priority commercial driver for contact centres is improving service.   "But," warns McNair, "navigating this evolution will require a strong focus on process automation.  Smart devices are dramatically changing the communication landscape and enabling increased numbers of customers to help themselves and decide how, when and where they engage. Organisations will need to embrace smart applications in order to make popular transactions even easier for their customers. That's because self-service is fast becoming the accepted standard to provide customers with more choices to engage with the organisation."
Meanwhile, the top priority issue affecting contact centres across the globe is the drive to encourage customers to use these broader self-service channels. "We see a new focus on customer lifetime value (CLTV) management with a high number of respondents ranking it as the number one issue. This, in conjunction with improvements in customer satisfaction set to replace cost reduction as the prime self-service driver, underscores a renewed business focus on overall profitability," he explains.
In line with this trend, there's a significant increase in the number of infrastructure upgrades being planned across contact centres, as technologies become more affordable and advances in communications technologies continue to drive flexible change.
"Businesses are pro-actively responding to customer demand while recognising improved service as the top commercial driver.  In turn, they're using customer management centres as the vehicle to generate better service and revenue opportunities."
Published On: 22nd Jun 2011 - Last modified: 12th Dec 2018
Read more about - Archived Content
---