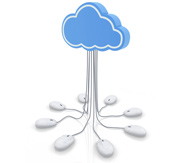 Tom Livock and Ashley Banfield explain how your business could benefit from moving into the cloud.
So much more than a deployment model
Cloud enables UK organisations to deliver customer service in ways that would not be possible using on-premise solutions without significant organisational upheaval and financial cost. This is the critical point to be grasped in understanding cloud contact centres – and the thing that so many people miss.
Contact centre leaders typically frame their objectives around the need to provide consistent levels of service excellence. They want to deliver that service across all customer touch-points. As if that wasn't a big enough challenge, they need to deliver this service excellence at an acceptable (and reducing) cost to the organisation.
So no matter how their customer chooses to interact with them – via phone, email, SMS, or social media – their responses need to deliver a consistently high customer experience. What's more, they need to delight their customers regardless of who is responding – the centralised call centre, a regional office, the local branch, a home-worker or even a mobile field service representative.
This would be no problem if they were in green-field situations but they have to create customer service excellence in a brownfield context where localised point solutions have evolved over time to the point where they become barriers to progress.
Often they face stark choices: rip-and-replace or do nothing. A rip-and-replace strategy requires the removal of old telephone equipment and its replacement with new phones and network devices. In many cases, this equipment purchase is only part of the problem, as staffing levels and processes have to be reorganised to suit the new technology – and that's not the way it should be!
All too often the large capital and organisational expense associated with a rip-and-replace approach is considered cost-prohibitive so that they take the default decision and do nothing.
The evolution of the cloud contact centre allows us to open up conversations with contact centre leaders across the UK to help them efficiently support their customers with personalised interactions and the result is high customer satisfaction, low attrition, and brand loyalty.
Do More for Less
At some point in the procurement cycle for UK contact centres, the focus will turn to the business case and the return on investment. That's only right and proper as buyers have a duty to their stakeholders to ensure that the investment makes sense. So it never comes as a surprise.
What does continue to surprise me is that the focus is so often on the cost side of the RoI model.
It's no great problem for inContact because our cloud contact centre solutions offer an immediate and significant cost advantage, particularly because our solution requires little or no upfront cap-ex spend.
Yet it is in the business-benefits side of the RoI model that an inContact cloud contact centre solution really comes into its own as it provides contact centre leaders with the ability to respond flexibly to changes in their customers' behaviour.
In "The Hidden RoI of a Cloud Based Contact Centre", The Aberdeen Group report a number of interesting findings that showed that "cloud-based contact centres are more likely than traditional contact centres to deploy business activities and technologies that help them realise quantifiable results while improving the overall customer experience".
This is because technologies and services integrated and accessed through the cloud better help decision-makers understand customers at a personalised level and predict their future behaviour. "Smart businesses aren't just keeping pace with their customers; they're staying a step ahead of them," said Cheryl Nolan, a director at Peppers & Rogers Group. "Today it is practical, as well as possible, to engage customers with differentiated experiences and to know our customers on a one-to-one level."
Contact centre leaders need to respond in "real time" to their customers' questions, comments, and issues. These leaders need to be able to quickly synthesise, analyse, and act on customer insights from across an assortment of channels, and then make changes to customer service capabilities on the fly.
So the conversations we are having with contact centre leaders across the UK are focused on greater agility and flexibility – on finding ways to optimise contact centre operations in a cost-effective way.
With thanks to Tom Livock and Ashley Banfield, inContact.
---