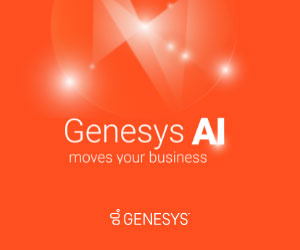 Richard McCrossan of Genesys draws parallels between the customer experience and football, before discussing contact centre technology.
Excellence in customer experience is built on teamwork and a high degree of collaboration, so the temptation to draw analogies with football in major competitions is very great.
England, for example, went from the disappointment of ejection by Iceland in the 2016 European championships to their biggest win in a World Cup ever, with a 6-1 win over Panama in Russia.
Much of the attention given to England's progress focused on the approach of England manager Gareth Southgate. He scoured the sporting world looking for fresh insights and insisted on greater attention to the details that deliver marginal gains. Ultimately, though, he still had to decide who would be in his team and the tactics they would use.
For a national manager, getting the team-selection right is one of the biggest challenges. With many talents to choose from, the wrong combination can lead to consistent under-performance. In customer experience, poor understanding or allocation of staff has the same result, as does the selection of the wrong technologies and inadequate orchestration.
Customer Experience Is a Team Game
Just like football, customer experience is a team game played by individuals with different roles. And just as footballers represent their country, so customer experience workers represent their entire company.
They are engaged in a cross-functional discipline which requires collaboration between departments. The people on the front line in marketing and sales may be responsible for making the brand promise, such as easy-to-use products, friendly service, 24/7 availability, fast delivery, and quick resolution, but customer service and IT have to deliver it.
The danger is that customer experience becomes like a game of football played by children who all chase after the ball. They do not think strategically and consider where to position themselves for the best team outcome. In customer experience it is only by playing as a team you can achieve the goals you want.
Collaboration Has to Include the Technology
The sense of teamwork and collaboration needs to include technology. An organisation may have many technologies to choose from, but they have to work together and be fully connected. Marketing technology may be creating engagement with your prospects, but the technology that will fulfil that engagement may well be in another silo.
You need technology that can see the entire customer journey and overcome the silos. And while a new technology may look good, if it is disconnected, you create major headaches spanning several departments. When, however, the technology properly connects all stages in the customer lifecycle it all comes together to empower staff. They know the customer and can observe their actions throughout the journey.
Real-time Information Is Priceless
Just as international football teams do not just turn up to a match without knowing every detail about the team they are going to play, so customer experience teams must have the tools to see the customer they are dealing with in real time. Analytics may tell you the customer's history, but that does not match understanding the customer in the moment.
To continue the football analogy, the way a team plays now is different from the way it played in the last World Cup, so relying on past performance is not a complete strategy. Consider Brazil and Germany, for example. Brazil were shockingly thrashed by Germany in the 2014 competition, but in 2018 Brazil are many people's favourites while Germany failed in the group stage for the first time in 80 years.
When teams fall back from the required level in customer experience, the biggest problem is that they do not recognise the value of collaborating or of having one technology that orchestrates actions across all touchpoints. You may have a platform that provides great messaging and webchat capabilities, but your customer is not a one-channel customer. They use different channels for different parts of the journey. Your organisation needs to fully support your customers' preferred channels and respond in real time. You must be able to seize the moment of opportunity in order to achieve a sale or resolve a problem.
Have the Technology to Orchestrate Effectively
To improve team collaboration, productivity and customer experience, your organisation must connect contact centre users, business users, partners and customers. Unifying communications across your company transforms the performance of contact centre agents, giving them easy access to the knowledge and resources they need. The seamless exchange of information drives faster response times, raises customer satisfaction rates and improves workforce optimisation.
With modern, unified communication tools, employees can be guided to personal best performances. In football terms, they are hitting the back of the net every time they are in front of the goal.