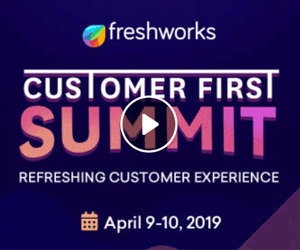 Customer First Summit is an online conference that brings together 30+ industry practitioners from around the world to share ideas and actionable insight on getting the little details right in customer support and customer success. If you belong to this world, this summit is for you!
Engage with VPs, CxOs, and leaders from notable brands such as Typeform, WordPress, Freshworks, Gainsight, Hootsuite, Wistia, and Amazon. Learn from the experts on how to handle day-to-day challenges in customer support, build better relationships with customers and scale customer-facing teams. Tap into never-before-heard stories, years of experience, mistakes, learnings, and tips—all at the click of a button! This is the platform to transform your customer support and customer success team.
Why attend the Customer First Summit?
Shape Your Support Strategy – Get insight into techniques used by brands to equip their teams for success, enable proactive support, handle angry customers, and deliver memorable experiences.
Hire, Train, and Scale – Understand from CxOs, VPs, and influencers how brands build and train world-class customer-facing teams. Delve into how you should hire, ingrain a customer-first approach, and scale culture.
Drive Customer Success – Discover how leading brands go about retention, manage churn, and win customer love. Learn to nail every aspect of customer success.
Speakers at this Summit
Shep Hyken, Chief Amazement Officer, Shepard Presentations
Jeanne Bliss, Founder and CEO, Customer Bliss
Kirsty Traill, VP, Customer, Hootsuite
Stacy Justino, Director of Customer Happiness, Wistia
Megan Guy, Head of Customer Marketing, Segment​​​​​​​​​​​​​​
Girish Mathrubootham, Founder & CEO, Freshworks Inc.
David Thompson, Chief Marketing Officer, Freshworks
Mary Poppen, Chief Customer Officer, Glint Inc. (Acquired by LinkedIn)
Valentina Thörner, Customer Success Lead, Automattic
and more..
Register now for this online summit and you will receive videos in your inbox starting April 9th
---