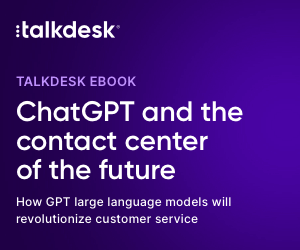 Chandler Galt of Talkdesk shares five examples of customer satisfaction (CSat) surveys that help to bring the ideas of how to measure CSat to life.
Building Customer Satisfaction Surveys
For modern contact centres, analytics provide much of the data that drive business decisions around improving customer satisfaction.
But customer satisfaction surveys still provide invaluable information about the quality and effectiveness of the service the customer received.
In this article, you can find some of the top customer survey questions and get started quickly with templates that can be used with cloud call centre software for collecting customer feedback.
Methods of Collecting Customer Feedback
There are a wide variety of indicators which can help you gauge customer satisfaction, and choosing the right ones will depend on your industry and product or service being offered.
Customer response also varies widely across mediums, with the highest response levels coming from web-based surveys, SMS messages, or the interactive voice response (IVR) system immediately following a call.
How to Measure Customer Experience
To accurately assess customer experience, you also need to choose what metric you will use to collect the data. There are a number of ways to do this:
    Yes/no questions (Were you satisfied with the service you received? Yes / No)
    Numerical (How satisfied were you on a scale of 1–5, 1–10, etc.)
    Qualitative (Very satisfied, neutral, very unsatisfied, etc.)
    Infographics/emoticons (☹️ …) (These are great for web forms!)
    Open-ended questions (Why did you decide to use our service? _____)
Top 5 Customer Satisfaction Survey Templates
Below you'll find five sample call centre survey templates to help you measure customer experience:
1. Net Promoter Score (NPS) Survey Template
Often this is the only question you need to ask. Based on Fred Reichheld's concept of the Net Promoter Score, or NPS, this is an excellent measure of the call centre customer experience as it provides fast and vital information about overall customer satisfaction.
You can stick to the numerical assessment or provide qualitative response options (very satisfied, not satisfied, etc.).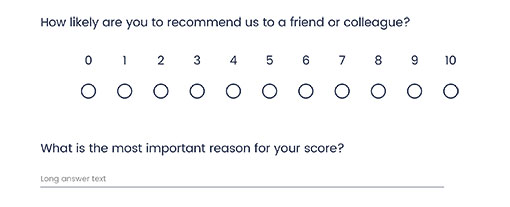 If you do decide to use the additional long answer question, make it optional for customers who don't feel like taking the time to write out a full answer.
2. Customer Satisfaction Score (CSat) Survey Template
Here is another simple assessment the call centre can use to gauge customer satisfaction. The numerical scale can be adjusted to whatever level of detail you need (1–5, 1–7, 1–10, etc.) about the customer experience.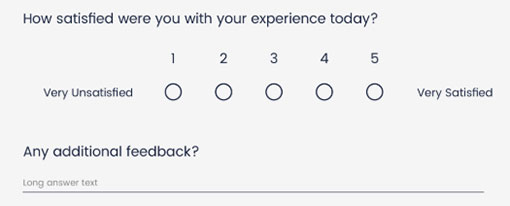 3. Customer Effort Score (CES) Template
Besides overall satisfaction with the quality of their service, customers call you because they need to achieve a result.
By asking about overall customer satisfaction with what they achieved, you can cut to the core of their main purpose in calling: getting results.

4. Open-Ended Questions Survey Template
The kind of information you get about customer satisfaction from open-ended customer survey questions can be a bit more esoteric, and should generally be used only with more loyal customers, as the time it takes to complete can be a turn-off for some.
Here are a few examples of open-ended questions:
Why did you decide to use our company's service?
Did you consider any of our competitors? If so, which one(s)?
What is most important to you when considering this type of company/product/service?
Do you have any questions you were unable to answer from your call?
Would you recommend us to a friend or colleague, and why?
5. Long-Form Customer Satisfaction Survey
As with open-ended questions, a longer survey should only be used when you have a higher level of confidence in customer loyalty, or when more in-depth responses are necessary for contact centre quality management.
In addition to any of the questions shown above, here are some additional data points you may want to collect:
Choose the option that best describes your role: Founder, Executive, Manager, Contributor, etc.
How many people work at your company: 1–10, 11–50, 50–100, 100–500, etc.
Do you have any suggestions for improving our product/service? (long answer)
Any additional comments? (long answer)
Implementing Customer Feedback Surveys in Your Call Centre
There are as many different questions for your customer satisfaction survey as there are ways to ask them. You can use one of the questions above or any combination to effectively gauge customer experience.
With the right distribution channel and a carefully chosen set of survey questions and metrics, you can get the information you need to make every customer interaction a success.